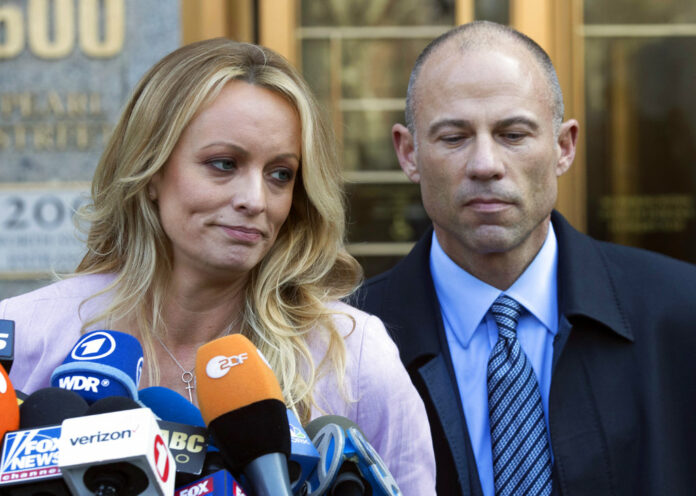 After months of denials, President Donald Trump has acknowledged paying off porn star Stormy Daniels. Trump's story about the USD$130,000 payment – what he knew about it and when – has evolved over time.
Here's a look at key moments in the saga:
January 2005 — Trump marries his current wife, Melania.
March 2006 — The couple's son, Barron, is born.
July 2006 — According to Daniels, she and Trump began an "intimate relationship" and it continued "well into the year 2007."
2011 — Daniels, whose legal name is Stephanie Clifford, says a man warned her to keep quiet about any encounters with Trump. Daniels said she and her daughter were approached in a Las Vegas parking lot by a man who said something along the lines of: "Oh it's a beautiful little girl, would be a shame if something happened to her mom. Forget about this story, leave Mr. Trump alone."
Days before the November 2016 election – Trump's personal attorney, Michael Cohen, pays Daniels $130,000 in exchange for her silence.
Separately, the Wall Street Journal publishes a story stating that the National Enquirer – run by David Pecker, a Trump supporter – had paid $150,000 to silence former Playboy Playmate Karen McDougal about a sexual relationship she allegedly had with Trump a decade ago. The story also mentions Daniels and says she had been in talks with ABC News to tell her story but cut off negotiations with the network.
Trump spokeswoman Hope Hicks says it is "absolutely, unequivocally" untrue that Daniels and Trump had a relationship.
June 16, 2017 — Trump's personal financial disclosure form is certified, with no listed debt to Cohen.
Jan. 12, 2018 — The Wall Street Journal reports that Cohen had arranged the payment to Clifford in October 2016 to keep her from publicly discussing the alleged sexual encounter.
The White House issues a statement calling the Journal's story "old, recycled reports, which were published and strongly denied prior to the election."
Cohen says the Journal has perpetuated "a false narrative for over a year."
Feb. 13, 2018 — Cohen acknowledges he paid $130,000 out of his own pocket to Daniels, saying he was not reimbursed by the Trump Organization or the Trump campaign. He notably does not say whether the president personally reimbursed him.
"The payment to Ms. Clifford was lawful, and was not a campaign contribution or a campaign expenditure by anyone," he says in a statement.
March 7, 2018 — Daniels files a lawsuit in Los Angeles County Superior Court seeking to invalidate the nondisclosure agreement. White House press secretary Sarah Huckabee Sanders says Trump has "made very well clear that none of these allegations are true."
March 25, 2018 — In a highly anticipated interview with CBS' "60 Minutes," Daniels says she was threatened to keep silent. White House spokesman Raj Shah declines to say whether the president watched the interview but says Trump does not believe any of the claims she made.
"The president strongly, clearly and has consistently denied these underlying claims, and the only person who's been inconsistent is the one making the claims," Shah says.
April 5, 2018 — In his first public comments about Daniels, Trump tells reporters aboard Air Force One that he didn't know about Cohen's payment.
Asked whether he knew about the payment, Trump says flatly: "No." Asked why Cohen made the payment, he says, "You'll have to ask Michael Cohen."
When asked where Cohen got the money, Trump says, "I don't know."
April 9, 2018 — Federal agents in New York raid Cohen's office and a hotel room, seizing records on topics including the payment made to Daniels. Cohen is now facing a criminal investigation in New York.
April 18, 2018 — Trump responds to Daniels releasing an artist's sketch of a man she says threatened her. "A sketch years later about a nonexistent man," Trump tweets. "A total con job, playing the Fake News Media for Fools (but they know it)!"
April 26, 2018 — In a phone interview with "Fox & Friends," Trump muddies his earlier comments that he didn't know about the Cohen payments, saying Cohen represented him in the "crazy Stormy Daniels deal."
"From what I see he did absolutely nothing wrong," Trump said. "There were no campaign funds going into this which would have been a problem."
May 2, 2018 — Former New York Mayor Rudy Giuliani, now representing Trump as one of his lawyers, tells Fox News host Sean Hannity that Trump reimbursed Cohen for the $130,000 paid to Daniels. Giuliani says the money to repay Cohen had been "funneled … through the law firm and the president repaid it."
Giuliani said the payment "is going to turn out to be perfectly legal. That money was not campaign money."
Asked if Trump knew about the arrangement, Giuliani said: "He didn't know about the specifics of it, as far as I know. But he did know about the general arrangement, that Michael would take care of things like this."
May 3, 2018 — On Twitter, Trump acknowledges he repaid Cohen after claiming previously he didn't know about the payments. He said the money "had nothing to do with the campaign."
Trump said Cohen received a monthly retainer, which he used to pay Daniels to sign an agreement not to talk about her allegations and "stop the false and extortionist accusations made by her about an affair."
Sanders later told reporters that she had tried to give them "the very best information we had at the time." She said she first learned that Trump had repaid Cohen while watching Giuliani's interview.