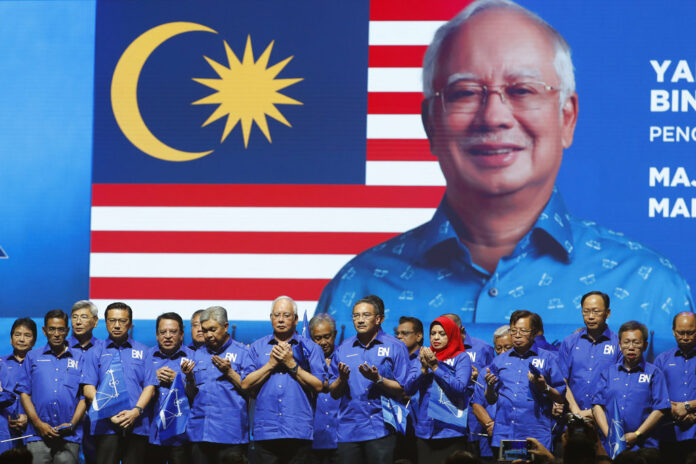 KUALA LUMPUR — In 2013 elections, Malaysian Prime Minister Najib Razak's face and reformist message were front and center. Five years later, with another election looming, Najib's visibility has plunged.
Instead of Najib's image, a party in his ruling National Front coalition erected giant billboards of Chinese President Xi Jinping, highlighting China's multi-billion-dollar investments in Malaysia as a reason to vote for the coalition in the May 9 election. If Najib is seen at all in election posters, his face is much smaller than before and he appears alongside local party chiefs.
Najib, analysts say, has become a handicap for the National Front because of financial scandals including the alleged ransacking of state investment fund 1MDB and economic policies blamed for a rising cost of living that has hit the poor rural Malay majority hardest.
Najib, an avid social media user, appealed to Malaysians in a video released this week to "vote based on facts, not with emotions or sentiment."
An electoral system tilted toward the coalition that has been in power since 1957 likely will ensure it keeps a majority in Parliament. Najib, however, could find it harder to hold back challenges to his leadership of the United Malays National Organization party if support for the coalition falls again as it did in the previous two elections.
"Rather than serving as a strength for the ruling coalition, he is a liability with record levels of antipathy against him and his wife," said Bridget Welsh, a Southeast Asia expert at John Cabot University in Rome.
"If Najib really wanted his coalition to win positively, he would have stepped down. As such, the election appears to be about his survival, not the interests of his party or the country," she said.
British-educated Najib, 64, was born into Malaysia's political elite. His father was the country's second prime minister and his uncle was the third.
He was thrust into politics in 1976 after his father died, becoming Malaysia's youngest lawmaker at age 22, and the youngest ever deputy minister two years later. He became prime minister in 2009, replacing Abdullah Ahmad Badawi who was blamed for the National Front's reduced majority in an election the previous year.
Both finance minister and premier, Najib guided Muslim-majority Malaysia through the global financial crisis of 2009, abolished draconian colonial-era security laws and reached out to ethnic minorities with a "1Malaysia" campaign. Former President Barack Obama praised him as a "reformer with much to do."
Despite this, the National Front suffered a further loss of support in 2013, losing the popular vote to the opposition for the first time though still winning 133 of 222 parliamentary seats.
Najib blamed Malaysia's ethnic Chinese minority for abandoning his coalition and backtracked on reforms.
He imposed new repressive security measures and increasingly pandered to Islamists and ethnic chauvinism to shore up his Malay support base. Opposition leader and former deputy premier Anwar Ibrahim was convicted of sodomy for a second time in 2015 and imprisoned in a case he said was fabricated by the government to crush the opposition.
Najib's leadership came under further pressure after leaked documents in 2015 showed that USD$700 million linked to the 1MDB state fund went into his private bank account. The fund is being investigated by the U.S. and several other countries for alleged cross-border embezzlement and money laundering.
The U.S. Justice Department alleges $4.5 billion was stolen from 1MDB by associates of Najib and is working to recover $1.7 billion it said was used to buy assets in the U.S. Court filings say this included $27.3 million to buy a 22-carat pink diamond necklace for Najib's wife, Rosmah Mansor.
Najib denies any wrongdoing. He fired critics in his government including the attorney general and a deputy prime minister, muzzled the media and gutted a parliamentary investigative committee. The new attorney general cleared Najib in 2016, saying the money was a political donation from the Saudi royal family and that most of it was returned.
Najib's reputation, however, was battered. Another scandal at plantation agency FELDA and an unpopular goods and services tax he introduced in 2015 have also increased rumblings among rural Malays against Najib's leadership.
The unexpected political resurrection of Najib's former mentor Mahathir Mohamad, who led Malaysia for 22 years until his retirement in 2003, added to his woes. Mahathir, 92, helped unite a fractured opposition and still commands support among rural Malays, who dominate more than half of the 222 seats at stake.
Despite a massive anti-government rally in Malaysia's biggest city, Kuala Lumpur, in 2015, rural Malays are more concerned with bread-and-butter issues and can be mollified by promises of government handouts.
A robust economy, which expanded at a three-year high of 5.9 percent last year, also augurs well for Najib, who has secured billions of dollars in Chinese investment.
Najib must win big to fend off possible challengers from within his ruling Malay party ahead of year-end internal polls, said Rashaad Ali, researcher at the S. Rajaratnam School of International Studies in Singapore.
"I would consider this election the ultimate test of survival for Najib," he said.
Story: Eileen Ng