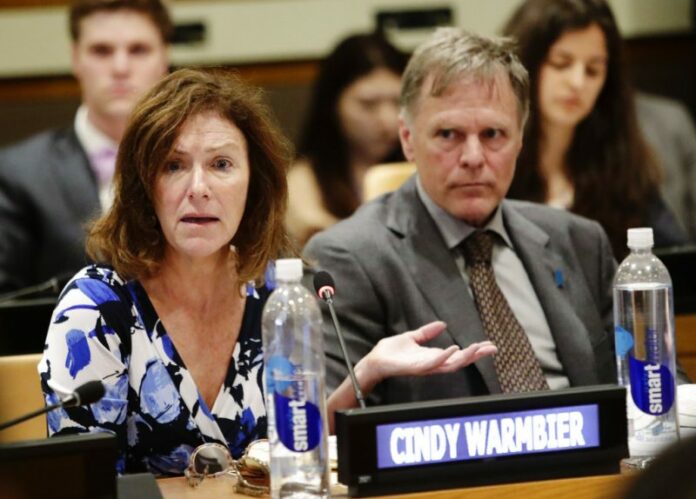 UNITED NATIONS — Her voice cracking with emotion, the mother of college student Otto Warmbier who was sent home from North Korea in a coma and died soon after said Thursday her family will keep speaking out about the country's human rights violations to "rub their noses" in what they did and embarrass Kim Jong Un's government.
Cindy Warmbier told a U.N. symposium on the human rights situation in North Korea: "I can't let Otto die in vain. … We're not special, but we're Americans and we know what freedom's like, and we have to stand up for this. We have to."
Her comments came at a sensitive time, as Kim and President Donald Trump are planning a historic meeting, and a day after the U.S. leader hinted at the imminent release of American prisoners being held in North Korea.
A week ago, Cindy and her husband Fred Warmbier filed a wrongful death lawsuit against North Korea, saying its government tortured and killed their son. The lawsuit filed in U.S. District Court in Washington, D.C., seeks compensation for the death of their 22-year-old son in June 2017.
Otto Warmbier, who was a student at University of Virginia, was arrested by North Korean authorities in January 2016 for stealing a propaganda poster and sentenced to 15 years in prison with hard labor.
His plight compounded tense U.S.-North Korean relations. His parents made clear Thursday that while they were silenced by fear of what North Korea might do to Otto after his arrest, they were not going to be quiet any longer.
"We woke up and we realized that North Korea wants us to lock ourselves in a room and do nothing, and we think that's a bad idea," Fred Warmbier said.
Fred said he and Cindy are now focusing on the events that occurred "while they had Otto hostage and they were using him as a pawn."
"We are trying to build a pathway that leads directly to Kim and his regime to force them to be answerable for their actions," he said.
Cindy Warmbier said Otto was brain dead at four months of captivity, and anyone who had a heart would have said, "Well, we screwed up, let's get him some medical care."
But instead, she said, the North Koreans left him in a horrible place with no care to vegetate, and then acted "like we're doing the world a favor" and released him saying he had botulism — which U.S. doctors never confirmed.
"So we can't be quiet can we?" Cindy said. "People say why are you doing this? How can I not? How can I not? How can anybody be quiet when this is going on?"
"The only thing we can do is rub their noses in this. It embarrasses them. They don't like the world to think that they aren't trying to be a member of the world, and they like to act like a victim, like they've been treated poorly," she said.
Ten months after burying her son, Cindy ended her comments to applause saying: "I'm sorry I'm so emotional … but it's not really getting any easier."
At the symposium, relatives of several Japanese men and women who were abducted by North Korea also spoke about their decades-long efforts to be reunited with their loved ones.
Takuya Yokota, whose sister was abducted in 1977, said he didn't know "how to express gratitude" to Trump for mentioning her in his speech to the General Assembly last September. The president said North Korea "kidnapped a sweet 13-year-old Japanese girl from a beach in her own country to enslave her as a language tutor for North Korea's spies."
Yokota said the Japanese government must not renounce sanctions or give economic assistance to North Korea until all the abductees are returned home.
Katsunobu Kato, Japan's minister in charge of the abduction issue, told the symposium that "maximum pressure" must be maintained against North Korea until it denuclearizes and human rights issues are resolved, including abductions.
And he said it's important that Trump raises the abduction issue in his upcoming talks with Kim.
"We can provide for a richer life of the North Korean people," Kato said, "but the major prerequisite is comprehensive solution of pending issues including abduction, nuclear and missile programs. And unless that is achieved the Japanese citizens will never show an understanding."
Story: By Edith M. Lederer