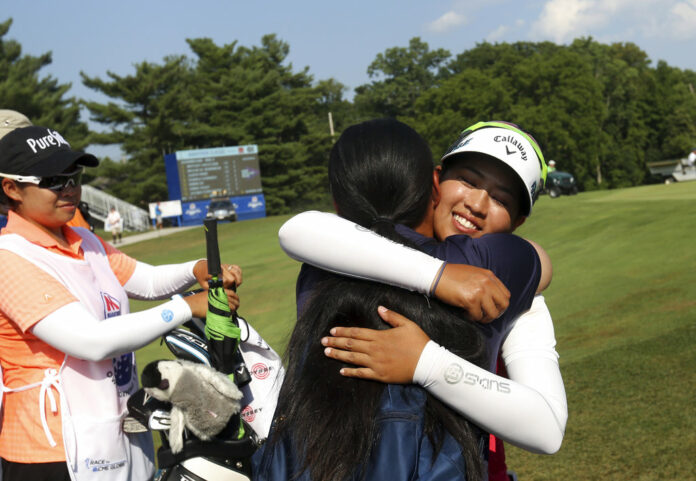 SYLVANIA, Ohio — Thidapa Suwannapura's main focus going into the Marathon Classic was trying to put together four solid rounds that would help her keep her LPGA Tour card.
She doesn't have to worry about that any longer.
Thidapa picked up her first win on Sunday, closing with a 6-under 65 and birdieing the first playoff hole to defeat Brittany Lincicome at Highland Meadows.
In the playoff, Thidapa converted a short birdie putt after Lincicome hit her second shot into a water hazard and scrambled for par.
"I never expect it was going to be today at all. I've just been struggling the whole year," said Thidapa, whose previous best finish was seventh at the 2014 Kingsmill Championship. "Finally all my work I've been doing has come out and shown up today. After I knocked that last putt in, it just felt like a dream come true."
With the win, the 25-year-old Thai player has an exemption through the 2020 season. She is also the sixth first-time winner on tour this year
Thidapa picked up three strokes over her final two holes, making eagle on the par-5 17th and closing with a birdie on the par-5 18th to finish at 14-under 270. She then had to wait for the final seven groups to finish.
"I did not think or expect that 14 would be good enough, because I know there were two par-5s coming in on 17 and 18, and it's a good opportunity for players to make birdie," Thidapa said. "I was just chilling in the clubhouse, you know, being silly and stuff, trying to relax, and see what they're doing. Now, like, 'Oh, I have to go warm-up and try to win the tournament.'"
Lincicome shot 67. She had a chance to win in regulation, but her birdie putt from about 10 feet did a nearly 360-degree turn around the edge of the cup and stayed out.
Despite having eight career victories, including this season's opener in the Bahamas, the 32-year-old Lincicome said she was extremely nervous standing over that putt.
"I was shaking so bad. I had to take so many deep breaths. So it's kind of cool to have those nerves, but learning how to play through them after 12 years of being a pro … 14 years of being a pro, I still haven't figured it out, so that's a little disappointing," she said. "(The putt) caught a lot of the hole, so I feel like I hit a pretty good putt for how nervous I was. I really haven't seen one that aggressive in a long time, so that was just unfortunate, really."
Next up for the big-hitting Lincicome: a start against the men at the PGA Tour's Barbasol Championship in Kentucky. She will become the first woman since 2004 to play in a PGA Tour event.
Third-round leader Brooke Henderson led by two shots after six holes, but struggled the rest of the way. Back-to-back bogeys on the 14th and 15th holes dropped her out of the lead. The 20-year-old Canadian finished with a 2-under 69, one shot out of the playoff.
"Sometimes golf is weird. Sometimes it just doesn't go your way, and that was kind of me the last four holes," said Henderson, who lost for only the second time in six occasions she has led after 54 holes.
Besides the tour exemption, Thidapa's win came with another bonus. She was one of five players to earn a spot in the Women's British Open at Royal Lytham & St. Annes.
The top five players not already exempt earned spots. The other qualifiers were Daniela Darquea, Celine Herbin, Mina Harigae and Mel Reid.