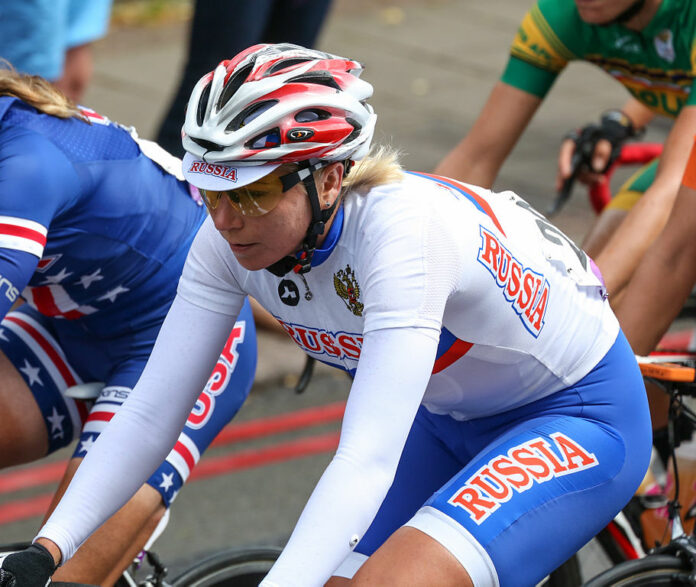 JAKARTA — One thing seems certain amid the conjecture over Olympic medalist Olga Zabelinskaya's bid to switch nationality from Russia to Uzbekistan – she won't be competing at the Asian Games.
Zabelinskaya has reportedly sought to change allegiances because she's concerned over her eligibility to compete at the 2020 Olympics in Tokyo.
She was listed in the Asian Games information system as a member of the Uzbekistan team and appeared to be nominated for the individual time trial, the 3,000-meter individual pursuit, the women's Madison and the omnium. She won the Olympic silver medal in the time trial at Rio de Janeiro on 2016 and won bronze medals at the London Games in 2012 in the time trial and the road race.
Zabelinskaya did not compete in the women's road race on Wednesday, prompting speculation she was barred after protests from other countries.
The Olympic Council of Asia said it had been aware of Zabelinskaya's attempt to switch allegiances.
"However, until the competition day, both Zabelinskaya and the Uzbekistan Olympic committee failed to provide any official letters from the Russian Olympic committee and the Russian Cycling Federation to approve and confirm the release of the athlete for the Uzbekistan cycling federation," an OCA spokesman said. "Therefore, OCA considers she is not eligible to represent Uzbekistan at the 18th Jakarta-Palembang Asian Games."
Zabelinskaya won a decision in the Court of Arbitration days before the 2016 Olympics that cleared her to compete in Rio despite a previous doping violation for a case dating back to 2014.
Russia has been mired in a doping scandal since allegations of state-sanctioned doping emerged following the 2014 Olympics in Sochi. Russian athletes had to compete as neutrals at the Winter Olympics in Pyeongchang, South Korea, earlier this year.
In her athlete profile on the Asian Games information system, Zabelinskaya was quoted as saying, "You see what has been happening in Russian sport over the last two Olympic cycles. It all started in Rio, then the situation only deteriorated in Pyeongchang. I have a feeling that in Tokyo everything will be even worse.
"I'm 99 percent confident that my participation in the 2020 Olympics will be impossible under the Russian flag."
The next summer games Russia could host would be in 2032, because Tokyo, Paris and Los Angeles are already confirmed as hosting the 2020, 2024 and 2028 editions respectively.
Story: Josh Pye