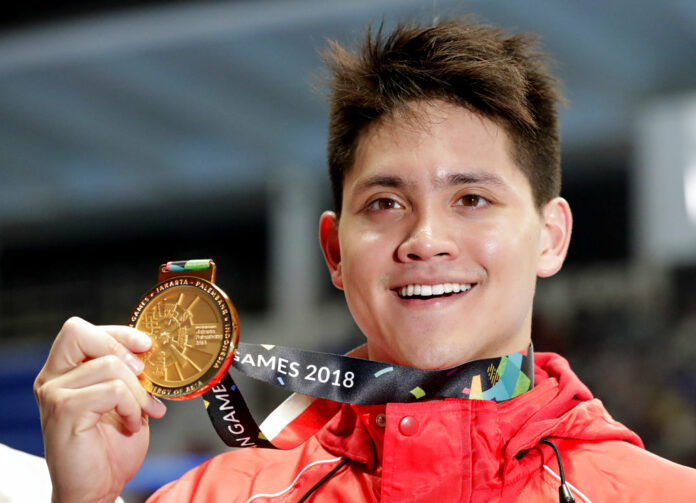 JAKARTA — It took a swimmer from one of the smallest countries in the region to finally end the streak of gold medals going to either China or Japan in the Asian Games pool.
Singapore's Olympic champion Joseph Schooling had an emphatic victory in the men's 100-meter butterfly final on Wednesday.
By his own standards, the 23-year-old Schooling was a touch slow to get off the blocks and resurface because he dived a little too deep, but once he was in motion he was unstoppable.
He covered the first lap in 23.79 seconds then powered home on the last length to win in 51.04 seconds, beating the Asian Games record of 51.76 he set when winning in Incheon four years ago.
It wasn't his best time or even close to his biggest win. They happened simultaneously when he beat Michael Phelps to win the Olympic gold in Rio de Janeiro two years ago, but he's savvy enough to know it was still another big triumph for his southeast Asian nation.
"It's all about standing up for your country and yourself and trying to get your hand on the wall first," Schooling said. "I had some jitters before, but that's good, it shows I'm taking nothing for granted. Every gold is special, it has its own story."
Once the Singapore anthem was played out over the stadium speakers, normal service resumed with Japan and China splitting the other seven gold medals decided on Wednesday.
After four of the six days of swimming events, the regional rivals are locked on 14 golds apiece.
After losing the 4×200-meter freestyle relay on Monday, China officials figured they couldn't match Japan's sprinters in the 4×100 freestyle relay so they gambled on bringing in Sun Yang, hoping he could produce something special.
He was on a scheduled day off after winning the 200, 400 and 800 on the first three days and with the 1,500 still to go when he got the call around midday.
He obliged, but it didn't make any difference as Japan pulled away to win.
"I swam great and we did everything we could but the Japanese sprinters are simply faster at the moment," Sun said, "that's a fact."
China did win the mixed relay by little more than a fingernail, giving backstroker Xu Jiayu his third gold medal in Jakarta and butterflyer Zhang Yuefi her second in a little over an hour.
The Japan squad is starting to notch some big some numbers, too. Teenager Rikako Ikee won a silver in the mixed relay to take her tally to six medals for the championships and with two events to go she's on course for a record eight.
Japan's Yasuhiro Koseki, racing in the outside lane, broke the Asian Games record to win the men's 100 breaststroke in 58.86 to collect his second gold, and Daiya Seto also picked up his second when he beat the Rio Olympic gold medalist Kosuke Hagino in the 400 individual medley in 4:08.79.
"That's the first time for a while I've put it all together like that," Seto said. "That's a big boost for me looking ahead to the Tokyo Olympics."