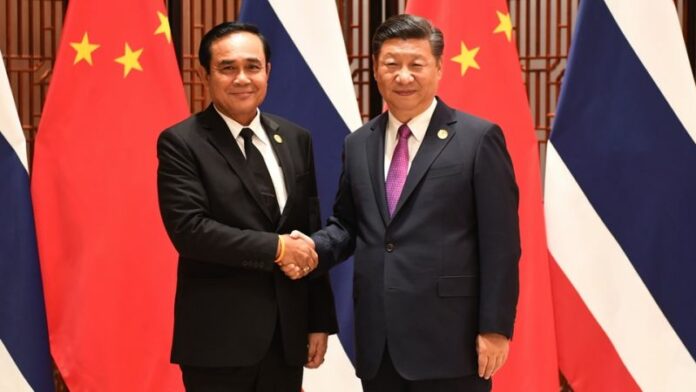 BEIJING — A wave of Chinese-financed railways and other trade links in Africa and Asia that have prompted worries about debt and Beijing's ambitions is reducing politically dangerous inequality between regions within countries, a multinational group of researchers said Tuesday.
The study led by AidData at the College of William & Mary in Virginia strikes a positive note at a time when governments from Washington to Moscow to New Delhi are uneasy about Beijing's "Belt and Road" initiative.
The study of 3,485 projects in 138 nations across Asia, Africa, Latin America and the Middle East in 2000-14 found they led to a more equal distribution of economic activity by improving access to jobs and markets. It said that helps reduce economic differences that "elevate the risk of violent unrest."
"Western pundits and politicians often claim that Beijing is a reckless, self-serving or sinister actor," said AidData's executive director, Bradley C. Parks, in an email. But by helping to spread economic activity more evenly, "Beijing's investments address one of the root causes of instability around the globe and thus make it easier for Western powers to tackle other global threats and crises."
The report stressed it focused on only one aspect of Chinese financing. The overall impact is "a more complex question," it said, noting other research has found corruption and environmental damage linked to Chinese projects.
Leaders in Africa, South Asia and other regions welcome Chinese projects including "Belt and Road," President Xi Jinping's signature foreign policy initiative, but face complaints about costs. It calls for expanding trade by building railways, ports and other infrastructure across a vast arc of 65 countries from the South Pacific through Asia to Africa and Europe.
Governments including Nepal, Sri Lanka and Thailand have scrapped or scaled back projects due to high costs or complaints too little work goes to local companies. Most projects are built by Chinese contractors and financed by Chinese bank loans at market interest rates.
In Kenya, President Uhuru Kenyatta's government faces protests and a strike by filling station operators after imposing a 16 percent tax on fuel this month to repay construction costs. Kenya's payments to Chinese banks are due to triple in 2019 from this year's level.
Kenya is "gradually sinking deeper" into "Chinese debt-trap diplomacy," wrote commentator Jaindi Kisero in the Daily Nation newspaper.
Beijing suffered a public blow last month when Malaysia canceled Chinese-built projects, including a USD$20 billion railway. Its prime minister said the Southeast Asian country couldn't afford them.
Chinese officials have released few financial details but deny "Belt and Road" and other projects lead to debt problems.
"People's livelihoods and economic development have been boosted," said a Cabinet official, Ning Jizhe, at an Aug. 28 news conference. "No 'debt trap' has been created."
Other governments worry Beijing is trying to gain strategic influence by creating a trading and financial network centered on China, the world's second-largest economy.
AidData's first report in 2013 focused on Chinese financing to Africa. The group includes researchers from Harvard University, Germany's Heidelberg University and other schools and research institutes.
They reported last year China was close to matching the scale of U.S. grants and loans to developing countries. But they said Beijing's financing served its own economic interests and provided little benefit to recipients.
"Belt and Road" was formally launched in 2012 but also includes Chinese-financed projects begun before that.
For their latest report, researchers made a list of projects from news reports, government statements and research by academics and non-government organizations.
Some 43 percent were infrastructure such as roads, railway, bridges, ports, airports, power grids, cellphone towers and fiber optic cable lines. Another 42 percent were services including hospitals, schools and sewers.
To measure economic impact, the researchers looked at changes in nighttime use of lights across cities and rural areas. That was based on satellite images from the U.S. National Oceanic and Atmospheric Administration.
Those changes "correlate strongly with traditional measures of welfare down to the village level," the report said.
Projects financed by Beijing might produce a bigger payoff because Chinese companies work faster and often complete projects within months, while traditional Western-backed projects can require years, Parks said.
Also, they often focus on linking inland areas with ports, which increases export revenue, in contrast to traditional projects that connect areas within the same country, he said.
The ruling Communist Party has financed building projects abroad since the 1960s, when it paid for a railway to carry copper from Zambia in southern Africa across Tanzania to the port of Dar-es-Salaam.
Lending boomed following rapid Chinese economic growth in the 1990s.
In the 15 years through 2014, Beijing lent or gave $354.4 billion in Africa, Asia and elsewhere, equal to nearly 90 percent of the $394.6 billion from the United States, according to AidData. But it said only 23 percent of Chinese spending counted as aid by international standards, compared with 93 percent of U.S. spending.
Story: Joe McDonald