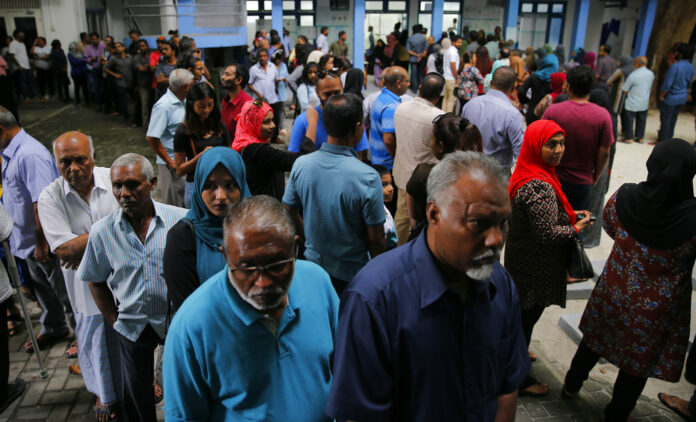 MALE, Maldives — Huge crowds flocked to closely guarded polling stations on Sunday to vote in the Maldives' third multiparty presidential elections, widely seen as a referendum on the island nation's young democracy.
Both President Yameen Abdul Gayoom and opposition candidate Ibrahim Mohamed Solih, voted in the capital Male shortly after polls opened.
An election-eve police raid of Solih's main campaign office cast a pall over Sunday's vote.
A police warrant obtained by The Associated Press cited police intelligence that Solih's campaign office may have been used to coordinate vote-buying. Senior campaign official Ahmed Shahid was named in the warrant as a suspect. Repeated calls to Shahid went unanswered.
The raid Saturday was the latest sign of a government crackdown against the opposition, raising fears that the election may be rigged to favor Gayoom's party.
Gayoom used his first term in office to consolidate power, jailing opponents, including his half brother, a former president, and two Supreme Court Justices, and asserting control over the courts.
The European Union said Friday that it was not sending election observers because the Maldives had failed to meet the basic conditions for monitoring.
"In view of events in Maldives," the country's British ambassador, James Dauris, tweeted Saturday, "it's easy to understand why so many people are concerned about what might happen on Election Day."
The polls close at 4 p.m. and results are expected after 10 p.m., election officials have said.
Story: Bharatha Mallawarachi