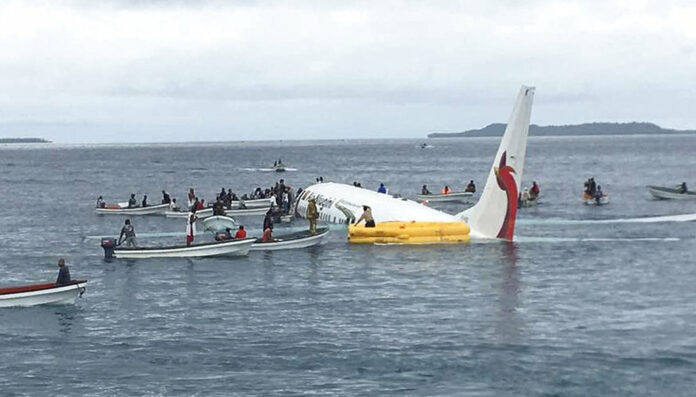 CANBERRA, Australia — A passenger's body has been found in the Pacific lagoon where a plane crash-landed last week near an island runway in Micronesia.
Air Niugini had initially said all 47 passengers and crew had survived when the Boeing 737 crashed near the Chuuk island runway on Friday.
The Papua New Guinea national carrier said on Saturday one passenger had not been accounted for but was witnessed reaching a rescue dinghy as U.S. Navy sailors and locals helped people escape the sinking plane.
But Air Niugini chief executive Tahawar Durrani said the man's body was found by divers Monday. The airline said in a statement on Tuesday the man was Indonesian, but did not reveal his identity.
"Our outreach team is in touch with the man's family and we are making arrangements to repatriate his body," Durrani said in a statement.
Four passengers were in stable conditions at a Chuuk island hospital and will be taken soon to Guam for further treatment, Air Niugini said.
Hospital and aviation officials have not responded to requests for comment.
Flight PX73 from nearby Pohnpei island crashed about 145 meters (475 feet) from the Chuuk International Airport runway, the airline said.
What caused the crash remains unclear. The airline and U.S. Navy said the plane landed in the lagoon short of the runway. Some witnesses thought the plane overshot the runway.
A Papua New Guinea accident investigation team flew to Micronesia on Friday, the Post Courier newspaper reported.
Flight PX73 flies from Tokyo's Narita International Airport to Papua New Guinea's capital, Port Moresby, via Pohnpei and Chuuk.
Air Niugini has operated since 1973. Data from the Aviation Safety Network indicate the Indonesian passenger is Air Niugini's first fatality in two decades.
Story: Rod McGuirk