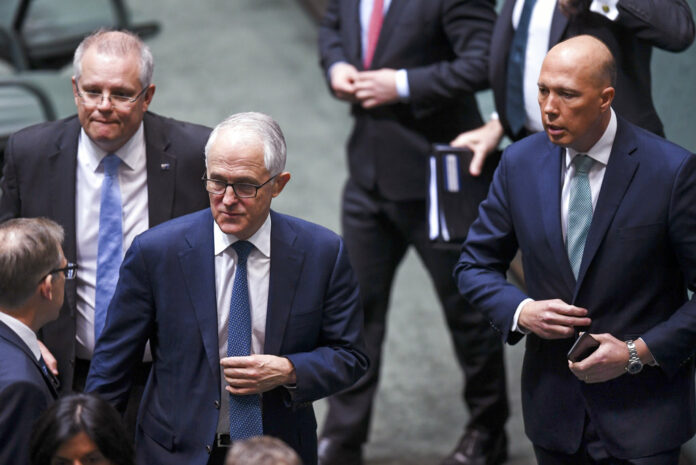 CANBERRA — Australia has raised the prospect of following the United States by relocating its embassy in Israel from Tel Aviv to Jerusalem in a policy shift that critics described Tuesday as a desperate grab for domestic political gain to win a crucial by-election.
Prime Minister Scott Morrison said the idea was suggested to him by a former ambassador to Israel, Dave Sharma, who is a candidate for the ruling conservative Liberal Party in a by-election Saturday in a Sydney electorate with a large Jewish population.
At stake is the government's single-seat majority in the House of Representatives and Morrison's ability to retain power without doing deals with independent lawmakers.
Morrison said Australia remained committed to finding a two-state solution to Israel's conflict with the Palestinians.
"When sensible suggestions are put forward that are consistent with your policy positioning and in this case pursuing a two-state solution, Australia should be open-minded to this and I am open-minded to this and our government is open-minded to this," Morrison told reporters.
Israeli Prime Minister Benjamin Netanyahu said he had recently spoken to Morrison and welcomed the Australian policy shift.
Morrison "informed me that he is considering officially recognizing Jerusalem as the capital of Israel & moving the Australian embassy to Jerusalem. I'm very thankful to him for this," Netanyahu tweeted. "We will continue to strengthen ties" between Israel and Australia.
Australian Broadcasting Corp. reported that an unnamed Indonesian official had said Jakarta had been taken by surprise by the announcement, which could harm bilateral trade negotiations.
When Morrison became prime minister in August, he made his first overseas trip to Indonesia, a near-neighbor that is the world's largest Muslim-majority nation.
Morrison and Indonesian President Joko "Jokowi" Widodo planned to sign an agreement this year aimed at boosting trade and investment.
Morrison told Parliament that he had briefed Jokowi overnight about the announcement.
"I've been pleased to be able to explain very clearly the nature of the announcements that I've made today and I've been very pleased with the response that I've received from President Joko Widodo," Morrison said.
"We'll continue to work closely and cooperatively with our allies and with our partners all around the world on these issues," Morrison said.
Morrison also announced that Australia would vote against a United Nations resolution this week to recognize the Palestinian Authority as the chair of the Group of 77 developing countries and would review the three-year-old Iran nuclear deal.
The opposition center-left Labor Party said the announcement was a desperate attempt to win the by-election in the Wentworth electorate.
"The people of Wentworth, and all Australians, deserve a leader who puts the national interest ahead of his self-interest, and governs in the best long-term interest of the nation," Labor lawmaker Penny Wong said.
The Trump administration turned its back on decades of U.S. policy by recognizing Jerusalem as Israel's capital and moving the U.S. Embassy from Tel Aviv in May.
Labor reminded the government that Frances Adamson, the head of Australia's foreign department, said in June that the U.S. move had "not been helpful" for the Middle East peace process.
George Browning, president of the Australia Palestine Advocacy Network, accused the government of "aligning itself with the most erratic, reactionary and bullish U.S. foreign policy ever."
"This is an irresponsible policy that compromises the future of millions of people in the Middle East for a handful of votes in Wentworth," Browning said in a statement.
Morrison denied that the United States or the by-election had influenced his announcement.
"I have made this decision without any reference to the United States. It has not come up in any discussion I have had with the president or with officials," Morrison said.
"Australia makes its decisions about its foreign policy independently. We do so in our own national interests consistent with our own beliefs and our own values," he added.
Story: Rod McGuirk