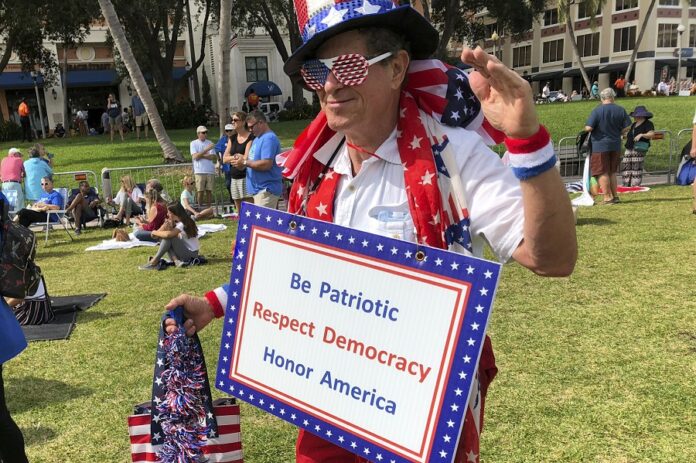 TEMPE, Arizona — The Republican, Rep. Martha McSally, wore a maroon and gold Arizona State University T-shirt and jeans as she belted out the national anthem at the school's homecoming game Saturday. The Democrat, Rep. Kyrsten Sinema, wore a canary-yellow dress and eight-inch platform shoes with cactus applique as she presided over the coin toss.
But the crowd of 46,000 greeted both U.S. Senate candidates the same way: with a mix of cheers and boos.
It was a fitting kickoff to the anxious final weekend before the 2018 midterms, a campaign that seemingly launched the day after Donald Trump was elected president two years ago that is climaxing in the shadow of a bomb plot targeting Democratic leaders and the worst anti-Semitic shooting in the nation's history. Each side is doing everything it can to mobilize voters this weekend, warning of the dire consequences of failure.
Democrats are counting on wresting control of the U.S. House from Republicans and hoping for a longshot series of wins to win back the Senate as well. But Republicans are optimistic they can gain seats in a Senate map heavy on red states and haven't given up on holding the House.
Neither side wanted to leave anything on the field in the final weekend. "I've never been so sleepless, so restless as I have been" since Trump was elected, Sudi Farokhnia, a risk manager in Orange County, California, said before leaving a rally to volunteer for Democratic congressional candidate Katie Porter. Farokhnia has spent hours phone-banking for Porter, who is challenging Republican Rep. Mimi Walters.
Brandon Evans, 36, was cleaning out his parents' storage room in the Salt Lake City suburb of West Jordan on Saturday when he got an unexpected visit from his congresswoman, Republican Mia Love. Love, who faces a tough re-election challenge, traveled through her largely suburban district in an orange-and-blue modified motor scooter, knocking on every door she could.
Evans assured her she had his vote because of gun rights. "I feel like they're under attack more than they've ever been," Evans said.
Campaigns pulled out the heavy hitters. Trump continued to hopscotch the nation, holding a rally in Montana for GOP Senate candidate Matt Rosendale, who is challenging Democratic Sen. Jon Tester, and another rally for GOP candidates in Florida. Vice President Mike Pence traveled from Kansas to Wisconsin to Florida getting out the vote for Republicans.
At a Pence event outside Kansas City on Friday, Ronald Solomon, a 59-year-old investment banker from Las Vegas who sells Trump memorabilia and was dropping in out of curiosity, was incredulous that the GOP could lose seats given the economy.
"There are better jobs. There are more jobs. People are getting bonuses — they're getting raises," Solomon said.
At a Pence rally Saturday on behalf of embattled Wisconsin Gov. Scott Walker, Sue Hodgson of River Falls said she was more "nervous more than excited." The group around Hodgson, who was sporting a star-spangled, down-filled winter jacket, nodded, with hands jammed into jacket pockets against the 40-degree chill inside a massive warehouse.
"We're here to show our support," Hodgson said. "I just hope it's enough."
In West Palm Beach, Florida, three miles (five kilometers) from Trump's Mar-a-Lago estate, legendary singer Jimmy Buffet tried to fire up local Democrats for gubernatorial candidate Andrew Gillum and Sen. Bill Nelson. He tweaked the words to some of his old favorites.
"Come Tuesday, things will change," Buffett sang, swapping the date in his famous song "Come Monday." "Come Tuesday, we're making a change. It's been two insane years and it's time to really switch gears …" He also played a version of "Margaritaville" slamming the state's Republican governor, Rick Scott, who is running against Nelson for the Senate, over an algae infestation that's killed millions of fish and closed beaches along the state's western coast.
"Some people say there's a red tide to blame," Buffett sang, "but I know that it's all Rick Scott's fault."
Harvey Rosenfeld, 68, attended the rally in his usual attire — a red, white and blue outfit topped with an Uncle Sam hat and a sign around his neck reading, "Be Patriotic, Respect Democracy, Honor America."
"All my life I have studied all of the candidates in determining for whom I would vote," said Rosenfeld, a retired publicist and former Republican. "But this time, I think the Republican Party has caved into Trumpism and it has gone so far astray that the only way that we can return to having a strong, vibrant Republican Party is for them to have a sharp wakeup call by seeing a strong rejection of their current platform."
In Arizona, the nasty Senate race has dominated the state. McSally, a former combat pilot, has accused Sinema of "treason" for comments about the Afghanistan war in 2002 while Democrats have been hammering the GOP candidate over her vote to repeal President Barack Obama's health care law.
Lately, as Trump has tried to raise fear of a caravan of Central American migrants trying to cross Mexico on foot to reach the U.S. border, McSally has taken to hammering Sinema on immigration. Those thoughts were on the mind of Stephen Ovanessoff, a retired church deacon and pathologist at a church visited by Republican Rep. David Schweikert as part of the congressman's own get-out-the-vote efforts Saturday.
"There should definitively be a strong border, especially for a country like the United States," said Ovanessoff, who immigrated from Iraq. "Because if you go outside to other countries there are millions and millions of people everywhere that want to come and live in this country."
In Tempe, outside Sun Devil Stadium, where thousands gathered wearing the team's bright yellow colors, Sinema was mobbed by well-wishers asking for hugs and selfies. The Democrat posed with voters as a band played a punk version of Elvis Presley's "Fools Rush In." Sinema teaches two courses on social work at the university and has multiple degrees from the school, and was widely recognized, even by ticket scalpers.
One student gushed to Sinema, "I've heard your ads on Spotify." One man confided to her: "You're the most qualified candidate, but I can't vote for you — I'm a Republican, my wife would kill me."
Gina Kilker was making her way through the crowd when she cried out, "Oh, my god, that's Kyrsten Sinema." Soon the candidate was posing with Kilker, her husband, daughter and son-in-law.
"We did not expect to see her," Kilker said. She tried to quickly sum up her emotions about the last two years to a passing reporter, and boiled it down to this: "We're hoping and praying for a blue wave."
Story: Nicholas Riccardi