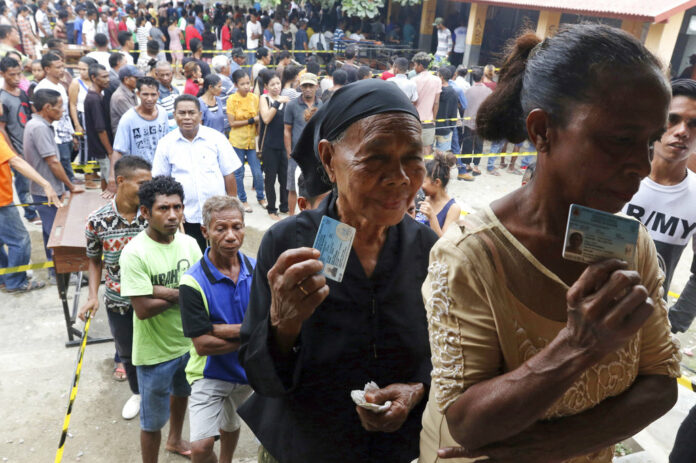 DILI, East Timor — Scores of people demonstrated in East Timor's capital on Monday to protest the killing of three people at a party, allegedly by a drunken policeman.
East Timor police Chief Julio da Costa Hornay said the suspect, officer Jose Mina, has been apprehended. He said the party was hosted by Mina's police colleague in the Kuluhun neighborhood of Dili city.
"Their attitude has damaged the reputation of the East Timor police institution," Hornay said, "We will punish them."
Survivors said the shooting began with a fight between two guests at the party held Saturday night to commemorate a year after the death of the host's relative. Mina, who was in plain clothes, raised his gun to warn them to stop fighting when the electricity suddenly went out just after midnight.
Witnesses said Mina, apparently heavily drunk, stood on a bench and opened fire randomly in the dark. Three men died instantly and five other guests were hospitalized with gun wounds.
The killings sparked protests throughout the city on Monday, with demonstrators shouting "Police are murderers" and demanding justice.
"The government and police should clarify why police officers can use weapons freely to kill people," Alberto Sequeira, the father of one of the victims, told a news conference.
"This is not the first time," he said. "Armed policemen have threatened other families repeatedly but the government has not taken serious measures and now civilians become victims."
Hornay said police are still investigating the shooting, and are questioning the host and another officer who attended the party.
He said police have clear rules about how use their weapons and there are tough punishments for those who violate them.
"The Kuluhun shooting has devastated our heart," East Timor President Francisco Guterres Lu-Olo said in a statement. "To see a police officer acting against the law, wearing plain clothes and going to party with a gun and shooting young people, it's painful to us."
East Timor, a former Portuguese colony, was occupied by Indonesia for a quarter century. It gained independence after a U.N.-sponsored referendum in 1999 but reprisals by the Indonesian military devastated the country.
Today, its 1.3 million people still face extreme poverty.
Story: Raimundos Oki