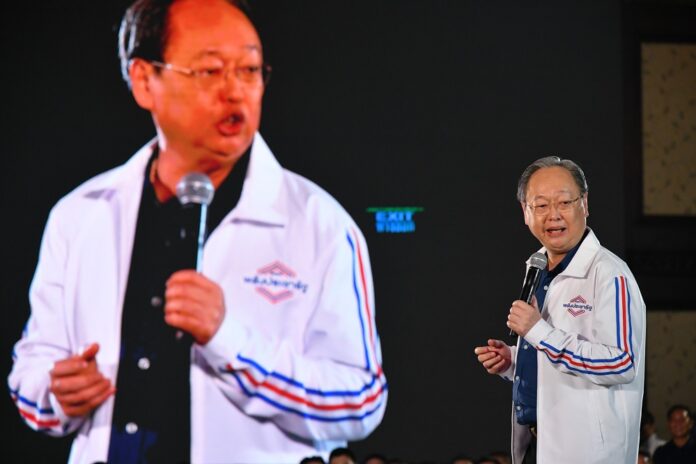 BANGKOK — A leader of a pro-junta political party said Tuesday he didn't really mean it when he predicted winning 70 percent of the lower house in the next election.
Palang Pracharat executive Sontirat Sontijirawong, who also doubles as finance minister in the junta's cabinet, told reporters he was only trying to "boost the morale" of his supporters when he set a goal of snatching 350 seats – a claim ridiculed as preposterous by opponents.
"It was just a speech to boost morale for the members and [MP] candidates," Sontirat said before attending today's weekly cabinet meeting. "It didn't mean we would carry 350 constituencies. Politically speaking, that's already impossible."
Read: 'Three Friends' Join Pro-Junta Party, Say Charter Favors Them
Sontirat, who has refused so far to resign from his cabinet post, made headlines with his bold Sunday claim while welcoming new Palang Pracharat members.
"This is a new chapter in history. It's so incredible to see all of you assembled here as Palang Pracharat," the minister thundered onstage. "With so many of you like this, how could we not win 350 seats?"
His critics and political opponents immediately raised doubts over the remark. The last politician to achieve such a supermajority in the parliament was former premier Thaksin Shinawatra, who won 375 of 500 seats when he was reelected in 2005.
The same number of seats will be up for grabs in the next poll, now slated for late February.
Democrat Party chairman Abhisit Vejjajiva suggested that he either misheard Sontirat's speech or the 58 year old had misspoken.
Former Pheu Thai MP Navin Boonseth said Sontirat should hold his tongue until he sees the election results.
"It's up to the voters what party they vote for. He should wait till election day first. Don't brag now," Navin said, adding that he believes Pheu Thai will win the majority.
At today's news conference, Sontirat declined to say how many seats he's really aiming for.
He also would not answer questions about whether a new redistricting of voter constituencies would benefit his party.