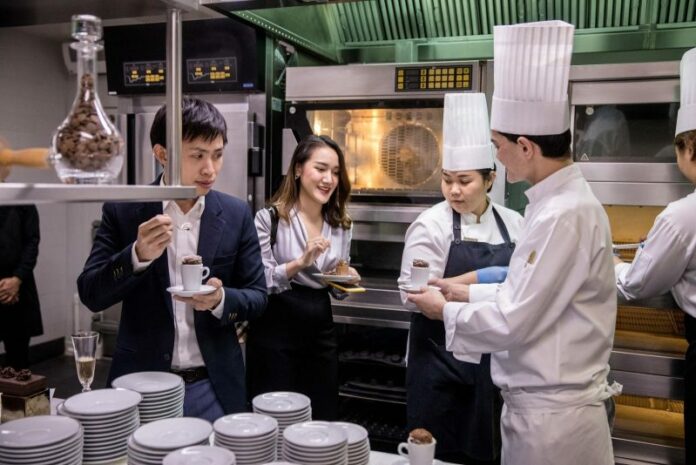 BANGKOK — Park Hyatt Bangkok held its first Masters of Food & Wine on Tuesday, November 6, 2018.  Core to the Park Hyatt brand, every event offers a unique culinary journey to celebrate the brand's passion for food and beverage.
Embracing culinary art and wine culture, Park Hyatt's Masters of Food & Wine programme started in Carmel in 2003 to showcase the brand's passion for food and beverage. The events offer immersive culinary and beverage experiences to differentiate the Park Hyatt brand globally. As the programme moves forward, its focus on its roots in exquisite and unique experiences provide a platform for highly talented culinary colleagues to share and celebrate their passions with like-minded guests.
"The program offers a calibre of F&B programming that is interactive and inspiring," says Executive Chef Franck Detrait. "By offering these events at Park Hyatt Bangkok we will further highlight this point of distinction to our guests, to true connoisseurs."
Essential ingredients in each Masters of Food & Wine event start with highly engaging, thought-provoking partners and masters in their craft who relish sharing their passions with others. These events aim to expose guests to rare, noteworthy regional or local food and beverage offerings and immerse guests in unique themes through interactive experiences where knowledge is shared and stories told.
Programs tap into suppliers to tell stories alongside Park Hyatt hotel chefs, sommeliers and mixologists.  An evening of surprising delights unfolded at Park Hyatt Bangkok's first Masters of Food & Wine event which included a roundup of international Masters presenting and sharing knowledge about their products. Masters that participated in this launch event included:
Patrice Marchand – Cheese Maker and Founder of Les Freres Marchand
Ronald Brown – Wine Maker and Founder, Maverick Wines
Alexandre Bader – Champagne Master and Managing Director, Billecart Salmon
Jean Philippe – Craftman baker and Founder, Maison Jean Philippe
Thibault Spithakis – Founder, Chalong Bay
Ocean Piras – Master of Caviar, Caviar de Neuvic
Billy Marinelli – Founder, Marinelli Shellfish
Philip Bischoff – Bar Manager, Manhattan Bar Singapore
Terawat Teankaprasith – Winner of Designer of the Year Award
Vincent Goyat – Director/Patriarche, Grands Vinsde Bourgogne
Follow Park Hyatt Bangkok's official Facebook page (www.facebook.com/parkhyattbangkok ) for more information as it unfolds as the next event is scheduled for early 2019.