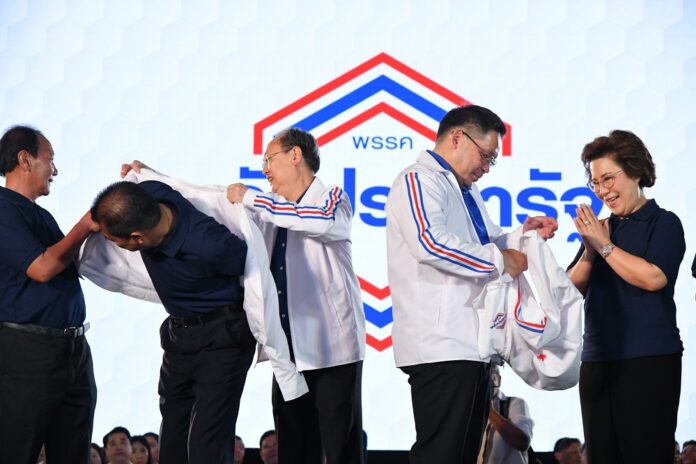 BANGKOK — A key member of a political party linked to the military government said Sunday it's confident in a victory at the polls because the constitution was written in its favor.
Former minister Somsak Thepsuthin, who formally joined the Palang Pracharat yesterday after months of campaigning on behalf of the clique, also urged its members to reap the benefits from the charter and focus on winning the most votes in elections slated for February.
"In this election, this constitution was designed for us," Somsak said in a party conference held yesterday. "We have to use all these things to our advantage. The goal is that every vote is important."
His assertion would come as no surprise to government critics and anti-junta activists, who have long accused the regime of favoring new political parties at the expense of older, established factions.
Somsak was addressing hundreds of new members and MPs candidates at the Shangri-La Hotel in Bangkok. At least 75 former MPs, ministers and other political luminaries have signed up with the party since membership registration opened Tuesday.
Along with two other veteran politicos, Somsak has been recruiting new members for Palang Pracharat, calling themselves "The Three Friends" group. Their campaign drew criticism from other parties, who accused them of poaching their longtime MPs.
Though the group has repeatedly insisted it's not formally affiliated to Palang Pracharat or any other party – an explanation that has allowed it to skirt the ban on political activities – any distinction was lost yesterday after Somsak merged it with the party.
Somsak said the group and its supporters, which include five ex-ministers and three former MPs, have officially registered with Palang Pracharat.
While Somsak declined to say how many seats his party hopes to win in the poll, party executive Anoocha Nakasai predicted at least 100 seats would be taken.
Palang Pracharat leaders include three cabinet members of the military government: Uttama Savanayana, Suvit Maesincee, Nuttapol Teepasuwan and Sontirat Sontijirawong. They have refused to resign from their posts even as they take up campaigning with the party.
Uttama personally presented the party jackets to the new MP candidates on stage yesterday.