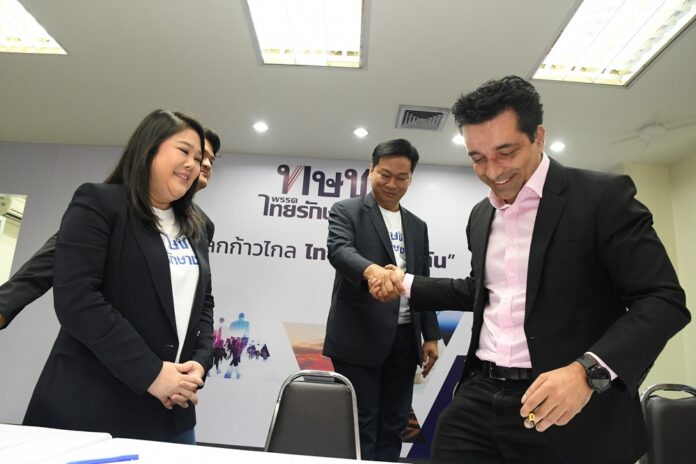 BANGKOK — Not one but four Pheu Thai parties will run in the upcoming election, an arrangement the group's leader says is the only way to victory.
With politicians shuffling between Pheu Thai clones on a daily basis, Redshirt leader Jatuporn Prompan told reporters the junta-sponsored constitution favors a group of smaller parties to larger ones. He compared the strategy to breaking a large banknote into smaller bills.
Read: Pheu Thai, Allies Could Be Disbanded, Election Official Warns
"It's the way the new constitution was designed," Jatuporn said. "If we don't break this 1,000 baht bill, the note will be worth only 700 baht. But if we do, it will be worth 1,500 baht."
At least four parties are known proxies for Pheu Thai, a political powerhouse loyal to former leader Thaksin Shinawatra, who is living in self-imposed exile. They include Pheu Tham, Pheu Chart and Thai Raksa Chart.
Another southern-based party, Prachachart, is also recognized as a close ally.
Pheu Thai cadets have acknowledged them as spare parties for their supporters, and longtime pro-Thaksin politicos have registered with these proxies in recent weeks.
Former deputy House Speaker Lalita Lerksamran signed up with Pheu Chart. Khattiya Sawasdipol, the daughter of a rogue general assassinated during the 2010 Redshirt protests, switched from Pheu Thai to Thai Raksa Chart. Former Pheu Thai MP Pichai Naripthaphan is also reported to have moved to Thai Raksa Chart.
The party was also joined by former Bangkok Post editor Umesh Pandey, who quit the paper in May to protest alleged censorship.
Experts believe major parties like Pheu Thai and Democrats stand to lose seats in the upcoming poll thanks to recent gerrymandering efforts under the current junta. Pheu Thai is set to be the biggest loser: about 60 seats could be gone. Up to 48 seats would be up for grabs by smaller, new parties, according to a calculation by BBC Thai.
Even Pheu Thai archnemesis Suthep Thaugsuban suggested the tactic could work.
"I have already warned that Thaksin Shinawatra will adopt the strategy of breaking 1,000 baht bill into 100 baht bills," Suthep, who's been campaigning for a pro-junta party, told reporters Saturday. "This cannot be underestimated."
Suthep predicted that, if the tactic plays out in the way Thaksin hopes for, Pheu Thai and its proxies could secure at least 300 seats in the lower House, granting them the ability to form a government.
Jatuporn declined to say which Pheu Thai allied parties he and other Redshirt leaders would join as MP candidates.
"I don't know about details. Mostly when I talk to them, I ask about their lives," Jatuporn said.
Related stories:
Election Rules Bent Against the Poor: Grassroots Parties
Analysis: Why Pheu Thai Made Its Unglamorous Pick For Leader