By Jintamas Saksornchai and Pravit Rojanaphruk
BANGKOK — The leader of a protest movement that helped "shut down" Bangkok and usher in the 2014 coup returned to the streets again Tuesday to enlist new members for his new political party.
Though far from the throng of hundreds that accompanied Suthep Thaugsuban when he called for a military takeover, a group of about 20 joined him in the Bang Rak district to hand out party registration forms and greet passers-by and shop owners.
"We're just marching to recruit members, because we'll need a sufficient amount of number to hold an assembly," said Action Coalition for Thailand Party spokeswoman Phetchompoo Kijburana. "The reactions we've gotten so far have been pretty good."
Political campaigning is still banned by the junta although it has taken legal steps toward allowing a vote.
Followed by students who said they were paid 500 baht a day each to hold party signs, the group received relatively warm greetings. Many approached Suthep with big smiles and asked to take pictures with him. Chatumongol Sonakul, who marched with Suthep as the party's nominal leader, usually stood aside unnoticed.
"Don't mess with our [Suthep], or you'll have to deal with my kicks," one elderly man on Charoen Krung Road shouted at reporters.
The area was once considered ripe political turf for Suthep, a former high-ranking member of the Democrat Party, and the protest group he led called the People's Committee for Absolute Democracy With the King as Head of State, or PCAD, which was also known as the People's Democratic Reform Committee, or PDRC.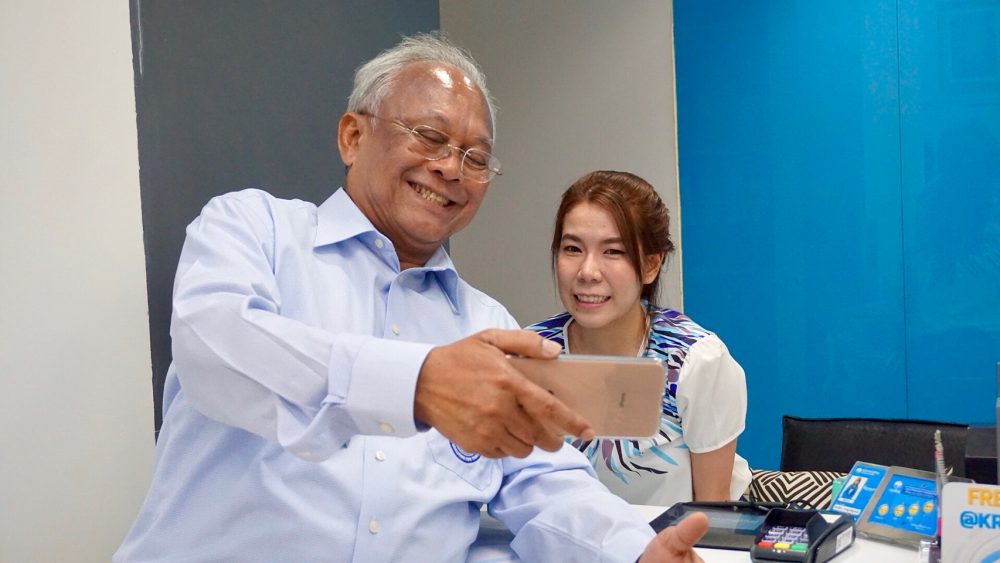 It held massive protests to shut down key parts of Bangkok and seize government ministries, eventually triggering the military to intervene and seize power nearly five years ago.
Though unlike those days at the height of anti-Yingluck Shinawatra protests, no huge crowds came out to greet Suthep, who collected large sacks of cash along the way.
Some reacted angrily at seeing the man who became a monk and vowed never to return to politics after the elected civilian government fell.
"Why aren't you wearing your monk robes today? I thought you said you wouldn't return to politics," one woman shouted at him at about noon. "Do you think people are stupid? We eat rice, not grass." She then quickly walked away.
Seeing a reporter taking notes of the encounter, Suthep said, "You are scribbling quickly and got what you wanted. It was worth your day now."
Others refused to engage. One member of Suthep's group was their canary in the coal mine, first entering shops to test the water and let them know if they should go in. He walked out of a few shaking his head.
A man in one of many banks Suthep went into declined to take a registration form. Identifying himself only as Phisek, he said he "hasn't decided yet" because "everything is still uncertain."
At about 11am, near the Shangri-La Hotel on Soi Charoen Krung 44, another woman held up a 2019 calendar of ousted PMs Thaksin Shinawatra and Yingluck Shinawatra while extolling their healthcare policies.
"Beloved by the people! When we had no money, we could go to the hospital for free! When I was going to die, they had a gold card for me," she said, referring to cards that entitled Thai citizens to 30-baht visits to state hospitals.
They weren't the first snubs Suthep and his entourage experienced. On Monday, a man shouted that he was a liar in the Silom area. He was also cursed at by a man Saturday while walking through Sampeng Market.
Today was the fifth day of Suthep's street campaign. On Monday, he acknowledged the hecklers to a gaggle of reporters.
"There were some disturbance during my canvass. Some people approached us and asked inappropriate questions, or even yelled and scolded at me from a car," he told reporters. "Personally, I think these people are narrow-minded about democracy. They probably were supported by politicians from the opposite side."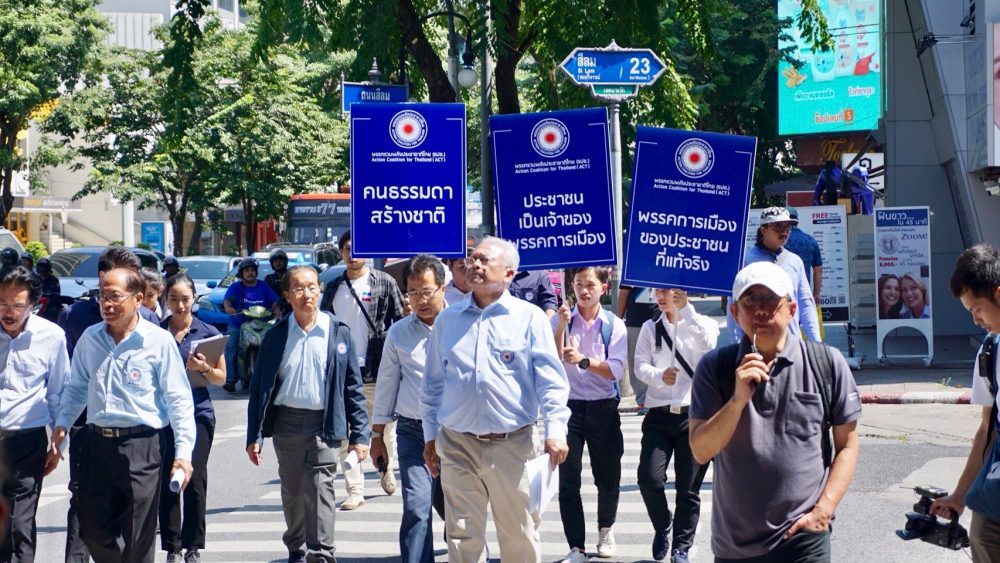 Still, many others accepted the registration forms and said they would continue to support him. The party asks those joining for 365 baht annually, or 1 baht a day as they put it, as a way to become its "true owners."
"The kind of politics we're doing now is pretty innovative," spokeswoman Phetchompoo said. "It's kind of new to Thailand, meaning the people truly become owners of the party, not just part of a party they don't have a say in."
She said members who contribute money will be able to directly select the party leader and become involved in the policy-making process.
"We are the true party of the people," she said.
Asked about the negative reactions they've received, 25-year-old Phetchompoo, who said she was educated in Singapore and England, did not see it as a threat.
"Everyone is entitled to their own opinion. We live in a democracy, and so freedom of expression is most important," she said. "We're just here inviting people who share the same platform or opinions to register."
During lunch, a request for an interview with Suthep was turned down by the man himself.
"I will not give a special interview to Khaosod." Suthep said after being asked by a staff member. "You are opposition media. You have hurt us enough. Do not fool me more than this. I am a straightforward person."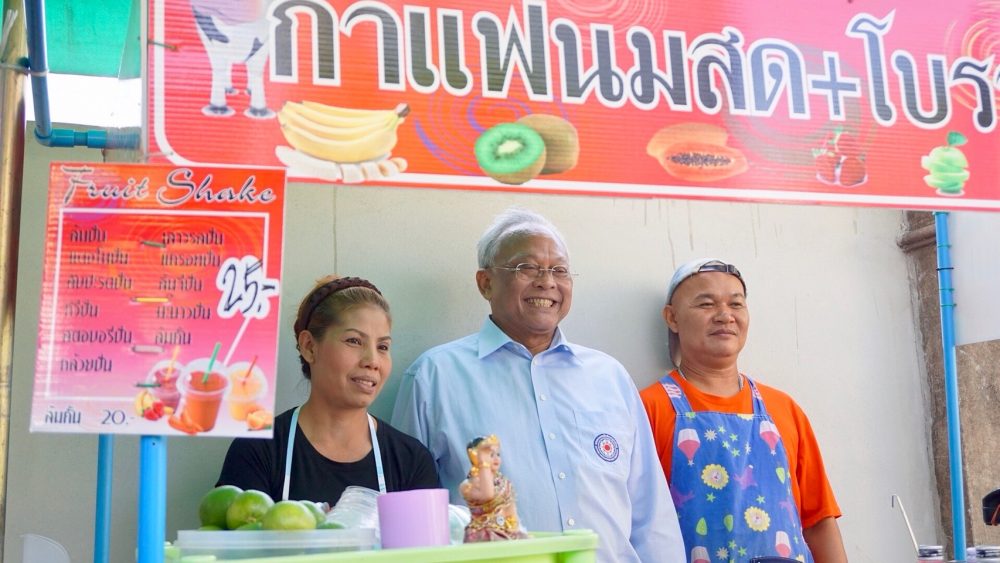 Though Suthep has often said the military should be in power to oversee a wholesale national reform effort, the party's spokeswoman played down speculation it will back junta leader Prayuth Chan-ocha's continued rule as prime minister.
"It's quite premature to make the decision. … [W]e still need to ask the people, who are the true owners of the party, who they would like to nominate," Phetchompoo said.
In the coming weeks, the party says it will take its marches, which it says do not amount to campaigning, out of Bangkok and into the provinces.
Additional reporting Asaree Thaitrakulpanich and Chayanit Itthipongmaetee