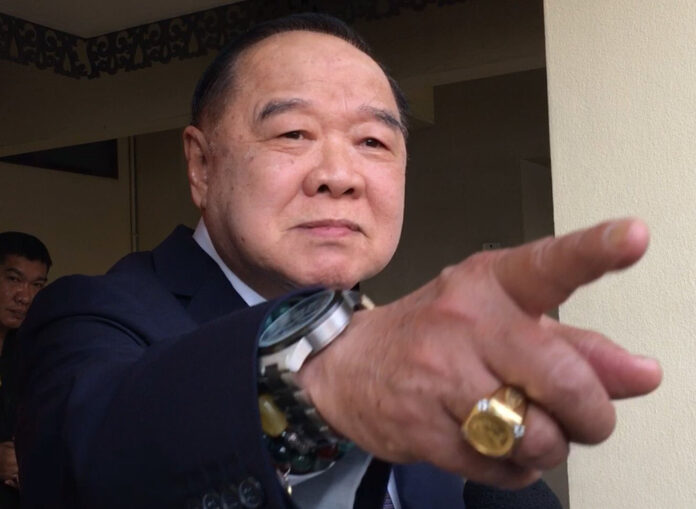 BANGKOK — Obviously incensed by questions whether oft-delayed elections would happen as planned in February, the deputy junta leader said he would answer such questions with his fists.
Gen. Prawit Wongsuwan, who is also defense minister and deputy prime minister, responded incredulously on Thursday to reporters' questions about whether the junta would delay the elections now slated for Feb. 24. The 73-year-old retired general offered a noncommittal response that elections would happen according to the junta's "roadmap" before responding angrily.
"If you're going to talk like this, why don't we just have a fistfight?" Prawit said, pointing his finger at the female reporter who posed the question.
Prawit said that any election-related matters should be put to the Election Commission.
"Why don't you just ask and answer your own questions? Who am I to talk to about this?" Prawit said. "We are going according to the roadmap. The election commission already said the election is on Feb. 24."
"Whoever wants to go draw Xs on a ballot that day, go ahead," he said.
Prawit's flash of belligerence and courting of violent language emulates that of his boss, junta leader Gen. Prayuth Chan-ocha. In July, Prayuth told a crowd in Ubon Ratchathani province that he would punch in the mouth anyone who criticized him.
Prawit was also asked about ousted ex-PM Thaksin Shinawatra, who is visiting Singapore at the height of an annual ASEAN summit and may be meeting some of his political allies in the Pheu Thai Party. His visit coincides with that of his political archrival, junta leader Gen. Prayuth, who is attending the summit.
"They probably won't run into each other. One person is there to work, another is there for leisure," Prawit said.
He added that he "didn't know" if Pheu Thai party members traveling to meet Thaksin could be regarded as campaigning, which is still banned by the junta.
Reporters also asked about the relative popularity of Pheu Thai versus members of the pro-junta Palang Pracharat Party.
"People are preferring Uncle Tuu," he said, referring to Prayuth's nickname.
Related stories:
Prayuth: Election Coming in 2019 – Unless 'Fight Breaks Out'
'Tormented' Prayuth Ready to Punch Critics In the Mouth
Prayuth Jokes About Beheading Soap Actor
Prayuth 'Regrets' Yelling at Pattani Fisherman
Thai Press Groups Respond to Junta's Execution Threats with Mild Rebukes