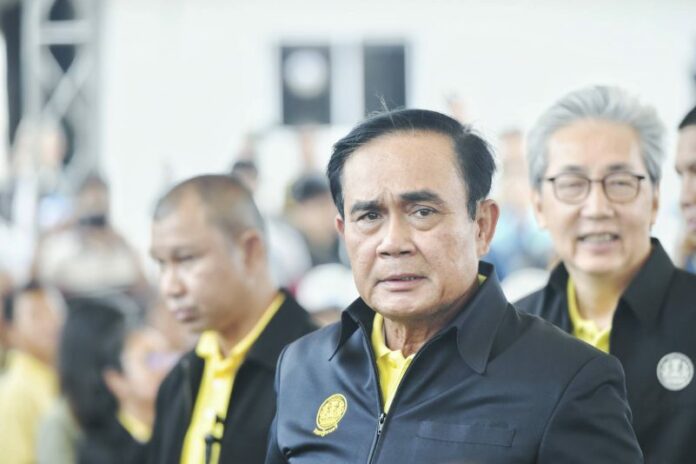 BANGKOK — A Pheu Thai Party spokesman on Tuesday urged the leader of the ruling junta to apologize for publicly threatening to punch anyone who criticizes him.
Anusorn Iamsa-ard said Gen. Prayuth Chan-ocha should retract the comment made Monday during a visit to Ubon Ratchathani province, where he told supporters that he has the right to defend himself from anyone who criticizes and dishonors him.
The retired general said he's been tormented by media coverage and online criticism since he seized power four years ago.
"Wouldn't I be better off sleeping at home instead of having people draw cartoons to criticize me every day? They can criticize me every day up to today; I am no longer angry, as I no longer read it," Prayuth said.
Continuing, 64-year-old Prayuth, who serves as prime minister, said he reserves the right to punch back – literally.
"I know why I have been tormented for four years – because I read newspapers and read my smartphone […] Now, if someone criticizes me and it doesn't sound good to my ears, I will punch them in the mouth. I have my right too," he said to the laughter and applause of his seated supporters.
Prayuth then said he isn't a prime minister people can step on, adding that "even I don't step on others."
Anusorn said Tuesday that people who heard the remark would be alarmed because it was akin to a threat of violence.
"This is a threat to prevent people from making any criticism. … So I would like to demand that Prayuth retract his words and apologize to the people, because such words are not beneficial and against the climate of reconciliation and unity," Anusorn said.
A member of the political faction whose influence Prayuth has sought to uproot, the former Mukdahan list MP said freedom of expression is already low under the junta. People who have criticized its rule have been detained on military bases, and even farmers taken away for complaining about their plight, he added.
In four years, Prayuth has developed a reputation for his bad humor and dismissing as jokes various threats to execute journalists or democracy-endorsing celebrities.
Prayuth's latest remark was widely discussed Tuesday on social media.
"Thai people such as myself never feel like punching his mouth or anyone's, because people have sufficient maturity," Decharut Sukkumnoed, a political scientist at Kasetsart University wrote Monday on Facebook.
Related stories:
Prayuth Jokes About Beheading Soap Actor
Prayuth 'Regrets' Yelling at Pattani Fisherman
Thai Press Groups Respond to Junta's Execution Threats with Mild Rebukes