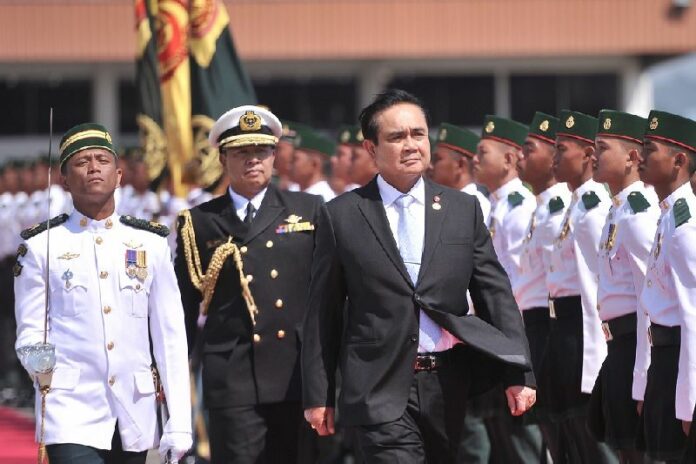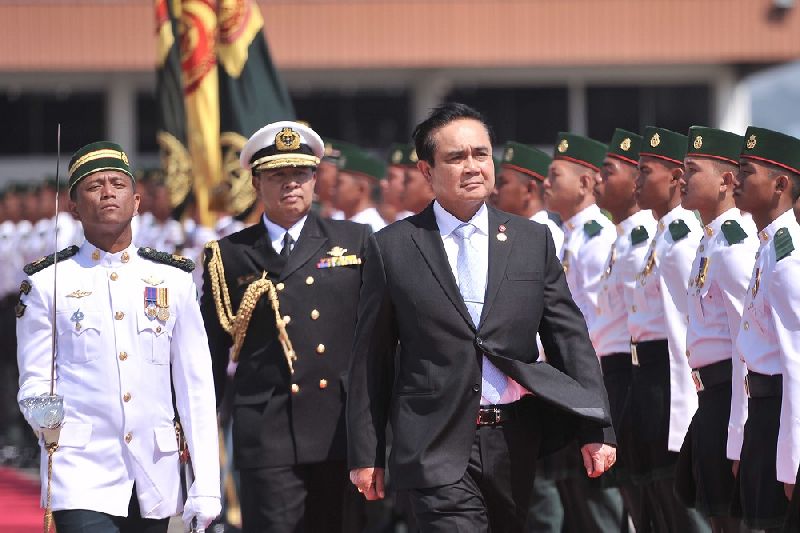 BANGKOK — Press associations in Thailand have politely asked the junta to refrain from intervening in issues of media ethics, following a fiery rant by Gen. Prayuth Chan-ocha yesterday in which he threatened to "execute" reporters who criticize his regime.
Pattara Khampitak, the chairman of the non-governmental Thai Press Council, suggested junta chairman Gen. Prayuth allow Thai media agencies hold each other accountable instead.
In a particularly heated press conference yesterday, Gen. Prayuth reminded reporters of the junta's supreme power and quipped that any reporter who criticizes his government could face "execution."
He also asked Thai media associations to investigate any news agencies that "cause divisions," or else the junta may directly intervene.
"I will keep my eyes on all media [agencies] and, if necessary, I will use my power on everyone," he said. "Any media agency that causes divisions has to be dealt with by the [Thai Journalist] Association. Let it investigate them. But if the Association can't do anything, I will have the Council [National Council for Peace and Order] investigate them. Let's see whether that damn media agency causes divisions."
Speaking to TNN24 news channel yesterday, Pattara said he is "glad" to see that Gen. Prayuth respects the internal investigation procedure among media organizations.
"If any state agency believes that any member of our organization steps beyond the boundaries of good media, they can alert us at any time," Pattara said. "The Press Council has a working committee responsible for controlling media ethics. If the Prime Minister has any concern about media operations, the Press Council would like him to specifically name the issue and the company."
Pattara also suggested that Gen. Prayuth's "focus on using power does not benefit the Prime Minister or the NCPO," using an acronym of the junta's formal name, the National Council for Peace and Order.
A spokesperson from the Thai Journalist Association, Manop Thip-osot, asked Gen. Prayuth to understand the media's duty to scrutinize those in power.
"The Prime Minister and the government are the wielders of state power," Manop told Manager newspaper. "The media has a duty to investigate the workings of the state to make it transparent and beneficial to the people in the country."
The Brussels-based International Federation of Journalists (IFJ) took a harsher stance against the junta chairman in a statement that called Gen. Prayuth's comments "deplorable" and evidence of the "complete disregard for freedom of expression in Thailand."
In the same statement, the President of the National Union of Journalists, Thailand (NUJT) noted Gen. Prayuth's outburst yet stopped short of openly condemning it.
"The comments by Prayuth is just the latest outburst aimed directly at the news agencies and journalists," NUJT president Sumeth Somkanae was quoted as saying. "The NUJT continues their support of press freedom in Thailand and encourages journalists to continue their work in providing independent, ethical journalism and playing a positive role in building a functioning democracy."
All news agencies owned by Matichon Group, including Khaosod English, are not members of Thai Press Council, NUJT, or Thai Journalist Association.
Since seizing power last May, the NCPO has extensively curtailed civil rights and media freedom in Thailand, namely by threatening to shut down media agencies that report negatively about the junta, and pressuring outlets to drop news programs that are critical of the regime. Although the junta has stopped short of full-scale censorship, its threats and intimidation tactics have led many Thai news outlets to exercise self-censorship when reporting about the military government.