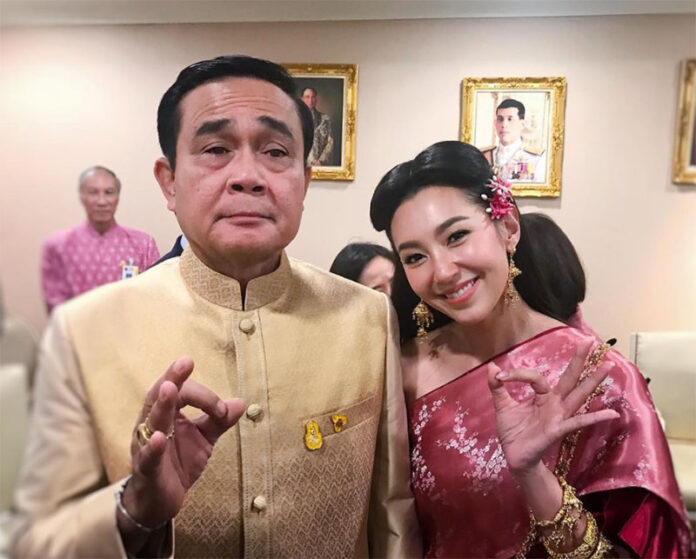 BANGKOK — A routine photo op with the cast of a popular soap opera took a dark turn Tuesday when the junta leader joked about beheading one of the actors for speaking supportively of holding an election.
Gen. Prayuth Chan-ocha, who has previously joked about executing reporters, made the comment to Ponma "Punjan" Imonothai at the Government House after the actor quipped that that he might be caned for echoing Prayuth's own statements about the return of power.
"So you want elections?" Prayuth first asked the actor.
"Well, I understand we have to follow the roadmap," Punjan said, referring to Prayuth's own assurances that he is following some kind of timetable or plan. "Will I be caned for this?"
"Beheaded," Prayuth said in reply.
Read: Junta's Offer to Pay For Soap Sequel Likely to Flop
Punjan then told the retired general he wanted to take a selfie with him.
Punjan was at the prime minister's office along with the cast of "Bupphesaniwat," a highly rated period lakorn.
Prayuth, who is an avid television fan, did not seem familiar with the show, as he had to repeatedly ask who played which characters and who is the "bad guy."
At one point during the meeting, Prayuth asked Tanawat "Pope" Wattanaputi who plays the male lead, to recite a popular line of dialogue from the show.
"You are an insolent person who knows no manners and speaks with strange words that no one understands. Your heart is coarse and unmerciful to your attending servants. You've never done any work; you're so lazy that fur is growing on you. All you do is dress up and sit around with your white face. So annoying!"
"Go say that to the nang ek [leading lady], not me," Prayuth said in reply.
Prayuth has previously made light of executing those who displease him. In 2015, he threatened to execute journalists if he went "to war with the media."
As for Bupphesaniwat, the Culture Ministry recently said it will pay 400 million baht for the show's sequel. Producer Arunocha Phanuphan said Tuesday a follow-up is in the works for Channel 3.
The response from show fans was mostly negative Tuesday to not just Prayuth's joke threat but also state sponsorship of the sequel.
"You're just saying you're supporting culture as an excuse. You really want me to believe you're not getting on the bandwagon just before elections?" user Pongana Srichand wrote in a comment in a livestream video of the meeting.
Three years after they were first promised following Prayuth's 2014 coup d'etat, elections are currently planned for February.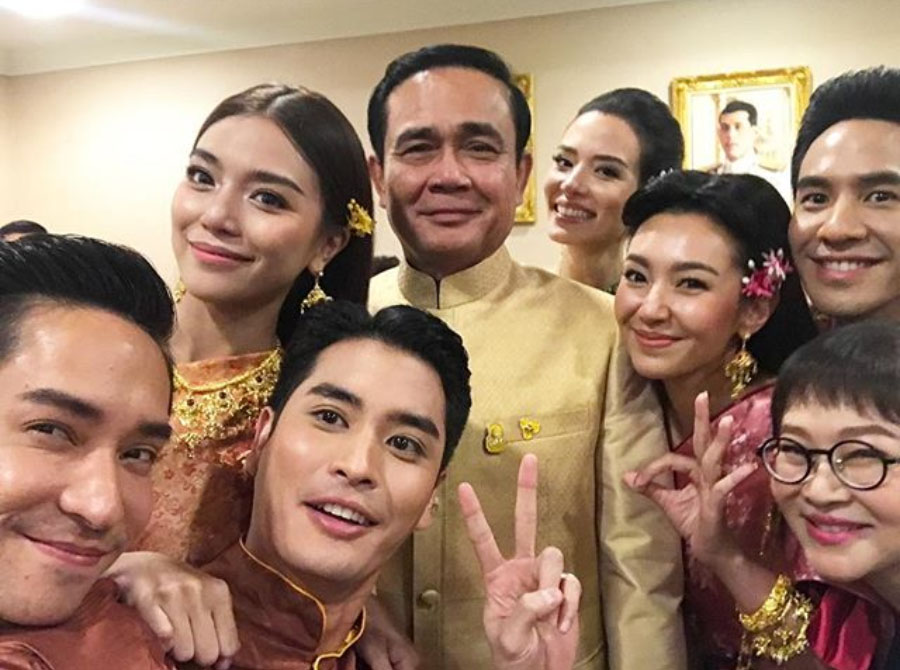 Related stories:
Junta's Offer to Pay For Soap Sequel Likely to Flop
Romcom Fever Triples Ayutthaya Tourism: Officials