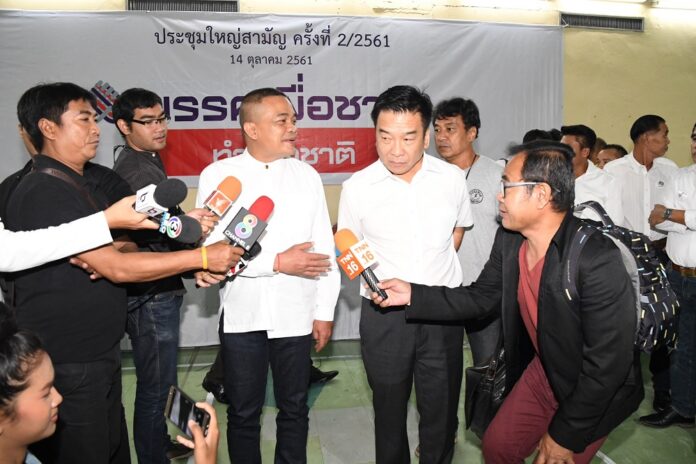 BANGKOK — A Pheu Thai spokeswoman lashed out Tuesday at the Election Commission after it suggested that the party and its allies could be dissolved on the grounds of illegal collaboration.
Election Commission sec-gen Charungwit Phumma told reporters Monday that officials would look into whether Pheu Tham and Pheu Chart are serving as shell parties for Pheu Thai, which he said would violate election laws. The party's spokeswoman called for due process if the investigation was to proceed.
"Let the laws take their course. We didn't do anything wrong, so no one should bully us," Sunisa Lertpakawat said in an interview. "If they would really investigate us, or prosecute us about this, they should do the same with other parties, instead of targeting only Pheu Thai."
Read: Pheu Thai Readies Backup Party in Case it's Dissolved
Recently unveiled to the public, both Pheu Tham and Pheu Chart are widely recognized as "proxies" for Pheu Thai in case the junta disbands it in the run-up to the February election.
Five hundred people attended a Sunday general meeting of Pheu Chart Party, including former Pheu Thai MPs Jatuporn Prompan and Worachai Hema.
At a panel discussion held Monday, Charungwit said political parties are legal entities that cannot be puppeteered by other factions or those outside.
But Sunisa accused the Election Commission of turning a blind eye to pro-junta parties who are openly receiving support even from government figures such as Palang Pracharat – which counts three cabinet members among its leaders.
"It's so obvious that it was founded to support Gen. Prayuth [Chan-ocha] to return as prime minister," the spokeswoman said. "Even the name resembles a government project. Could this be considered an influence from outsiders? Does the [commission] care to investigate at all?"
Charungwit could not be reached for comment as of publication time. Someone who answered the phone said he's attending a news conference about the selection of new Senators.
Related stories:
For Thais or Friends of Thais? Pheu Thai Protests 'Copycat' Party