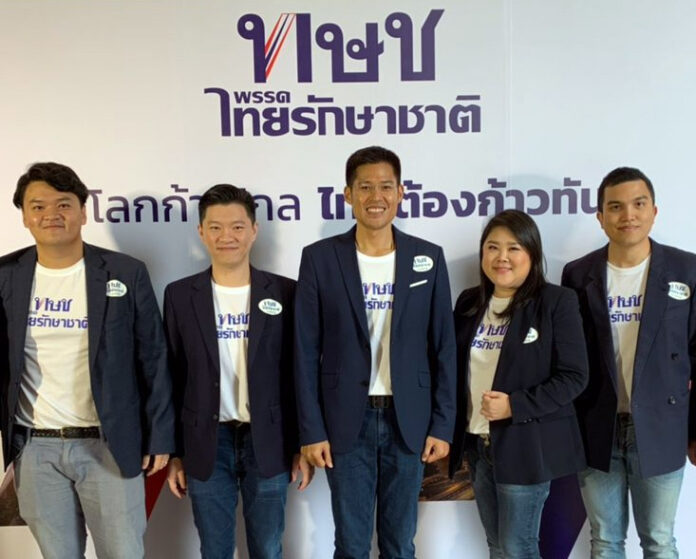 BANGKOK — A new political party was launched Wednesday by children of Pheu Thai Party heavyweights and those close by blood or association to former prime ministers Thaksin and Yingluck Shinawatra.
The new party, called Thai Raksa Chart, is seen as Pheu Thai's third possible proxy in case it is dissolved for any reason, such as a ruling it violates a new election law that effectively outlawed the influence of party founder Thaksin.
The new party, led by 38-year-old Preechapol Pongpanich, said it isn't in cahoots with Pheu Thai, which led a series of governments brought down by coups, most recently in 2014.
That claim is being met with skepticism not only for the names involved.
While the party's name means "Thais Save the Nation," its official acronym – Tor Sor Shor – can be read phonetically as "Thaksin Shinawatra." In another seeming wink to the party's base, its logo bears an uncanny resemblance to the Pheu Thai emblem of red, white and blue.
Preechapol formerly represented Khon Kaen in the Pheu Thai administration of Yingluck. He obtained a master's degree in political economy from Sydney University in Australia and was the youngest MP in Khon Kaen when he was first elected at 27.
Other party executives include a niece and nephew of the sibling former premiers who were convicted on corruption-related charges and live in exile.
Thaksin has maintained influence over the party through proxy leaders over the years, including his sister Yingluck, who was elected in 2011.
The party's founding members are a who's who list of Pheu Thai-adjacent personalities.
Chayika Wongnapachant is a niece of Thaksin and Yingluck while deputy party leader Rupop Shinawatra is their nephew. As late as last year, Chayika said she had no political ambitions. Attempts to reach Chayika as of publication time were unsuccessful.
Ton na Ranong, son of Kittirat na Ranong, a former Yingluck finance minister, was also picked as a party executive.
Mitti Tiyapairat, son of former parliament president Yongyuth Tiyapairat, was named secretary general.
Patchara Naripthaphan, son of a former Pheu Thai MP who served as Yingluck's energy minister, was also made a party executive.