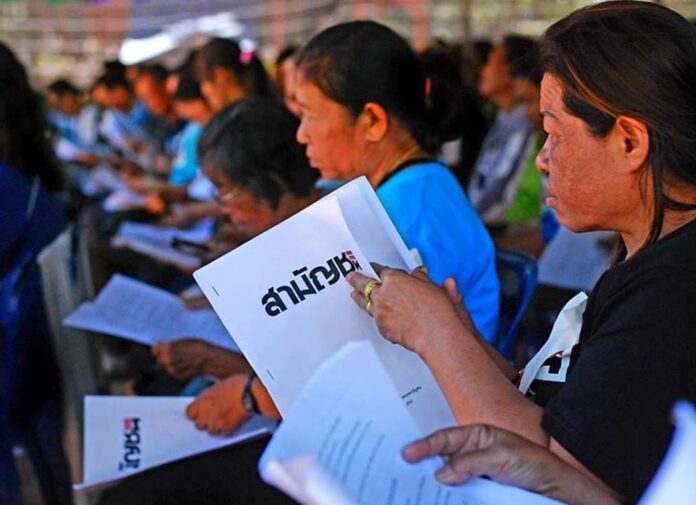 BANGKOK — The viability of two new political parties seeking to represent historically disenfranchised voters was in doubt Wednesday, with representatives saying the new election rules are biased against the poor.
Commoner Party spokesman Pakorn Areekul said changes to the certification process may prevent it from fielding candidates in the promised elections, while Kean Party leader Sombat Boonngam-anong said it would be unlikely to meet funding and membership requirements.
Sombat said the party would not be able to recruit 500 founders as required under the law, made difficult when each is required to pay 1,000 baht.
"Requiring a minimum founding member fee of 1,000 baht means political parties must have no poor members. Getting 500 people is difficult. Some said they are willing to be founders, but that they can't afford to pay 1,000," Sombat said.
Sombat said his party, which opposes military rule, has only attracted 100 founding members willing to pay the 1,000 baht fee – short of the required 500. The deadline is in two weeks. The regulations also require newly formed parties hold a minimum fund of 1 million baht. Sombat's has managed to raise just over 200,000 baht so far.
Sombat said the fees should be much lower – about 100 baht – to make politics more accessible to everyone. Regular members need only pay 100 baht to join, but that is only after  the 500 founding members are registered and the party certified.
Meanwhile the Commoner Party managed to secure the minimum cash and founders despite half being drawn from the rural poor, spokesman Pakorn said.
"Some had to sell rice, woven cloth or garlic to fellow party members," Pakorn said, adding that half of its 500 members were helped by other founding members who could afford to buy their products.
The party now has 600 members and has raised over 1 million baht. They will seek certification from the Election Commission to field MP candidates in the election now slated for Feb. 24.
A tight calendar of deadlines could still keep them out of the election, however.
Pakorn said party certification could take up to 45 days. If the commission rules that membership status is only granted after that process ends, it would not leave them enough time to be eligible to compete, as the law requires candidates be party members for 90 days prior to Election Day.
"Whether we can compete in the election or not, we will go ahead with a political caravan to allow people to participate in shaping our policies," Pakorn said, adding that the party has a modest goal of getting one MP elected. Based on past elections, that would likely require obtaining about 100,000 votes.
Related stories: