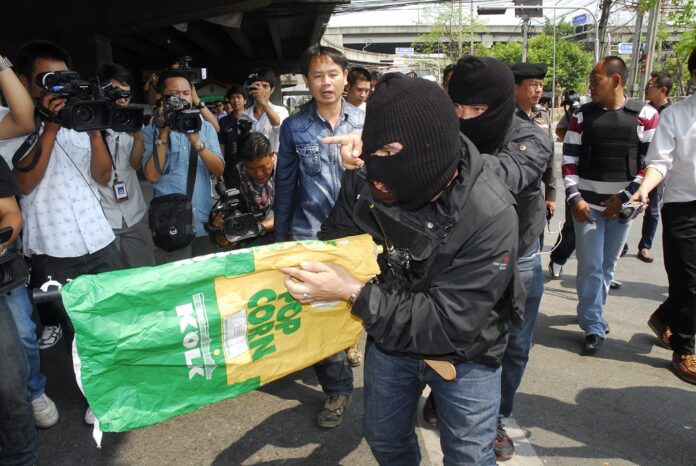 BANGKOK — A man accused of mortally wounding an elderly vendor during a protest in 2014 was convicted and sentenced to nearly 40 years in jail Wednesday.
Overturning a lower court's verdict acquitting Vivat Yodprasit, the Supreme Court found him guilty on multiple counts including manslaughter, firearm-related charges and violating the emergency decree imposed at the time. Vivat was given a jail term of 37 years and four months. He has already served four years in jail since his arrest.
The Feb. 1, 2014, shootout between pro- and anti-government protesters left Arkaew Saelew, 72, paralyzed. He died seven months later. Prosecutors identified Vivat as the balaclava-clad gunman who fired his assault rifle – concealed in a popcorn bag – in Arkaew's direction.
Although the appeals court said there was no credible witness implicating Vivat, the high court ruled that CCTV footage and photos posted online were sufficient to establish that the defendant and masked gunman were the same.
Vivat's own brother Ekkarin Yodprasit delivered damning testimony to the court, saying the gunman in the footage resembled the defendant, according to the verdict.
Vivat, who was arrested a month after the gunfight and became a cause celebre among those agitating for a putsch, denied the allegations and said he was tortured in police custody. Police deny the accusation.
The 2014 shooting broke out after anti-government protesters seized ballot equipment intended for a snap election in Lak Si district, prompting pro-government counter protesters to march there in an effort to defend the polling station.
The election was eventually voided by the court, and the military staged a coup three months later in May.