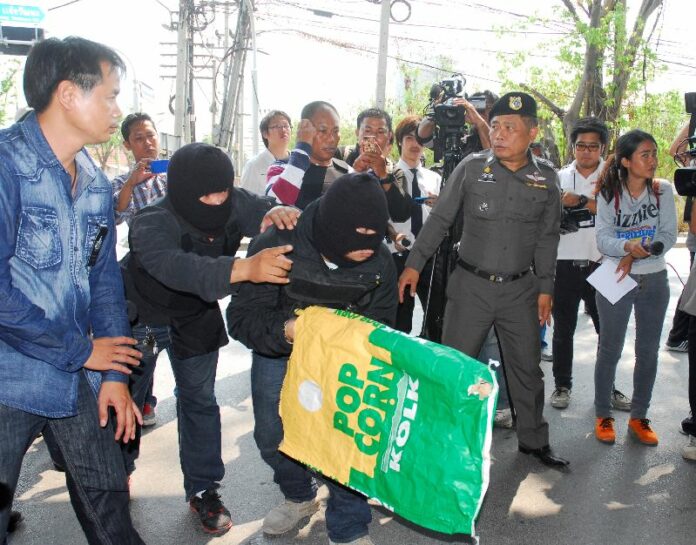 BANGKOK – The man accused of shooting at pro-government demonstrators in February has claimed he was tortured into giving false confession by the police, according to his lawyer.
Mr. Wiwat Yordprasit, 24, was arrested after he was identified by the police as the masked armed militant who fired a military-grade weapon concealed in a large popcorn bag during the gun battle between anti- and pro-government protesters in northern Bangkok last month.
The clashes left one elderly man paralysed after being hit by a bullet.
The suspect, dubbed "popcorn gunman" by much of the media, publicly confessed that he was hired by the People's Committee for Absolute Democracy With the King As Head of State (PCAD) as a security guard, and that he received the weapon from fellow guards during the clashes, which he used to fire at pro-election demonstrators.
But his lawyer, Ms. Puangthip Boonsanong, said Mr. Wiwat told her during their meeting at Bangkok Remand Prison that he was coerced and tortured by the police into confessing to the alleged crime.
According to Ms. Puangthip, Mr. Wiwat was put in a van shortly after his arrest and blindfolded by a group of police officers who later allegedly punched and strangled him with a rope, a piece of cloth was wrapped around his neck in order to avoid the attack leaving any marks.
Ms. Puangthip also claimed Mr. Wiwat was forced to read his confession from a script provided by the police during the press conference.
However, her account was disputed by Pol.Gen. Adul Saengsingkaew, chief of the Royal Thai Police who said the Thai police do not have any kind of policy that allows the torturing of suspects.
"The police cannot do that" Pol.Gen. Adul insisted, while Pol.Lt.Gen. Winai Thongsong, deputy chief of the Thai police, said it was impossible that Mr. Wiwat was tortured, as there is no trace or evidence of the alleged attack on his body.
He stressed that the suspect voluntarily confessed to his alleged charges, and that the police provided no script for Mr. Wiwat at the press conference. "Reporters at the conference could see that," the deputy police chief said.
Pol.Lt.Gen. Winai also voiced his speculation that Ms. Puangthip brought the accusation against the police as part of her courtroom strategy.