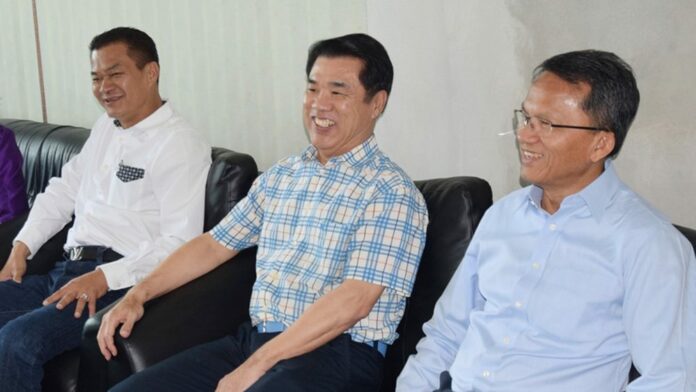 BANGKOK —  A Pheu Thai spokeswoman on Monday accused a pro-junta faction of poaching politicians to support its cause under the disguise of "lunch meetings."
The clique maintained its luncheons with numerous politicians were strictly politics-free, but spokeswoman Sunisa Lertpakawat said they are part of an ongoing effort by the junta to bribe former MPs into joining a political party that supports junta chairman Prayuth Chan-ocha's next term as a prime minister – an allegation the regime denies.
"Their explanation runs against what the majority of people see," Sunisa said. "The public sees their activity in a negative light."
Calling themselves "Group of Three Friends," the faction consists of veteran politicians Somsak Thepsuthin, Suriya Jungrungreangkit and Anoocha Nakhasai, who have expressed their support for Palang Pracharat, a pro-junta party founded in March.
The three reportedly had lunches with a number with former Pheu Thai MPs in recent days. Somsak, who served as labor minister under former Prime Minister Thaksin Shinawatra, told reporters politics and party affairs were not discussed at those lunches.
But Sunisa said she's confident it's an attempt to "suck in" Pheu Thai ranks-and-file into the pro-junta faction, possibly with promises of payouts as a lure.
"The public is worried that if these people can secure political office in the future, will they exploit the public interest for their own good?" the spokeswoman said. "There is no reason to invest in politics unless the people who invest think they can get something in return."
Deputy junta chief Gen. Prawit Wongsuwan denied allegations that the regime is behind the group.
"How can I be biased? I don't even know them," Prawit told reporters Monday.
He added that the Group of Three Friends can continue its activities "as long as they are within the laws."