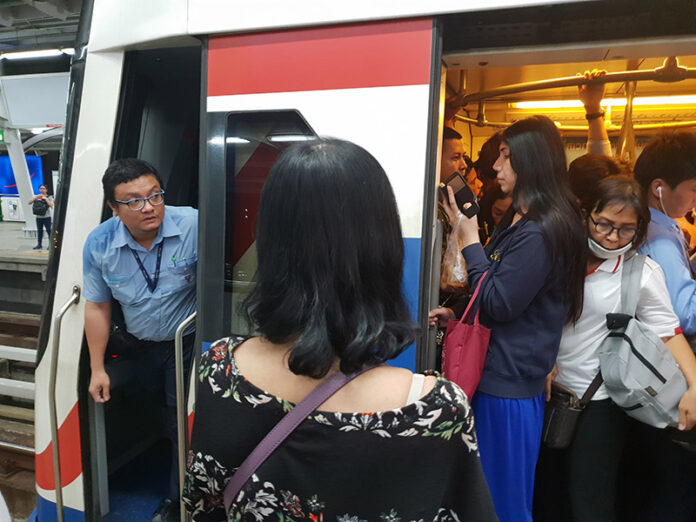 BANGKOK — City Hall on Monday said a 1.8 million baht fine intended for repeated BTS failures last month could not be imposed due to "conditions in the contract."
Authorities initially announced the fine last week following public uproar after the popular city rail network's service was disrupted as many as 20 times in June – mostly blamed on glitches in the signalling system. A deputy Bangkok governor said today during an inspection that the operator had finished fixing the system but the fine could not be carried out.
Read: BTS to be Fined 1.8M Baht for Failures
"About the 1.8 million baht fine for the failures, service disruptions or delays that exceeded the standards, a review of conditions in the contract indicated they are not liable for a fine," Sakoltee Pattiyakul said. "But we will continue to discuss with related government agencies to prevent such problems from happening in the future."
On Wednesday, Sakoltee said the BTS would be fined as it failed to maintain punctuality standards.
The rail service, said to serve an average of 900,000 commuters daily, was crippled for almost the whole of last week, leaving passengers stuck onboard or stranded at stations for hours. The company said the glitches in its system were caused by interfering radio signals from nearby buildings.
BTS changed its original signalling system in 2009 and was operating through the same frequency range as Wi-Fi and Bluetooth devices. The interrupting signals were suspected to belong to TOT and DTAC, which operate services near that range.
The two companies were asked to shut their signals along the BTS route until the company moves its signals to another range.
The BTS announced Saturday that it completed the work in changing the receivers, moving the operation into another frequency range and installing signal-blocking devices.
Takorn Tantasith of the national broadcasting regulator said after today's inspection that the service passes the standard.
As for the compensation plan, Company Director Surapong Laoha-Unya said it's still under the board's discussion and expected to be concluded within this week.
The company's Saturday statement only said that those using a single ticket would be able to keep and reuse it within 14 days, while trips and value wouldn't be deducted for those using top-up cards during disruption hours.
Related stories:
BTS to be Fined 1.8M Baht for Failures
Broken Again, BTS Told to Compensate Commuters