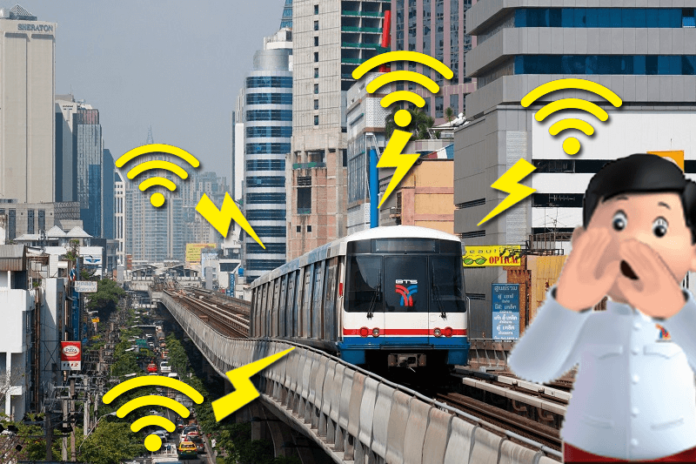 BANGKOK — The BTS Skytrain can endure torrential rain and punishing heat, but Wi-Fi hotspots may be a fatal blow.
The entire rail system has been crippled for a third consecutive day Wednesday after the broadcasting regulators said its substandard signaling system uses frequency ranges shared meant for public use that are therefore easily interfered with.
The National Broadcasting and Telecommunications Commission, or NBTC, is meeting BTS representatives today and two telecoms to find solutions after the company blamed persistent outages on radio signals from nearby buildings. This morning marked the popular transportation network's 17th breakdown this month.
"We still don't know what's the real cause of this," said Korkij Danchaivichit, NBTC deputy secretary-general. "But BTS is using the 2400MHz radio frequency to operate the trains, and it doesn't have a system blocking interfering signals."
Frequencies in the 2400MHz range are used by both Wi-Fi and Bluetooth transmission protocols.
"2400MHz is a frequency that NBTC has made available to the public," he said. "It's possible that while BTS's trains run past areas [with a lot of other signals] the operating system has been destabilized."
He added that representatives from telecoms DTAC and TOT, along with relevant government agencies, would attend today's meeting to discuss the causes and solutions.
The system has been down since 8:30am this morning. The system operator sent tweets once again blaming glitches in the signaling system. Yesterday, it broke down six times between 6:15am to 10:10pm.
Once commended for its reliability, the series of disruptions without detailed explanation or compensation has fueled public anger, leading to calls for the company's operating license to be revoked.
BTS board members have promised to fix the problem by Friday while bragging about the system's uptime of 99 percent.
Company Director Surapong Laoha-Unya said it has asked DTAC, which provides services in the 2300MHz range and is suspected of disrupting the BTS system, to investigate.
Related stories:
Broken Again, BTS Told to Compensate Commuters