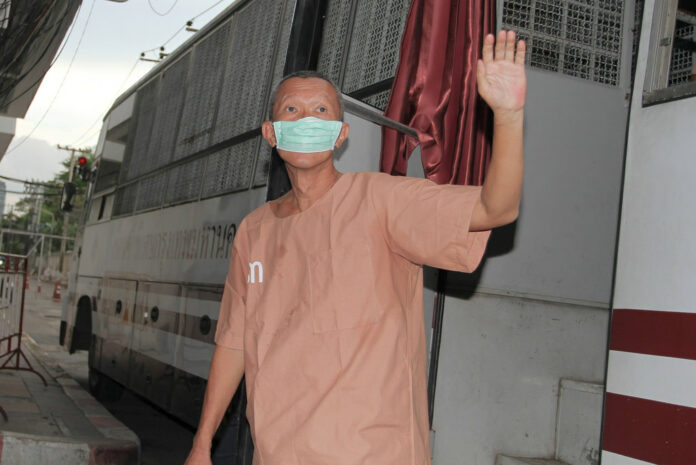 BANGKOK — A 58-year-old civil rights lawyer was found guilty of sedition and sentenced to 16 months in prison today, a legal watchdog group said Wednesday.
The verdict for Prawet Prapanukul, who's been in prison for the last 14 months, also drops any mention of the royal defamation charge against him, which seems to have been dropped without explanation.
"Usually, when the court acquits someone, they have to clearly explain it," said Poonsuk Poonsukcharoen of Thai Lawyers for Human Rights. "This is considered unusual in legal practice."
With credit for time served, he could be freed in two months' time.
Read: Professor, Law Grad, Teacher Among 6 Charged with Lese Majeste 
Prawet, who has represented others accused of lese majeste, was arrested in May 2017. The military alleged he was behind a group calling on Redshirts and Yellowshirts to unite and turn Thailand into a federal republic.
For his alleged campaign, the 58-year-old lawyer was slapped with 10 counts of royal insult and three counts of sedition.
In today's verdict, the court handed down a sentence of five months per sedition count. It also sentenced him to an additional month in jail for refusing to fingerprint court documents, Poonsuk said. Prawet has refused to cooperate with the authorities, saying the trial is illegitimate.
Correction: An earlier version of this court incorrectly said the court hands down a sentence of five years per sedition count. In fact, it was five months. 
Related stories:
Letters Reveal UN Exchange Over Thai Royal Defamation 
Professor, Law Grad, Teacher Among 6 Charged with Lese Majeste 
Six Charged in Largest Known Single-Day Lese Majeste Crackdown