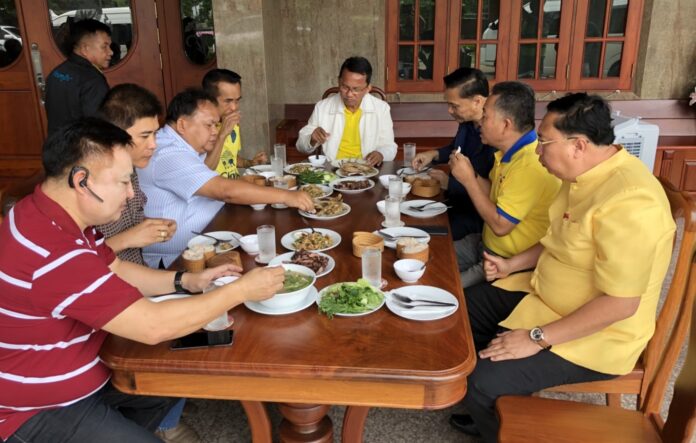 BANGKOK — A junta leader said Tuesday that a group of politicians touring on behalf of a pro-junta party is not violating the ban on political activities.
Despite the group meeting with numerous politicians to entice them to join their party, deputy junta chairman Prawit Wongsuwan said the group, called the Three Friends, is not a registered political party and therefore not subject to the strictly enforced restrictions.
"Who are the Three Friends? Are they a political party?" Gen. Prawit quipped at reporters today. "As far as I know, they are not a party."
The group consists of three former Thai Rak Thai heavyweights: Somsak Thepsuthin, Suriya Jungrungreangkit and Anoocha Nakhasai.
In recent months, they have been traveling north and south, holding meetings with Pheu Thai MPs and reportedly convincing them to leave their faction for the Palang Pracharat Party, which supports junta chairman Prayuth Chan-ocha as the next prime minister.
Although they publicly insist on their political neutrality, they are widely seen as a front for the pro-junta party.
When asked whether the Three Friends' activity constitutes as political, Prawit was evasive.
"I don't know what kind of political activity they did. The government and the NCPO do not define political activity," Prawit said, using the junta's acronym. "The law does."
Pheu Thai spokesman Anusorn Iamsa-ard immediately accused the government of playing a double-standard.
"How could the government and the NCPO stay idle?" Anusorn told reporters Tuesday. "How could they claim to not see or know anything, when this group that has been touring the country says they are helping the government."
He continued, "How long will you let the nation live under a double-standard like this?"
Government spokesman Sansern Kaewkamnerd suggested the Election Commission could look into the Three Friends and decide for itself whether they have broken any campaign laws.
Political activities of any kind have been banned for over four years since the 2014 coup d'etat, and the military government is regularly criticized for applying it solely to their adversaries.