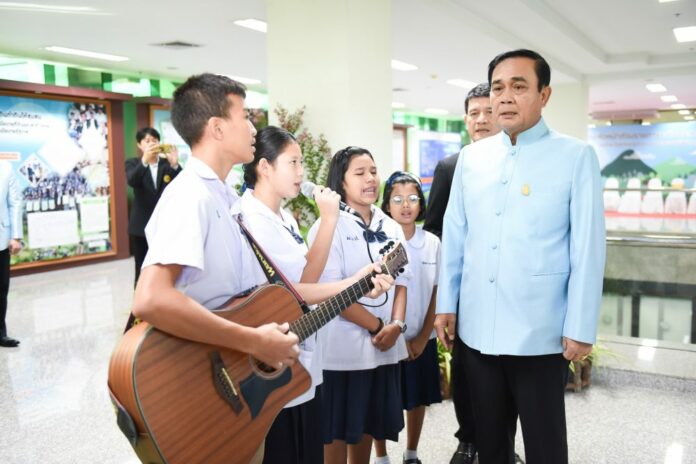 BANGKOK — The head of a junta-leaning party said he believes he can do something no one has for the past 17 years – defeat Thaksin Shinawatra's political dynasty in an election.
Neither Thaksin's Pheu Thai nor its rival Democrats will snatch victory when the next election is held early next year, said Suchart Chantaramanee, who chairs the Palang Pracharat Party. He's confident the victor will be his newly formed party, which is said to be poaching members from other long-standing parties.
"This is my personal opinion: To put it shortly, no party will win a majority and form a government in the next election," Suchart, who once served in the army, said Thursday. "No party will be prominent enough."  
And he's not shy about his tactics either. The victory won't come through the ballot. Suchart said he believes his party – which openly supports junta chairman Prayuth Chan-ocha as the next prime minister – has the backing of all future 200 Senators to be handpicked by the ruling regime.
Read: New Party Wants to Recruit Prayuth
"Out of the 250 Senators, 200 will be chosen by a committee under the NCPO," Suchart said, referring to the junta's National Council for Peace and Order. "So the military already has 200 votes in their hand … Whoever wants to win the election needs those 200 votes, and I think our party has their support, so we have the highest possibility to be the government."
Under the new constitution drafted by the junta's lawmakers and voted into effect by a 2016 referendum, 500 MPs and 250 Senators will vote together to select a prime minister if the election cannot produce a clear majority.
Half of the total votes, or 375, are needed to name a prime minister, who does not have to be one of the MPs.
Suchart is one of the new parties formed in recent months in support of Gen. Prayuth's next term as an "outsider prime minister." The loyalty was even clear from its name alone; Pracharat is the name of Prayuth's brainchild program that the government said was aimed to improve local livelihoods.
His assertion won't sit well with Thaksin, the de facto Pheu Thai Party leader, who declared during his recent birthday bash from exile that the party would score a big win again.
"A landslide in the next general election in Thailand!" an unidentified voice called to Thaksin in a video reportedly filmed July 26 in London.
"We will probably have an avalanche," Thaksin replied in English. "Stronger than landslide."
Poaching Left and Right
Suchart's party counts several heavyweight politicos among its ranks, such as Somsak Thepsuthin, Suriya Jungrungreangkit and Anoocha Nakhasai. All were key players in the birth of Thaksin's political movement as members of his Thai Rak Thai Party.
Palang Pracharat is also reported to have courted numerous politicians from other parties, especially those from Pheu Thai Party, which is already facing a leadership crisis.  
The party rustled its largest prize from Thaksin's stable in late July, when former hardline Redshirt leader Suporn "Rambo Isaan" Atthawong announced he's joining Palang Pracharat, reneging on a 2014 to quit politics.
Yet word of more poaching surfaced Thursday with a report that Democrat MP Puttipong Punnakan was considering a departure to the pro-junta party.
Democrat spokesman Ramet Rattanachaweng said he heard the news from the media but had yet to confront Puttipong about it.
"I'm actually close to him, but I don't know what he will do," Ramet said of Puttipong, who represented Bangkok.
He also dismissed concerns that the Democrat Party might lose key members to the enticement of Palang Pracharat, saying it's up to the public to judge them.  
"Whether people stay or leave, for ideological or whatever reasons, their behavior will be clear to the public," Ramet said. "I'm not nervous. The party is not nervous. It's a normal thing to happen in politics. But people should ask themselves whether they will have any legitimacy left."
Suchart of Palang Prachat said he could not confirm that his party has a broader strategy of luring away Democrats like Puttipong, saying he is only in charge of its affairs in the south.