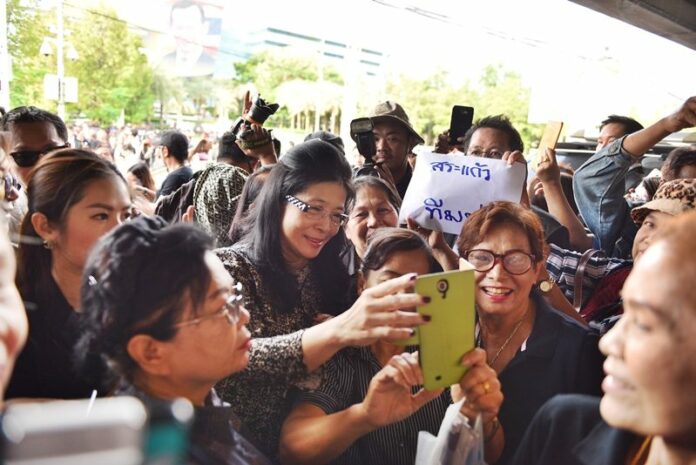 BANGKOK — A Pheu Thai official today disputed a media report a potential party successor threatened to quit if the throne slips from her grasp.
Sudarat Keyuraphan, who's said to be a favorite candidate of Pheu Thai strongman Thaksin Shinawatra but detested by the rank-and-file, has no plans to leave the party, according to her aide. Sudarat is not engaging in any succession warfare with other executives either, he said.
"This issue is entirely baseless," former minister Anudith Nakornthap said in a Wednesday interview. "She's here to help the party with its work. She has no intention to vie for the leadership."
He was responding to a Matichon report published Monday, which quoted an unnamed Pheu Thai source as saying Sudarat will leave the faction if she's not chosen as the next party leader.
The report also said discontent is running high in the party, as many members prefer other candidates over the 57-year-old veteran politician, citing her lack of a track record in speaking out against the ruling junta.
Read: Shows of Loyalty, Leadership Doubts at Pheu Thai Reunion
Sudarat could not be reached for comment as of Wednesday. Her secretary referred all questions to Anudith, who said Sudarat respected Viroj's leadership and only wanted to help the party in any way she could .
"She's here to help. Khun ying has set no condition to the party," Anudith said, referring to Sudarat's royally bestowed title.
But a well-placed source in Pheu Thai Party said it was most likely Sudarat who made the threat as a warning through an intentional leak.
"Many people in the party believe it was khun ying who leaked the news," said the source, who spoke on the condition of anonymity. "This kind of news has been leaked many times already. She must have done it herself."
The source also said the leadership crisis within Pheu Thai is real, with the party divided into those who favor someone with strong stance against the military and clan puu yai who rally around Sudarat.
"I must admit that the discontent has spread to 80-90 percent of the party," the source said.
Party Imploding?
Pheu Thai, once thought to be unrivaled in electoral politics, has been besieged with a succession of setbacks in recent years under the ruling junta.
The regime leader, Prayuth Chan-ocha, is long known for his hostility toward the Shinawatra clan and his junta set out to dismantle its power base immediately after he staged the coup four years ago.
Pheu Thai's local leaders and key canvassers are put under surveillance and threatened. Several MPs also defected to other factions or form their own parties, convinced there was no political future at the embattled party.
The latest defections to hit Pheu Thai were three MPs in Loei province who announced on Monday they had switched side to the pro-junta Palang Pracharat Party. One party official called it an unprecedented crisis.
"In my 40 years as a politician, I haven't seen anything this bad," Prayuth Siripanich, Pheu Thai's MP for Mukdahan, told reporters. "This is the most chaotic, most disruptive and the most devastating."
And the crisis is unfolding at a time the party lacks a clear leader. Yingluck Shinawatra, who took the reins of Pheu Thai on behalf of her brother Thaksin throughout his exile years, went into an exile herself since August to avoid a corruption verdict.
Sudarat, who once served as a health minister under Thaksin, was an obvious choice for a successor, and Pheu Thai members privately acknowledged Thaksin entrusted her with the job, but many questioned her pro-establishment image and close ties to the military.
The same Pheu Thai source blamed Sudarat for partly contributing to the ongoing defections.
"They said that since she will be in the same cahoot with the military anyway, they might as well leave right now," the source said. "It saved them from being a target, too."
Pheu Thai spokeswoman Sunisa Lertpakawat said she can't confirm or deny the news about Sudarat's threat to leave, saying she hasn't talked to her personally.
She also acknowledged that the leadership question is unsettled at the moment, and party members simply want someone – anyone – to take the helm for the sake of stability.
"We are not hung up on individuals. I think everyone wants to see a clear leader. We only want clarity, it would be better than the uncertainty that we have right now," Sunisa said. "It's better than digging up who's better than who. We just want to have clarity."
Phaiap Panket, who represented Sing Buri, said the party is not undergoing any crisis. Instead, he said, the party leadership is not openly discussed at the moment in order to deflect any possible backlash from the junta.
"The people kept asking us, 'When will you unveil the party leader?' and 'Is this the real leader?' But whenever we unveil our leader in unsafe situation, we always get sabotaged," Phaiap said in an interview. "It's our tactics."
The Sing Buri MP also maintained that Pheu Thai has a large pool of talented candidates to lead the party. When asked which party figures he wanted to take the role, he named Somchai Wongsawat, Chaturon Chaisaeng and Pichai Naripthaphan as his favorites.