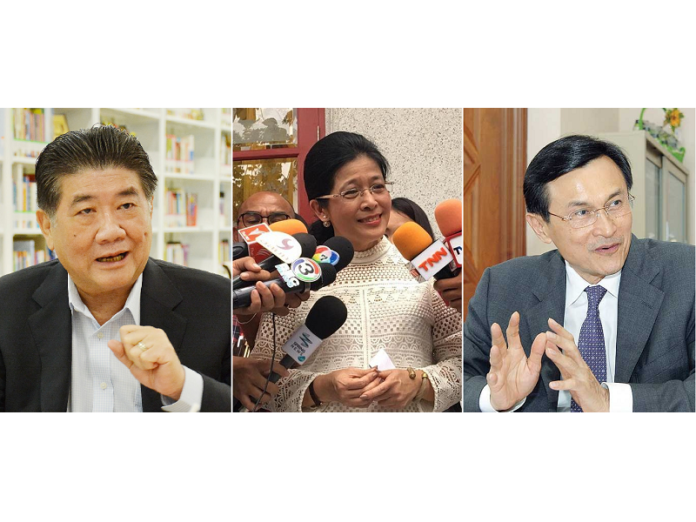 BANGKOK — A sudden vacancy atop the political opposition movement has prompted early short-listing of the next leader of the embattled Pheu Thai Party.
Any notions that Pheu Thai would not survive Yingluck Shinawatra's apparent flight from justice last week were dispelled Tuesday with a brief party statement that it would continue operating. It said to expect a statement from Yingluck, who is rumored to have made her way to Dubai, in "due time."
Since Yingluck Shinawatra's name is unlikely to appear on any Pheu Thai ballots, a few other names have emerged as possible successors to the political dynasty built by her older brother, Thaksin Shinawatra.
There's maverick politician Chaturon Chaisang, who served as Yingluck's education minister and won opposition credibility – and his share of judicial harassment – by criticizing military rule. Others are talking about party executive Phumtham Wechayachai, a known and trusted quantity to Team Shinawatra, or even a yet-unknown wild card from the family itself.
But while those may be capable candidates, the figure riding the peak of media-speculation is seasoned politician and former gubernatorial candidate Sudarat Keyuraphan.
Sudarat, 57, was once a deputy leader in the Thai Rak Thai Party, the now-defunct Pheu Thai precursor founded by Thaksin Shinawatra in 1998. She staged an unsuccessful run for governor of Bangkok in 2000.
The pundit class gives a mixed assessment of her capability to lead the party out of the wilderness and position it for post-junta rule.
She enjoys some support among influential opposition voices.
"Sudarat is a woman with a soft touch in comparison to other plausible, potential candidates such as Phumtham. At least she has a political base and a team. If she's chosen, she won't be leading alone," said pro-democracy activist and junta opponent Sombat Boonngam-anong.
Sombat said she would be adept at fighting for policy and moving legislation through the parliament. "I don't really see any weakness in her," he said.
A political science professor in Nakhon Si Thammarat province gave her failing marks on three important metrics.
Uchen Chiangsen of Walailak University said a suitable candidate should be able to defend democratic principles, keep their nose clean to be a credible voice for the people and have sufficient baramee, or charismatic moral leadership.
"I don't think Sudarat can perform the three tasks," Uchen said, sounding dismissive. "I have never seen her play such a role."
Uchen said that when Yingluck was prime minister, she failed to rein the military in or contain it to the barracks. As a result, then-army chief Prayuth Chan-ocha eventually staged the 2014 coup, and Uchen doesn't see Sudarat able to deliver different results.
Others, including Laos-based dissident exile Nithiwat Wannasari, are skeptical she would champion the people and might instead make hefty concessions to the junta and conservatives.
"If Sudarat is chosen by the Shinawatras, it would be to strike a deal with the powers that be and not wrestle power back to the people," he said.
Sudarat is a zealous Buddhist with links to the Dhammakaya movement.
She is a royalist popular among Buddhists who want religion enshrined in the constitution, and Nithiwat fears that as prime minister, she might use Thai exiles who oppose the junta and monarchy – such as himself – as bargaining chips to appease establishment conservatives.
Also in the Running
Former Education Minister Chaturon and Pheu Thai Secretary-General Phumtham are also discussed as possible – if not probable – candidates.
Chaturon, a one-time communist insurgent in the '70s, is a favorite in the pro-democracy camp.
"When it comes to returning democracy, the person most suitable would either be Chaturon or Phumtham. It's more a matter of what Pheu Thai decides in terms of its fighting strategy, however," Nithiwat said.
Posing problems for the former minister are the sedition charges he faces for publicly refusing to recognize the junta's legitimacy after the coup. Should a military court sentence him to prison, he would automatically be disqualified from holding office.
Political activist Baramee Chairat said that rare defiance shown by 61-year-old Chaturon gave him credibility with progressives.
"He's a fighter for democracy. I understand that he doesn't have enough baramee within the party – or money, for that matter," the activist said.
Sombat agreed.
"He has proven himself during crisis and has been acting deputy leader of the Thai Rak Thai Party after the 2006 coup and made a clear stance against the coup in 2014," Sombat said, agreeing that Chaturon hasn't accrued enough of the innate moral leadership called baramee.
Another acceptable alternative for pro-democracy elements is Phumtham, the Pheu Thai elder.
But observers including Baramee say the 63-year-old political handler, who once worked at a senior level in Thaksin's business empire, lacks leadership capital and is more suited to behind-the-scene roles.
Others only have nice words for the man.
"He's both a general and a housekeeper," junta arch-critic Sombat said of what Phumtham brings to Pheu Thai. "He has a sharp mind, he's solid and mature."
Dark Horses?
There's a chance, all agree, that another member of the Shinawatra clan will be plucked from relative obscurity and presented to the public, though no likely prospects are immediately apparent.
But with no elections on the horizon and Thailand preparing to lay to rest a venerated monarch in a matter of weeks, no one expects any political re-posturing in the near-term.
Redshirt luminary Weng Tojirakan, who was a Pheu Thai MP, said the party is in no hurry.
Weng said the party will wait until the verdict in Yingluck's trial is read before charting its future with or without her. After King Bhumibol's royal funeral in October will come the coronation of King Vajiralongkorn.
Weng said Yingluck will make a statement after the verdict is issued, but it may wait until after the two important royal functions. Only when the air is clear – and there is space in the political landscape for elected leadership – can jostling for the position commence, he said.
"It may likely be the beginning of next year," Weng said.