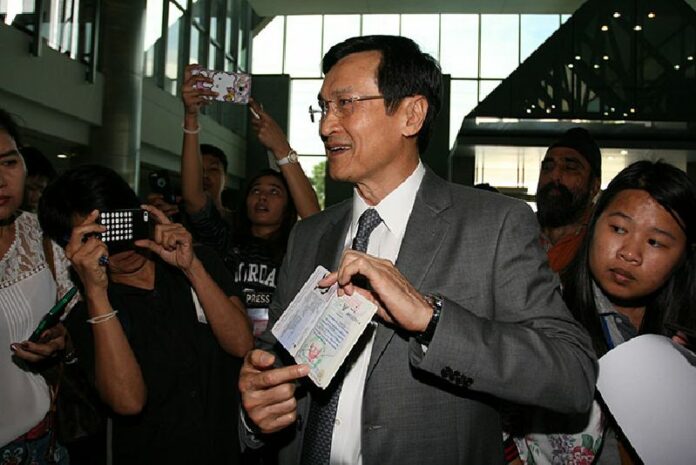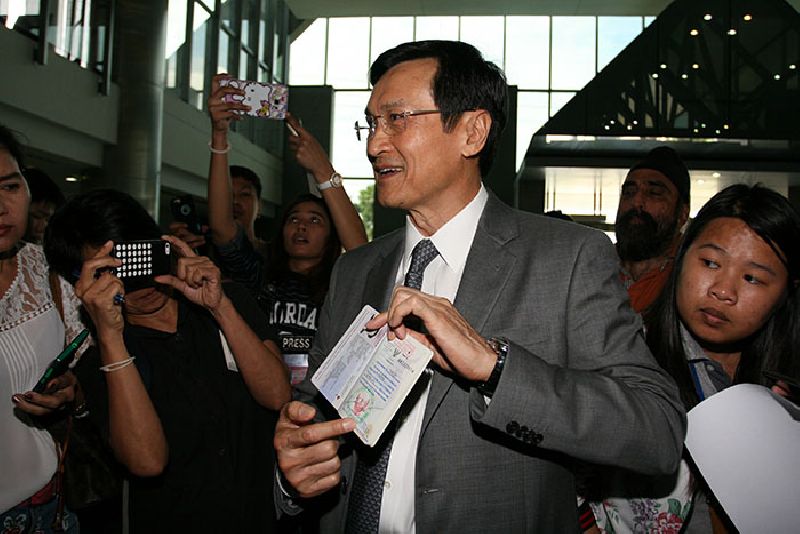 BANGKOK — The chairman of Thailand's military junta said the passport was revoked of a prominent anti-coup critic because of his criticism of the regime and warns that other dissidents may face the same fate.
Confirmation of reports that authorities stripped former minister Chaturon Chaisaeng of his passport because he frequently criticized the junta came yesterday from Government House, where junta chairman Prayuth Chan-ocha said it was ordered because Chaturon would not obey his ban on negative remarks about the military regime.
"He did wrong things again and again. He did so many wrongs," Gen. Prayuth said. "The charges against him are numerous. He has been summoned dozens of times already. There are many other people like him."
Junta Chairman Gen. Prayuth Chan-ocha speaks to reporters yesterday at Government House in Bangkok.
Prayuth's admission came after Chaturon traveled to Consular Affairs yesterday to demand explanation from officials as to why his passport was canceled.
Prayuth said criticism would be forbidden until a new constitution was in place.
"Don't pick a fight with me. Look at your own behavior. If I warn you many times, and if you don't obey me, you will be punished," he said. "If you don't want to be punished, wait for the new constitution and the election. Only criticize me after those things happen."
Asked whether he would summon Chaturon and other critics to reach an understanding, the junta chairman replied, "I have said my piece, but they won't listen. I have said it so often my throat is about to explode."
Chaturon, a former leftist student activist in the 1970s, served as the Minister of Education until Gen. Prayuth seized power from the elected government in May 2014. Chaturon was among hundreds of politicians and activists summoned by the military to undergo "attitude adjustment" sessions in army camps in the wake of the coup, but he refused to show up, prompting the martial court to issue a warrant for his arrest.
On 28 May, Chaturon made a surprise appearance at the Foreign Correspondents Club of Thailand, explaining that he rejected the summon order as an act of civil disobedience. A group of soldiers later arrived and took Chaturon away. He is currently standing trial under a martial court for disobeying the junta's order, inciting unrest and violating the Computer Crime Act.
While many other former Pheu Thai Party politicians have kept relatively low profiles since the military takeover, Chaturon regularly took to his official Facebook account to urge the junta to restore civilian rule in Thailand and criticize its policies.
Maj. Gen. Weerachon Sukondhapatipak, a government spokesman, said yesterday that Chaturon was not punished because he criticized the junta per se – but rather because of the "timing" of his criticism.
"This is not a normal situation. This government does not come from a normal situation," Weerachon said. "So, you have to see if you criticize it now, what kind of consequence will happen? That's why we asked him [to stop]."
Weerachon said Chaturon was asked and warned many times to stop making negative comments.
"But he may not understand us – or he may pretend not to understand us. It's up to him. But right now, it is not the time to criticize like this, because it may cause misunderstanding and division in the society," he said. "So we will ask for his cooperation for now, which is, in fact, not much of a trouble to endure."
Chaturon Vows Defiance
Speaking to the press after his visit yesterday to Consular Affairs, Chaturon said he met with the passport division director and was simply told the Royal Thai Police ordered the removal of his passport because of his case before the martial court. The director did not elaborate further, Chaturon said.
He's requested the Ministry of Foreign Affairs overturn the decision and pledged to continue criticizing the military junta, saying that it is his rights as a citizen to express his political opinions.
"I committed myself long ago to being a voice of the people to express opinion about this country in a straightforward way," he said. "Although they are using many measures to pressure and suppress me, like banning my overseas trips and canceling my passport, I will exercise my rights as a citizen to express opinion and criticize the situation in this country."
Related stories:
Thai Govt Revokes Thaksin's Passports, Citing 'Damaging' Interview
Fugitive Ex-Minister Arrested During Interview With Foreign Media
Thai Junta Renews Summons Orders to Quash Criticism
Junta Declines Calls to Revoke Year-Long Ban on Political Activities
To reach us about this article or another matter, please contact us by e-mail at: [email protected].