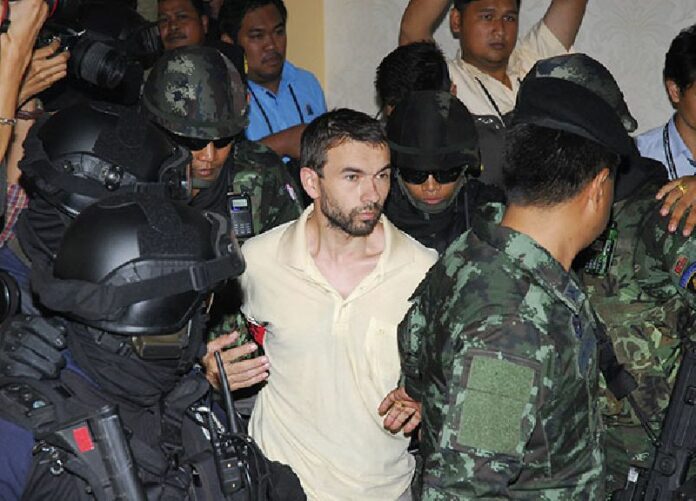 BANGKOK — One of two suspects in military custody for possible roles in last month's bomb attack was transferred to the police today to become the first person formally charged in connection with last month's bombing of the Erawan Shrine.
Six days after a pivotal break in the case led to his arrest – on the last day he could be held without charge – the man was handed over to Bangkok metropolitan police to be charged while investigators continue puzzling over a second man still held at a Bangkok army base.
He was arrested during a police raid on Saturday at an apartment in Bangkok's Nong Chok district, where security officers also found a large cache of bomb-making materials. The man spent the next six days in a Bangkok army camp, detained under special order of the military junta that permits soldiers to hold individuals up to a week without court warrants.
Bombing suspect Mohammed Bilaturk, aka Adem Karadag, is given a medical evaluation today at Bangkok Metropolitan Police headquarters.
Nearly a week after his arrest, not much is known about the man. Uncertainty even remains over his name. A fake Turkish passport on him said he was Adem Karadag. A top police official today used that name and also identified him by the name he is said to use himself: Mohammad Binlaturk.
"We are in the process of sending the passport for inspection," police spokesman Lt. Gen. Prawuth Thawornsiri said today, despite Turkey's Ministry of Foreign Affairs confirming its illegitimacy yesterday based on the same widely circulated photos of the document.
Prawuth said the man will be taken to Min Buri District Court on Saturday, where police will ask for him to be remanded in prison until trial. English, Turkish and Arabic interpreters have been made available to the man but not yet any legal representation.
He is accused of belonging to a network responsible for the bombing of Erawan Shrine on 17 Aug. that killed 20 people and injured 150.
Prawuth also said no evidence has been found to link the other man in military custody directly to the Erawan Shrine bombing.
Yusufu Mieraili was taken into Thai custody near the border with Cambodia with much fanfare, and high-level officials including Prawuth quickly speculated he might be the chief suspect in the shrine bombing.
Today Prawuth said DNA taken from him did not match traces found at the scene from remnants of an exploded backpack, a taxi the bomber reportedly rode in prior to the attack and a banknote he allegedly handed to a tuk-tuk driver.
"Right now we have no evidence that confirms that Mr. Yusufu Mieraili is the yellow-shirted man, who planted the bomb," Prawuth said. "He is merely part of the network."
His fingerprints do match those found on bomb-making materials police confiscated from Adem/Mohammad's room raided Saturday in Nong Chok, Prawuth said.
Police have issued nine warrants in connection to the bombing. Two of them have been charged with premeditated murder and explosive-related offenses: the yellow-shirted man and another suspect, a blue-shirted man seen kicking a bag into the water near Sathorn Pier on 17 Aug., where a bomb exploded the next day. No one was injured.
The rest have been charged with illegal possession of explosives and "war materials."
When a reporter asked Prawuth why other seven suspects are not facing charges of premeditated murder, the spokesman replied that more evidence is needed before that charge can be filed.
Bangkok Bombing stories:
Warrant No. 9 Names Chinese National
Turkey Responds to Alleged Bombing Links as 3rd Arrest Reported
Mounting Evidence Links Bombing to Turks, Uighurs
Tests to Confirm Whether Man is 'Bangkok Bomber'
Arrested Man 'Matches' Yellow-Shirted Bangkok Bomber
Warrants Out for Thai Woman, Foreign Man
Police Search for More Suspects After Arrest
Floundering Bomb Investigation Deepens Doubts About Competency
No Longer Whole, a Family Buries its Dead and Waits for Answers
Bangkok Bomber May Have Fled Thailand: Police
Man Dropped Bag into Water Night Before Sathorn Pier Blast
Seen Often on Sathorn 10, Suspect Thought to Use Fake Turkish Passport
Leaked Police Report Tracks Lead Suspect Before, After Bombing
1M Baht Bounty for Bangkok Bomb Suspect
Bangkok Shrine Bombing: Those Who Died
Despite Lack of Evidence, Thai Media Points Blame at Uighurs
Tourists Narrowly Escape Second Bangkok Bombing in 24 Hours
Bangkok Shrine Bombing: Police Hunt Backpack Man
Tourists Among 19 Killed by Bomb at Bangkok's Erawan Shrine
To reach us about this article or another matter, please contact us by e-mail at: [email protected].