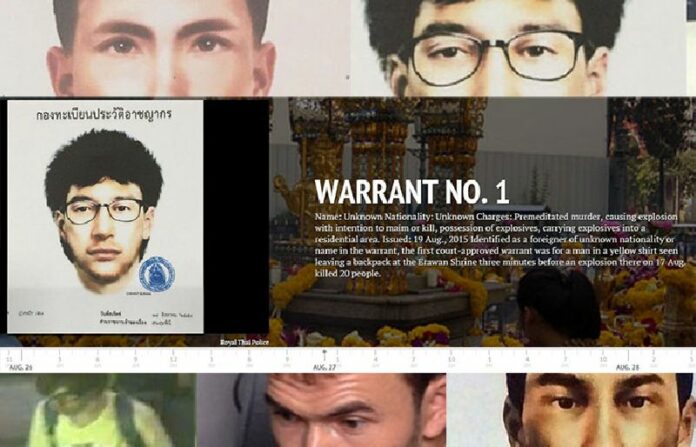 BANGKOK — Rapid developments in the investigation into who bombed the Erawan Shrine have produced a flurry of leads. Here's a breakdown of what's known about the suspects to date.
A full-screen version is available here.
A noninteractive version of this report is also available.
Bangkok Bombing stories:
Warrant No. 9 Names Chinese National
Turkey Responds to Alleged Bombing Links as 3rd Arrest Reported
Mounting Evidence Links Bombing to Turks, Uighurs
Tests to Confirm Whether Man is 'Bangkok Bomber'
Arrested Man 'Matches' Yellow-Shirted Bangkok Bomber
Warrants Out for Thai Woman, Foreign Man
Police Search for More Suspects After Arrest
Floundering Bomb Investigation Deepens Doubts About Competency
No Longer Whole, a Family Buries its Dead and Waits for Answers
Bangkok Bomber May Have Fled Thailand: Police
Man Dropped Bag into Water Night Before Sathorn Pier Blast
Seen Often on Sathorn 10, Suspect Thought to Use Fake Turkish Passport
Leaked Police Report Tracks Lead Suspect Before, After Bombing
1M Baht Bounty for Bangkok Bomb Suspect
Bangkok Shrine Bombing: Those Who Died
Despite Lack of Evidence, Thai Media Points Blame at Uighurs
Tourists Narrowly Escape Second Bangkok Bombing in 24 Hours
Bangkok Shrine Bombing: Police Hunt Backpack Man
Tourists Among 19 Killed by Bomb at Bangkok's Erawan Shrine
To reach us about this article or another matter, please contact us by e-mail at: [email protected].