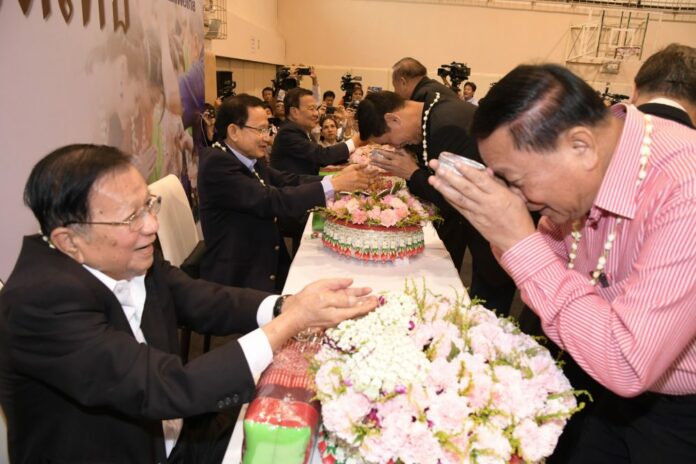 BANGKOK — For the first time in years, Penchisa Hongupathumchai felt safe returning to her party headquarters.
Since the army seized power nearly four years ago, the party she belongs to – the one that led the government it overthrew – has been under close watch, its members monitored and mouthpieces muzzled. In recent years, she could only meet other members at small, low-profile meetings to avoid military notice.
But not yesterday.
"Today I felt so proud to be back here," Penchisa, who traveled about two hours from Ang Thong province, said Wednesday at the party's offices in the Huai Kwang area. "When I stepped out of car earlier, I did so with pride. I didn't have to hide."
Exchanging wais and embraces, former MPs and ministers arrived to reaffirm their allegiance – partly to satisfy a junta stipulation, partly to mingle with old friends and pay respect to party elders after years of maintaining low profiles.
As per Songkran tradition, they lined up inside a meeting hall to pour water on the hands of the Pheu Thai party's top conclave – party chairman Viroj Pao-in, former PM Somchai Wongsawat, former minister Sanoh Thienthong and sec-gen Phumtham Wechayachai.
It's a show of hierarchy and leadership, yet the question of who would head the party through the election race remains unsettled. While Viroj is officially the party chairman, whispers have it that clan patriarch and former Prime Minister Thaksin Shinawatra prefers the role be given to someone else.
"Today I finally got to put my feet on the soil of our headquarters," party spokeswoman Sunisa Lertpakawat said.
Many appeared in colorful garbs and garlands to greet senior members at what was billed as a pre-Songkran party a week before the holiday begins. Over loudspeakers, traditional Songkran songs and latest lakorn hits filled the air as politicos leaned in to hear the latest gossip.
"Looking at the atmosphere today, it's as if the junta is no longer in power!" Sing Buri MP Phaiap Panket said to a reporter as he looked around the hall where he and others gathered for speeches by party execs. "Actually, I like this feeling. Please tell them it would be nice if they could go away."
He later pointed to a group of Pheu Thai members taking selfies together.
"They are taking photos because it's like a dream. Is this real?" Phaiap said.
"We miss each other," Nan MP Sirintorn Rammasute, said, gesturing at her friends sitting in the same row. "I miss working for the people. I miss my career in politics."
Like many others, Sirintorn donned a traditional floral-patterned Songkran shirt. She had a cause to celebrate: two years ago, the military detained and prosecuted her for distributing red water bowls stamped with images of Pheu Thai leaders Thaksin and Yingluck Shinawatra.
Sirintorn said Wednesday the charge of sedition pressed against her has yet to be taken up by the prosecutor.
Moving Forward, Under Whom?
One would expect the military to crash through the gate any moment had it been on any other day, but yesterday's gathering was sanctioned by the junta itself. Under a new regulation, members of all existing political parties must re-register with the respective parties from April 1 to April 30 – or be flushed out of the roster.
And so they came, like a modern Augustine census call, to their party's seat of power. They queued to fill forms, hand their ID card copies and pay membership fees. The party charges 100 baht for an annual membership and 2,000 baht for a "lifetime" one.
Nearly everyone interviewed for this story said they were confident the party would win the next election. Junta chairman Prayuth Chan-ocha promised, after a series of failed promises, to hold it early next year. Some already expressed their wish to run for parliament.
"Your new haircut looks great! With a charisma like this, you'd definitely be an MP again," a Pheu Thai member told his friend in the elevator.
"Of course, I'd like to have the chance to represent the interest of the people again next time," former Bangkok MP Leelavadee Vajropala. Upon learning the reporter is from her constituency, she added, "Is there any problem in your area that needs fixing?"
But dark tidings are abound. Some MPs in the northeast are said to be leaving, while the Pheu Thai's southern pan-Muslim Wadah faction has publicly hinted at breaking away to form its own party. No one from the Wadah group was seen at yesterday's gathering.
Also hanging over the party is the question of who will take its helm come election season.
Viroj, 84, is currently serving as interim party chairman, but few expect him to continue during the campaign season. Word has it that Thaksin, the Pheu Thai political dynasty's de facto leader, wants former minister Sudarat Keyuraphan to lead it.
In a Wednesday news conference, Sudarat insisted she's not seeking to head the party.
"I am not volunteering to be party chairman. Therefore, I am applying to be a member, as an ordinary person … Whatever I can do for the benefit of the public, I will do it. Other people said things as sources, they kept talking, but they are anonymous." Sudarat said. "We already have a party chairman and he's doing a good job."
Pressed by reporters on whether she would accept a nomination in the future, she said "that day isn't here yet. Stick with facts. Stick with today."
"But do you want to be a Pheu Thai Party leader?" a reporter said.
"I don't think anyone wants to be Pheu Thai Party leader," came the reply.
Those interviewed for the story said they had no comment about Sudarat possibly heading their embattled clan. They said they would wait for whatever decision comes out of the formal party executive meeting, which has yet to be scheduled.
"There are many people who can contribute to our country. There are men and women. There are people with advantages and disadvantages," Former Samut Prakan MP Anusara Youngtong said. "I'm okay with anyone. I'm letting the party settle the issue for now. Perhaps the decision will be made after a debate. We will see about that later."