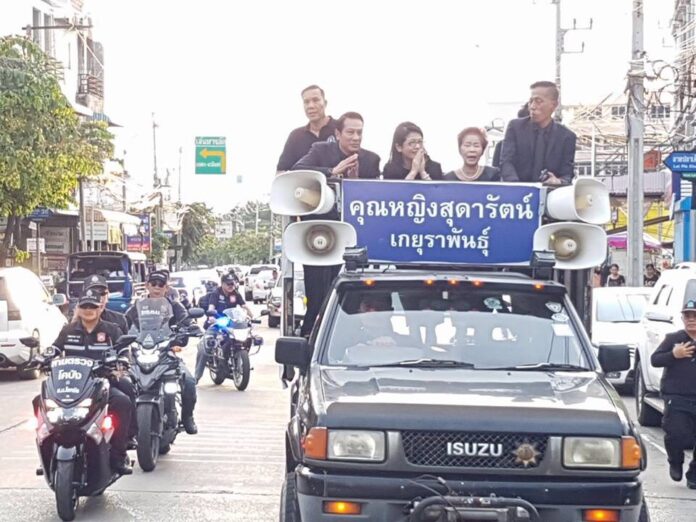 BANGKOK — Electoral contenders waving to crowds from atop speaker trucks are common sights during election season.
But many found it incongruous with this month's pitched mourning for the late King Bhumibol when veteran politician Sudarat Keyuraphan did so Sunday at an event dedicated to the late monarch.
Criticism poured in from her critics, including the deputy leader of the ruling junta. At a Monday news conference, Sudarat, who's been mentioned as a possible prime minister, denied hijacking the event as a stealth campaign event as alleged by her opponents.
"Some people use some photos – and they weren't at the event – to write negatively with their feelings. And social media spread them," Sudarat said tearfully. "I did not intend to mix politics with the sorrow of the mourning period."
She said she was participating in a community project in northeastern Bangkok where residents were encouraged to grow marigolds in honor of King Bhumibol, who died last October at 88. The truck seen in the photo was part of a convoy to visit each marigold booth organized by local residents, she said.
Atop it sat Sudarat in the center of a group of people behind a sign announcing her as "Khun Ying Sudarat Keyuraphan," referencing her royal title.
Sudarat, or Noi, served as a minister under influential former leader Thaksin Shinawatra, who retains control over his surrogate political party, the Pheu Thai Party.
While no Pheu Thai nomenklatura will discuss the issue publicly, pundits and observers have speculated the 56-year-old politico is being considered for leadership of the party in the next election, now announced to happen by November 2018.
Pheu Thai opponents quickly accused Sudarat of engaging in politics while the country is readying itself for the cremation of King Bhumibol.
"Is this appropriate??!! Such loud criticism. Khun Ying Noi on a truck as if she's canvassing for votes," read a T News headline.
"We'd like to denounce Khun Ying Sudarat and her minions," Jam Dadecember wrote on a Facebook thread. "You are insolent for doing this. You hurt the hearts of Thai people. Considering your age and experience, don't say you didn't think it through."
The backlash peaked with junta deputy leader Prawit Wongsuwan calling her actions "inappropriate" and saying the regime would send someone to discuss the issue with her.
Prawit's remark prompted Sudarat to convene Monday's news conference, at which she also apologized to the event organizers for causing controversy.
Sudarat said the truck was a vehicle previously used in a charity group founded by the late king, and the motorcycles flanking the convoy were driven by volunteers, not security officers. She also said she did not engage in any political activities during the event.
"My background as a politician doesn't mean I cannot express the same feeling shared by all Thais," Sudarat said. "I had the opportunity to work with many royal projects myself. I'm aware His Majesty did everything for the sake of the better livelihood of the nation."