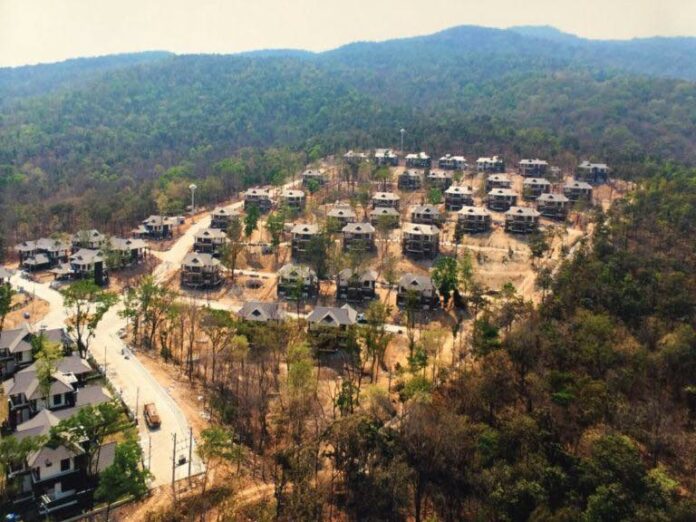 BANGKOK — Deputy junta chairman Prawit Wongsuwan said Thursday protesters marching to the capital to protest the construction of judges' residences on a northern mountain should stop.
Prawit said critics of the project, which carved out a forest on Doi Suthep to build homes for court officials, should suspend their march and wait for an army-sponsored negotiation between local authorities and the court, scheduled for Monday.
He maintained the project is legal, because the forest land belongs to the army, who in turn authorized the Chiang Mai provincial court to build the homes for its staff.
"Wait for the discussion first," Prawit said.
An aerial photo of the project was first posted online by Facebook user Kritsada Saetiao on Feb. 16 captioned "Scar of Chiang Mai." The image soon outraged netizens, and it later surfaced the homes would belong to regional appeals court judges, attorneys and staff.
Online fury spilled into the real world earlier this week, when nearly 100 protesters staged a rally Monday in front of an army base in Chiang Mai province.
On Wednesday, a group of activists set out from Chiang Mai on a march to the Government House in Bangkok, some 700 kilometers away. Organizers said they hoped to cover a daily distance of 50 kilometers.
Prawit, who is also defense minister, said construction will not be dismantled for now, but suggested the properties could be turned into a "recreational area" for the public.
A previous negotiation between court representatives and activists failed to take place because the former called off the talk.
Correction: An earlier version of this article misquoted Gen. Prawit as saying the project will not be halted. In fact, he said it will not be dismantled. 
" ก็เคยเห็นเป็นป่าสัตว์อาศัยออกกกฎหมายมาให้ไม่เป็นป่าจนป่าสูญก่อสร้างอย่างงามตาให้ตุลาการกินลมขึ้นชมเมือง " ๕ เมษายน ๒๕๖๑

โพสต์โดย อานนท์ นำภา เมื่อ 4 เมษายน 2018