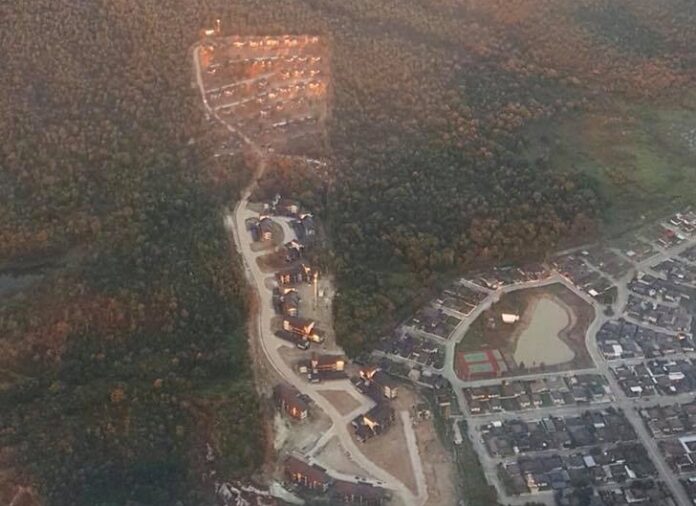 CHIANG MAI — A swath of protected forest on the slopes of Doi Suthep felled for residences enraged many when a photo went viral online, but a land official said Friday that it was a legally approved operation.
Though social media vented fury at the photo, which appears to show land cleared for homes jutting into the forest, Chiang Mai Treasury Department Director Yongyuth Ruengpattarakul said the buildings belong to court officials and were built legally.
"They were permitted to do that," Yongyuth said, adding that the land originally belonged to the military. "The military granted the land to the court about a decade ago. It was clearly registered."
The aerial photo was first posted online by Facebook user Kritsada Saetiao on Feb. 16 with a caption "scar of Chiang Mai."

It soon drew outrage from netizens, who assumed they were private residences of some entitled elite. It later surfaced the homes belong to regional appeals court judges, attorneys and staff.
That didn't lessen the fury.
"So they're homes for civil servants? WTF!?" Thanut Lerthanapoke wrote.
"How shameless the people who live there must be. They should ask their own heart about that," Kraisorn Singhanop wrote.
"It's true. It's a real scar. Every time I'm on a plane landing in Chiang Mai and see it, I am always perplexed. What the hell are puu yai in our country doing?" Kongnat Neelunchai said in a comment.
Yongyuth, whose department oversees state properties in the province, declined to comment on why the court chose that location on the mountain to build staff homes.
Encroachment in forests or protected lands is a common issue that draws renewed crackdowns every year.
Related stories:
Koh Tao Resort Accused of Land Encroachment
Fresh Encroachment Charge Against Dhammakaya Abbot
Sacked Palace Aide Confesses to Land Encroachment, Asks to be Jailed