Top: Nalynya Jaroonruangrit displays earrings made by women living in the Khlong Toei slum community for a brand called Feemue. They receive a portion of the sales, most of which are in Japan.
BANGKOK — Once a month, a train creeps slowly between the narrow press of homes. In the days in between, children play between the grassy tracks and skip back home to hot rooms where families gather around small TVs.
Though calls to clear out Bangkok's sprawling Khlong Toei slum have halted for now, eviction still looms over its residents, who can scrape together enough to survive – but not to leave.
To earn some money, a handful of craftswomen living there have been tying pom-poms into garland-like earrings and cutting plastic rice sacks into see-through bags. In return, they receive part of the proceeds from their sale all the way in Japan.
Nalynya Jaroonruangrit, 30, led a group of expats and tourists, mostly Japanese, through the narrow walkways of what's designated communities 4, 5 and 6 on a recent Saturday. Along the way, she points out charitable projects, homes and trash dumps on a tour she hopes doesn't cross the line into exploitation.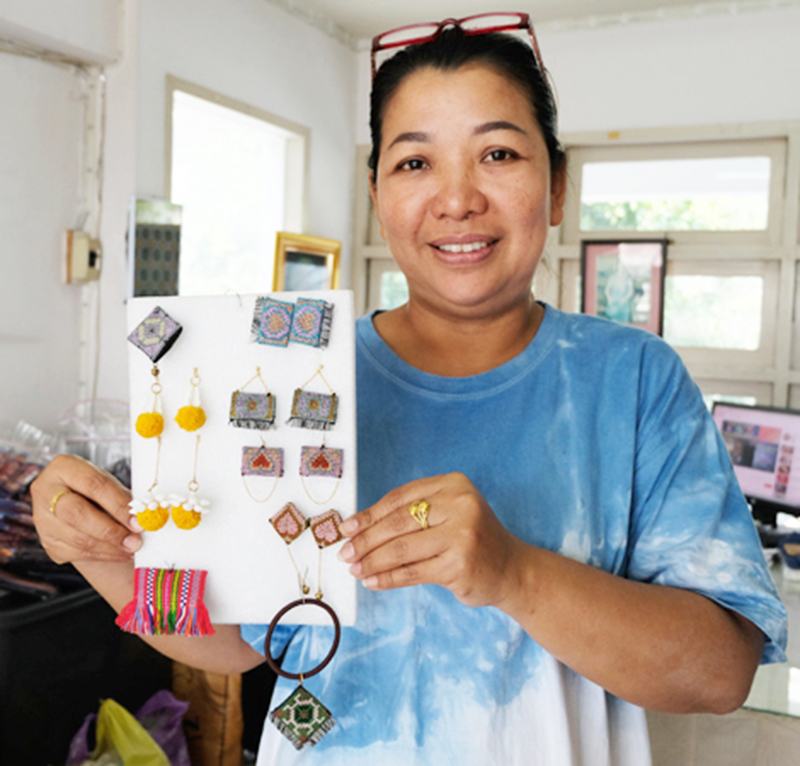 Nalynya, who completed a graduate degree in international development at Nagoya University and has an interest in hill tribes, works for the Japan-supported Sikkha Asia Foundation. She's one of the managers of Feemue, the jewelry brand launched to employ community craftswomen. From her ears dangle yellow pom-pom earrings that evoke the woven garlands female residents make and sell for a living.
"Khlong Toei has such a bad image. If you ask a taxi to get you here, half of them won't even come," 30-year-old Nalynya said. "By making this brand, we wanted to show that something beautiful can come from here."
Feemue, which means "skill" in Thai, started in 2017 with the launch of its first collection.Japanese designer Fuji Tate P lived in the area three months to come up with the designs for the items. For example, the Dok Put and Dok Rak earrings (590 baht a pair) were inspired by the local women who weave flower garlands from ervatamia and crown flowers to sell.
Most are sold in Japan.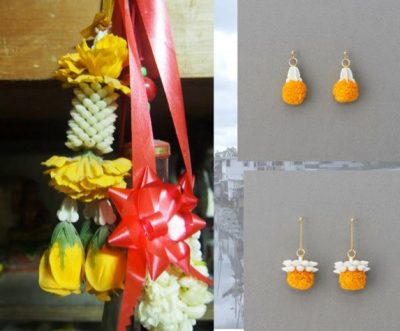 "The prices are admittedly quite high, but we didn't hang our hopes on the Thai market," Nalynya said.
Bringing in a talented designer gave the brand a needed creative boost.
"Before, we did sell some handicrafts, but they were unoriginal, not so different from the things at JJ Market. Fujita-san saw this and felt it was a waste, so he designed for us."
Now six local women are employed part-time by Feemue to assemble the handicrafts. Last year they shared 20 percent of the profits. Another 10 percent went toward buying books for Miraibrary, a children's library operated at Sikkha Asia's Khlong Toei office. Fuji Tate P waived his design fee, resulting in the rest going to the Sikkha Asia Foundation.
Each woman earned about 6,000 baht between April and December last year.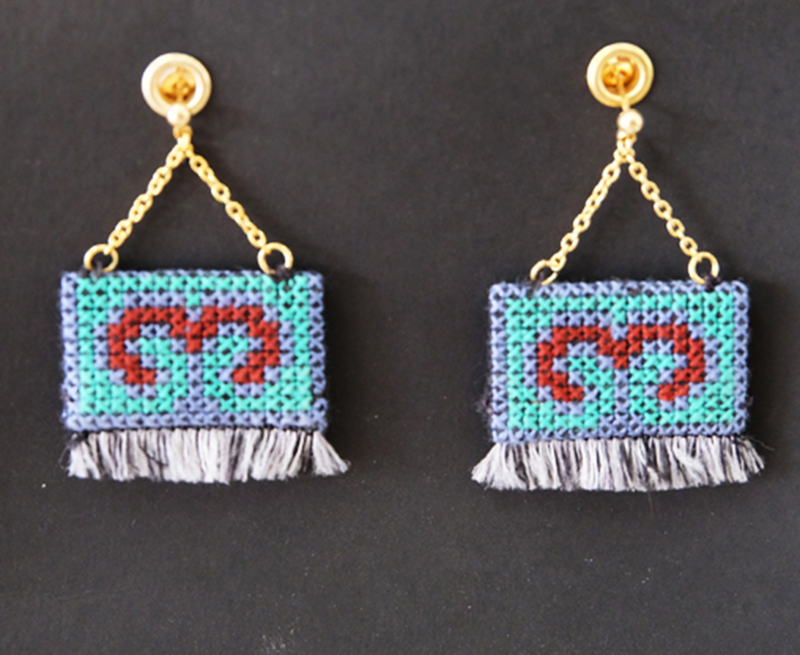 A bag with Hmong embroidery is studded with round metal rivets. It takes cues from the tarps seen everywhere in the shantytown that are often pinned down by bottle caps.
The prices reflect an attempt to upgrade the community's image while gaining additional income for the foundation. Earrings cost 590 baht to 690 baht, bags made from transparent rice bags cost 590 baht, badges and hairbands run up to 450 baht and fully-embroidered bags cost 2,800 baht.
In Japan – where Feemue is exported for sale – prices are marginally higher: Some earrings sell for JPY3,000 (872 baht). The earrings' backs and hooks are all imported from Japan.
Feemue sources its embroidery and pom-poms from hill tribes including the Hmong, Lahu, Akha and others. It is then made into Fuji Tate P designs by the six woman at the foundation's sewing center located in the neighborhood.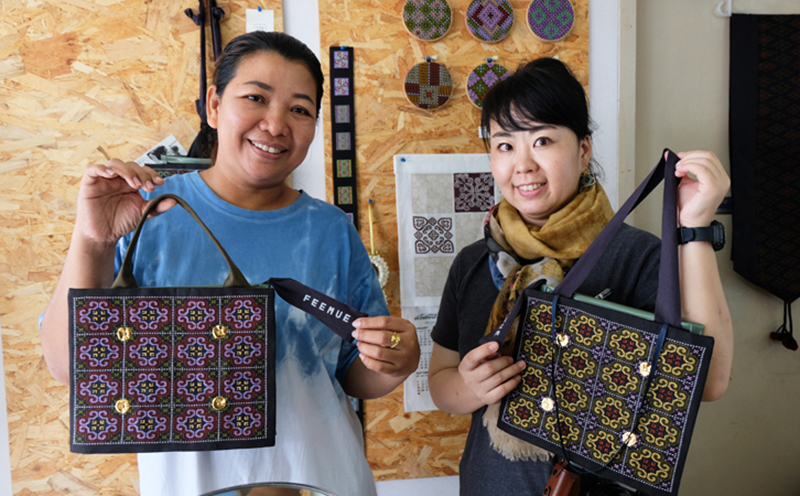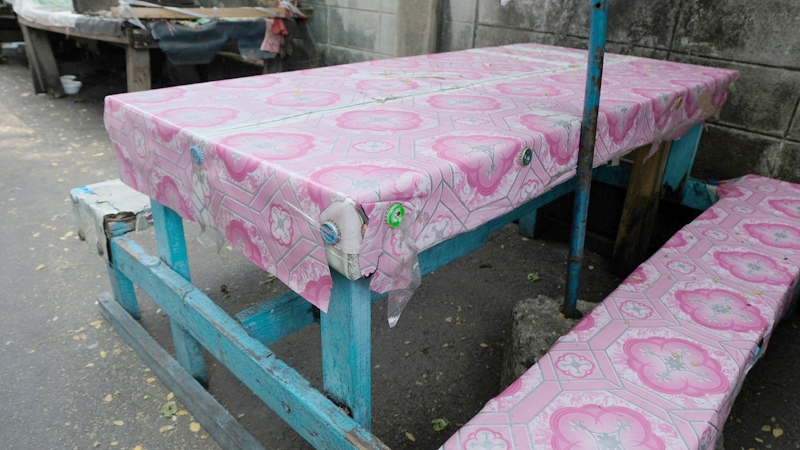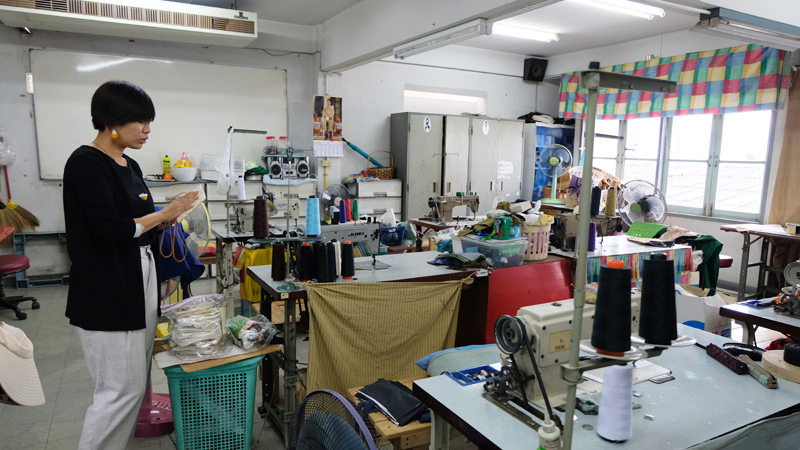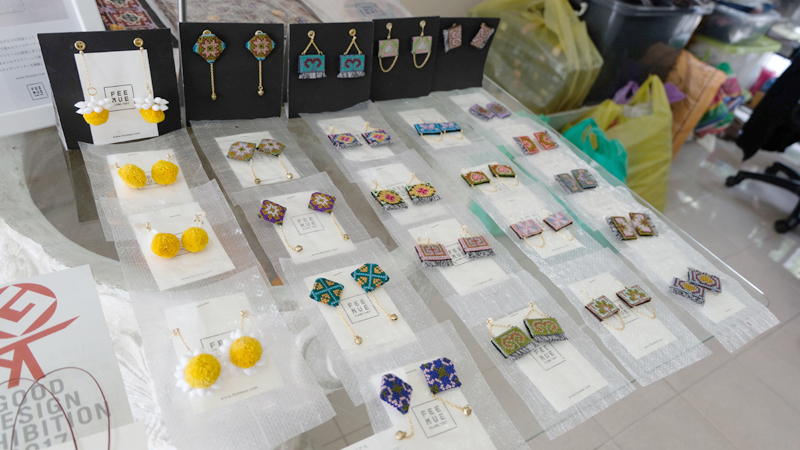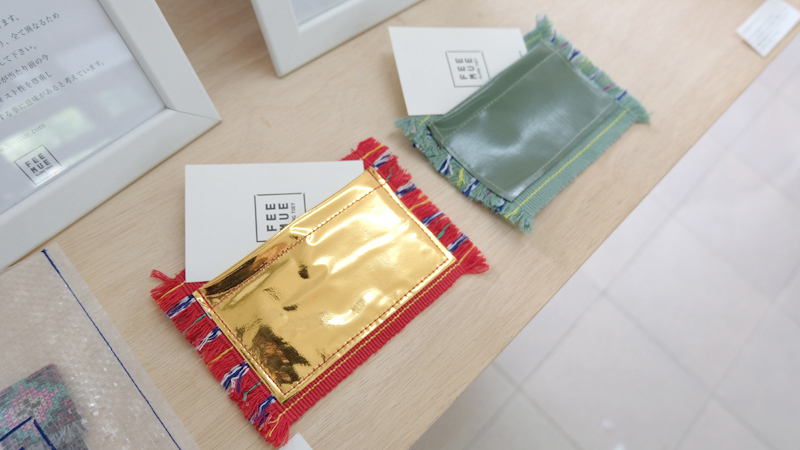 Sikkha Asia Foundation
Feemue is part of the Sikkha Asia Foundation, an NGO largely supported by Japanese donors such as labor unions, businesses and temples.
The Sikkha Asia Foundation supports children's libraries in tenement housing neighborhoods such as Khlong Toei, mobile libraries for children in migrant worker communities and scholarships.
The Miraibrary was made possible by the generosity of Bangkok's poorest residents.
The foundation collected 40,000 baht in the community to help out after the 2011 Tohoku earthquake and tsunami. After Tokyo businessman Hiroyuki Sugisawa found out the money had come from a Bangkok slum, he decided to return the favor – 10 times over. Half of Sugisawa's 400,000 baht donation went to the nearby Duang Prateep Foundation.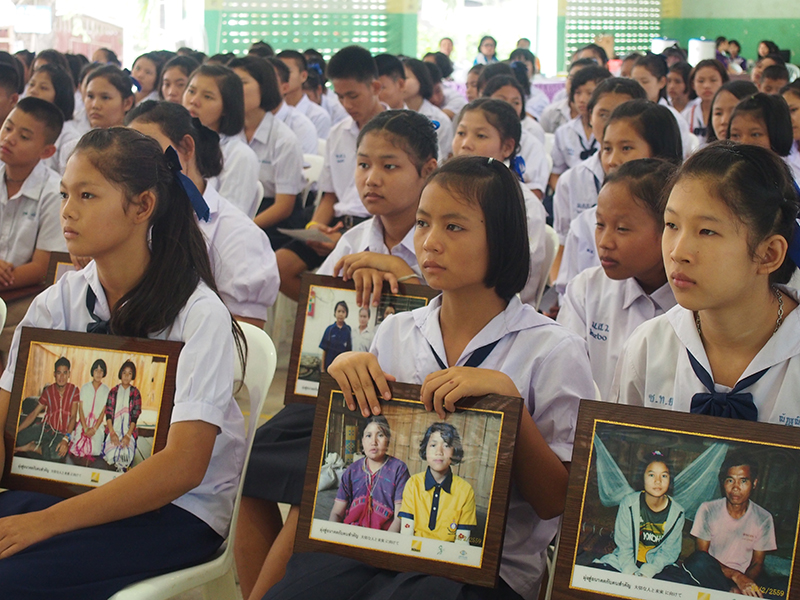 The Miraibrary is stocked with children books in various languages translated into Thai, Burmese and Khmer by volunteers. The library always accepts book donations.
On a recent visit, a dozen children were seen crafting, reading and playing inside.
Among the foundation's supports is camera maker Nikon Corp. One program Nikon sponsors, Family Photo Frame, sends photographers to take professional photos of Karen children's families Tak province and Hmong families in Phayao province, as well as neighborhoods in Bangkok, since these families cannot afford family portraits.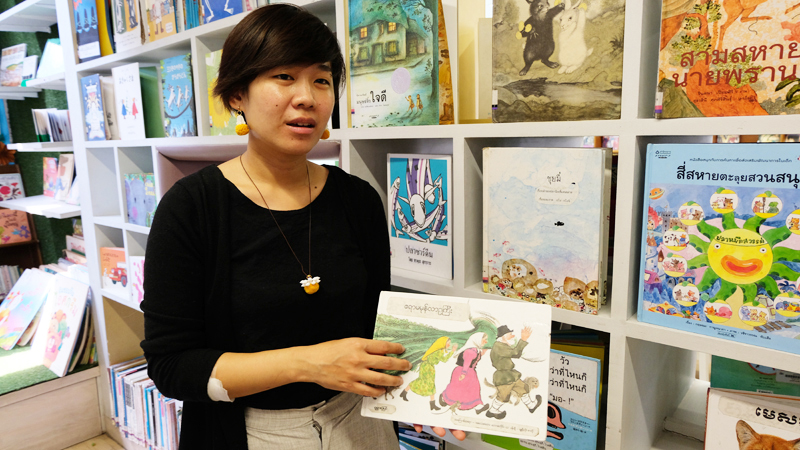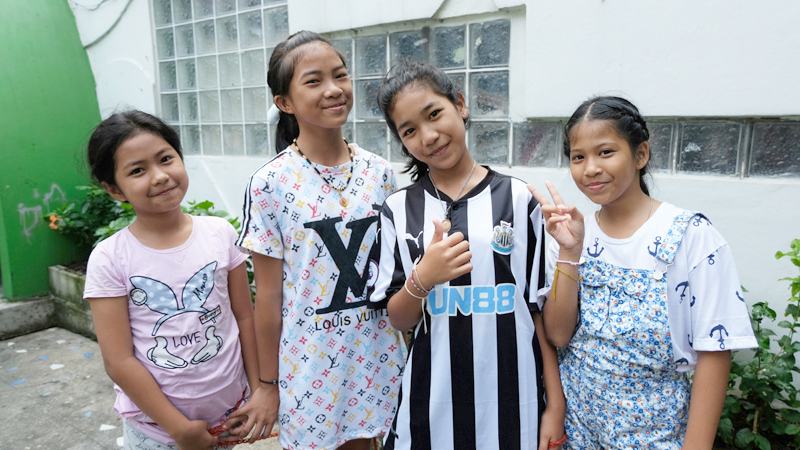 The Slum Tour
Sikkha Asia began its monthly Slum Tours last year, but it was difficult drawing interest.
"No local media ever gave us any reply," Nalynya said. "They probably don't want to come to the Khlong Toei slum. But all the Japanese media already came."
Most attendees are Japanese expats who want to see the reality of the community and learn about the foundation.
"People here are not extremely poor. They can pay for rent and food, but the problem is they do not have enough to move out," Nalynya said in Japanese to people on the tour in comments translated by French foundation volunteer Valentin Noble.
People who sign up are picked up from Emporium in a van, taken to Sikkha Asia's office in Khlong Toei where the walking tour begins.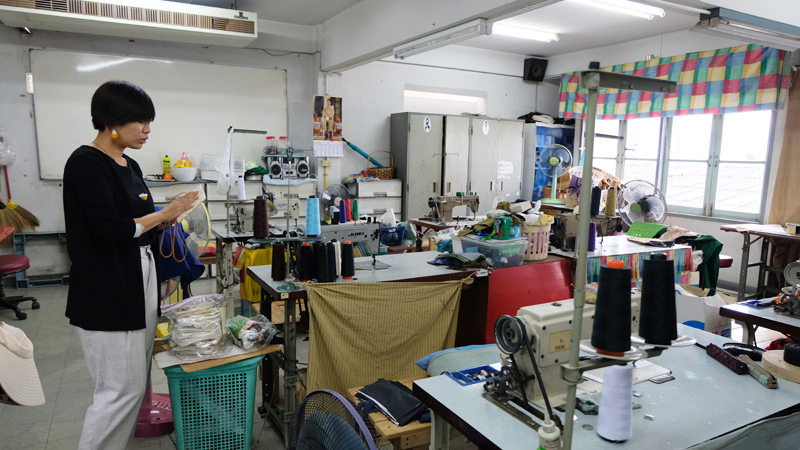 Walking through narrow lanes fouled by water and trash. They peek into the homes of families sitting by small televisions while outgoing inhabitants yell "hello!" at foreigners.
Covering 110 rai (17.6 hectares), Khlong Toei is the largest and oldest slum in Bangkok.
It began in the 1950s, when provincial workers moved in to work at the nearby port. With the opening in 1991 of a deep-sea port in Laem Chabaeng and containerized shipping, the port's importance declined and its workforce fell into poverty.
Two decades ago the government built flats there to accommodate inhabitants – albeit in smaller rooms. Rent for a household is about 5,000 baht.
The port authority's land lease has expired since the junta came to power. There are currently no known plans to evict people from the area, which sits between downtown and the riverside in an area that is ripe for gentrification.
But a resumed bid to close the slum is likely inevitable.
"I think the best way out for this is a discussion and a negotiation between the community and the port. But the government only thinks of moving them out," Nalynya said.
Nalynya said she was concerned a tour would exploit the residents.
"It's sensitive and impacts the community," said Nalynya, who graduated from Chulalongkorn University's Faculty of Arts. "I wondered if I was 'selling' them, and taking people to view people who live here like a zoo."
Still, Nalynya said taking people to see the reality of the neighborhood is important, and offers donors an opportunity to donate or purchase crafts.
"But I wanted to show people what it's really like in here. I don't want to just show that it's all poverty and toil," she said.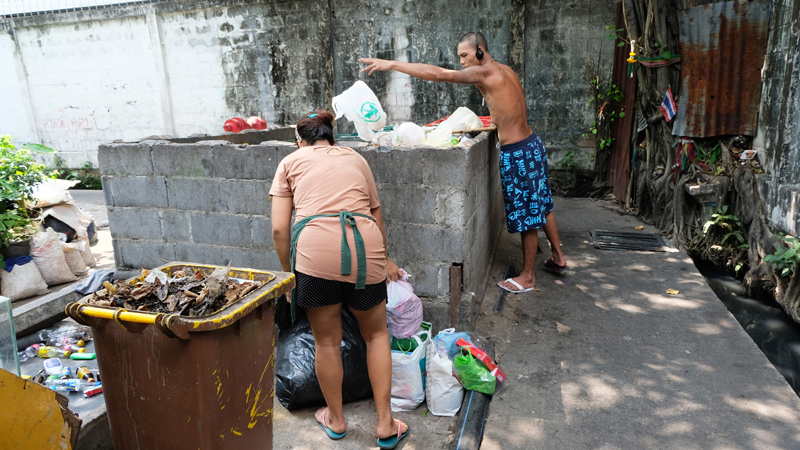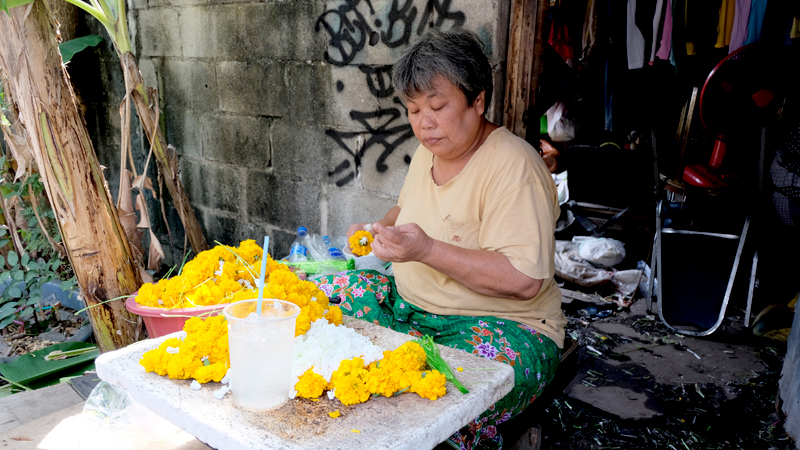 Feemue products can be purchased from the Sikkha Asia Foundation office, Chico shop in Soi Thonglor 53, Voice Hobby Club Thailand in Soi Sukhumvit 49 and Happening Shop branches at the Bangkok Arts and Culture Center. They are also sold at Chang Chui and can also be ordered online.
Related stories:
Designers Take OTOP Products From Nope to Dope
Thai Folk Arts Get 21st Century Makeover
Everyday Thainess Reimagined For Bangkok Design Week
Pitch Imperfect: Khlong Toei Slums Get Funky Football Fields