Update: The venue will officially open on June 23.
BANGKOK — On a spacious 11 rai of land in western Bangkok sits a collection of fabulous half-finished structures and, at the center of it all, the silver fuselage of a Lockheed L-1011 TriStar.
The aircraft is a talisman anchoring the land, hopes and dreams of a man who put aside more sensible plans to build a communal hangout for all the city to enjoy.
He calls it "Changchui." What sounds like the name of a secret Chinese neighborhood in fact roughly translates to "so careless." Asked about the strange yet catchy name, Somchai "Lim" Songwattana said it's what defines Thailand best – the laid-back, low-key characters who call it home.
"If I named this place 'Chang Somboon Bab' (So Perfect), do you think it would suit this country?" he said, answering a question with a question he then answered by describing the mess of street-stall choked sidewalks and ambivalence toward punctuality.
"Once I saw a worker place a window upside down, I wanted to knuckle his head. But when I looked again, it was even more beautiful than I thought," he said.
Lim is the owner of Flynow, an established fashion brand. He owns the land and originally planned to erect his company's offices there. At least until he blew up those plans in favor of building a hangout place with a little of everything.
Just as the sands are always whiter over the next dune for beach bums, the culturally literate and trend-sensitive urban ever search for the perfect market to match their values, satisfy their needs and telegraph their identity.
Lim's vision is to leave a legacy that pushes all those buttons: a gallery, museum, theatre, cinema, concert hall, coworking space, cafes, restaurants, barbershop, bookstore and night market and more.
In other words: the Ultimate Hipster Destination Market.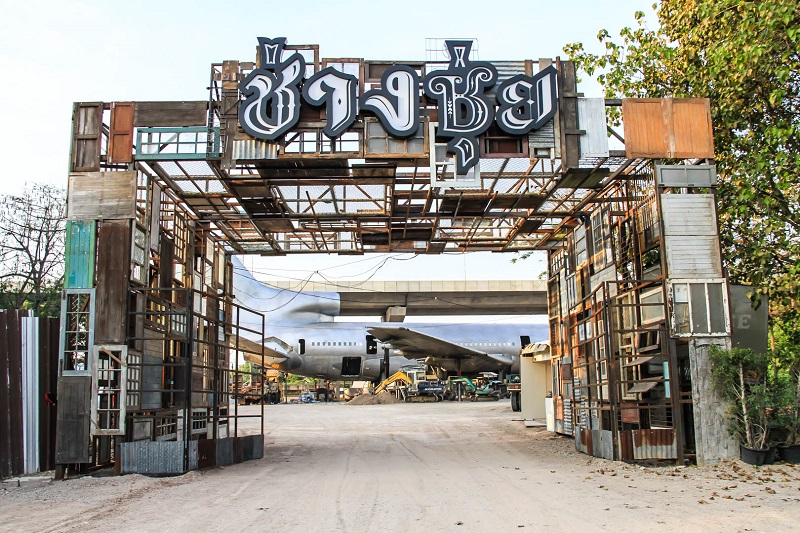 Although Lim has been in the fashion industry for decades, he grew up in a simple wooden house in a friendly neighborhood in Nakhon Sawan province. He developed a passion for aircraft after his grandparents gave him a model plane at a young age.
Now, at 57, he's pouring his childhood into Changchui's architectural features, along with his collections of everything from cupboards and movie displays to theater seating.
The wide-body, former Thai Sky Airlines jet was bought and relocated from Don Mueang Airport then painstakingly reassembled on site. He calls it Na-Oh – something to do with Noah's Ark, he says – and will transform it into a museum (for his stuffed animals) and a restaurant that can squeeze in up to 80 customers.
How much is he spending to do it all? He wouldn't say.
Since October he's built more about 12 homes, all with old wood windows and doors and reclaimed corrugated metal, to house Changchui's functions. Look closely and find things like a 60-year-old teak window, all selected from his treasures.
"I'm passionate about the past. That's why I chose to use things from the past for the structures," said Lim, who sports a scraggly goatee and taut top-knot.
Some of the structures are already reserved by some of his well-known partners: a theatre for contemporary dancer Pichet Klunchun, a cinema for Thida Plitpolkarnpim's Documentary Club and a toy museum housing the personal collections of singer-songwriter Cheewin "Boyd" Kosiyabong. Another will serve as a gallery showcasing the works of photographer Nopadon Kaosam-ang.
Other things to come will be a vintage men's barber, a cafeteria-gallery, a inverse-greenhouse for growing exotic cold-weather plants and a restaurant, named after controversial "Insects in the Backyard," which will serve insect-based food.
Lim has a lot planned. Looking across an empty space stretching a soi, he sees 100 or so stalls filling the space, selling street food, drinks, DIY crafts and whatnots.
And most of all, all the careless souls he hopes come bring it to life.
"If we think we're careless, we have a chance to do better," Lim said.
Changchui will officially open on June 23. It will be located near the Bang Bamru Railway Station on Sirindhorn Road in Bang Phlat district.