---
BANGKOK — Five gray, unpainted apartment buildings line a small road in the Khlong Toei Flats community. Under a searing Thursday sun, clouds of dragonflies buzzed and children perched in stairwells, shooting clay balls from guns made of PVC pipe.
While aunties sold rice and snacks and toothy grandpas picked up their children from a nursery, the afternoon was punctured by the sound of a white plastic soccer ball bouncing around a most unusual football field.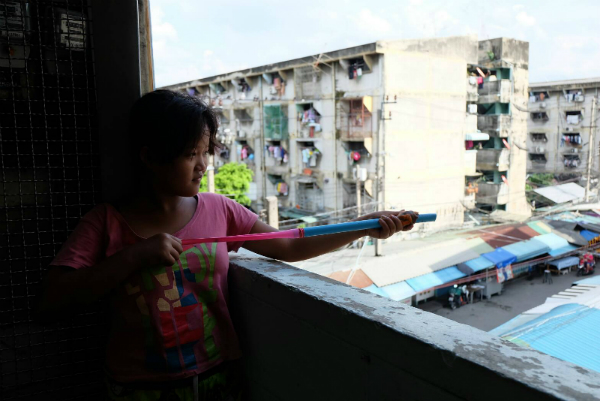 It certainly wasn't FIFA regulation. It had four too many sides, and the goal area was pinched at both ends. But that didn't bother Nawaphol 'Most' Piangtakoe, 13, one of the boys kicking a ball around the asymmetrical court Thursday.
"Before they came and made this soccer field, there was a basketball field, but the concrete was old and cracked and really dirty," he said.
It was also occupied by a fallen tree and teenagers who hung out, drinking and using drugs there.
"This spot used to be full of poop and food that people threw from windows," Wiliyak "Pai" Phromjan said.
Now almost every day, the 10-year-old brings friends both from school and the neighborhood to kick the ball around.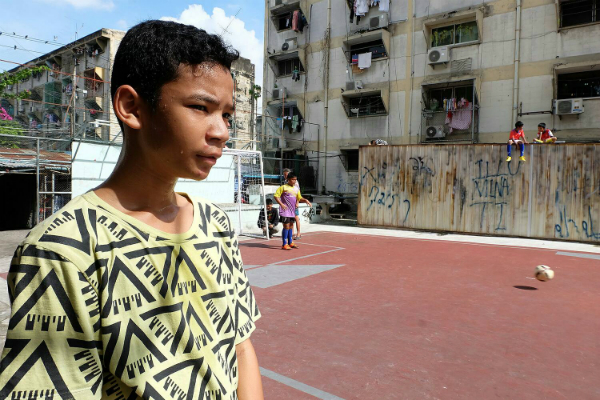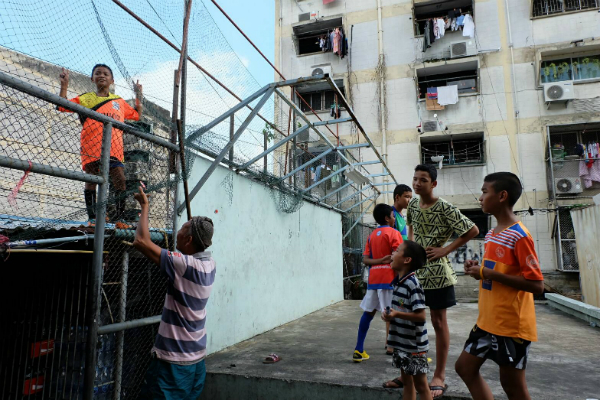 Philanthropic Play
The irregular football pitch was made possible by real estate developer AP Thai, which partnered with ad agency CJ Worx on the project to turn vacant, trash-filled plots in the Khlong Toei slums to create irregularly shaped play spaces. The project began four months ago, and the first field was completed in July, according to AP.
It's not quite the five pitches shown in a slick marketing video AP released last month to promote its good works. Only one of the five play areas seen in AP's "The Unusual Football Field" video was finished, and the rest appeared to be computer visualizations.
Impoverished areas exist throughout Bangkok, but the infamous "Khlong Toei slums" are the best known, perhaps because they sit so close to the capital's posh shopping malls and nightlife areas.
Near the old port on the Chao Phraya River, the area is actually a cluster of 40-odd communities housing an estimated 100,000 residents. Some live in decades-old, poorly maintained government housing while others dwell in ramshackle tin shacks piled against each other, with sewage streaming through trash-filled paths in between.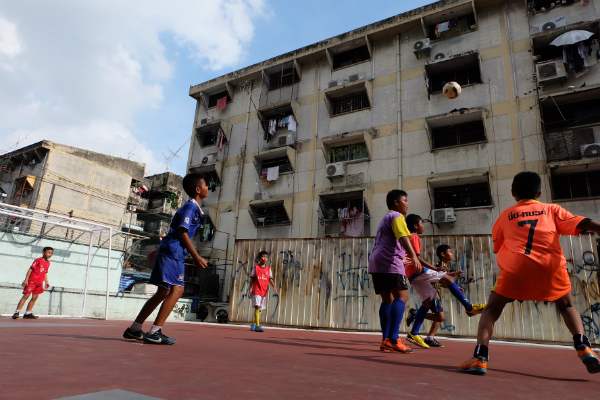 Pattaraphurit Rungjaturapat, 40, who oversees AP's philanthropic projects, said that the finished field was cut off at both ends to avoid a shipping container sitting on one side and what used to be a squat hovel on the other.
Now children use the container as part of their game, bouncing the ball off it.
"The shape of the field is strange, I like it. I think the field is really good for playing," Most said.
AP said it was a project that made sense for them to support.
"As a real estate and condo development company, our expertise is in designing living spaces, especially when we are given imperfect spaces," he said. "Therefore, we collaborated with the community in order to find the best way to develop vacant lots."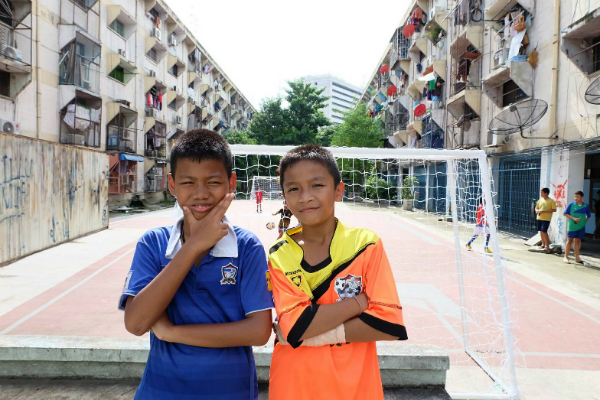 CJ Worx's Warapan Pornphichitpan said it was important to do something that fit the people and their space.
"We had to understand the space that people live in and how to maximize its potential to make it fulfilling for [them]," the 33-year-old said.
Warapan and his team decided to take on the problem of vacant, blighted lots.
"Vacant, dirty lots can be very bad for the community," said Warapan. "These places are where rape, drug use, and other criminal activity happens."
Work in Progress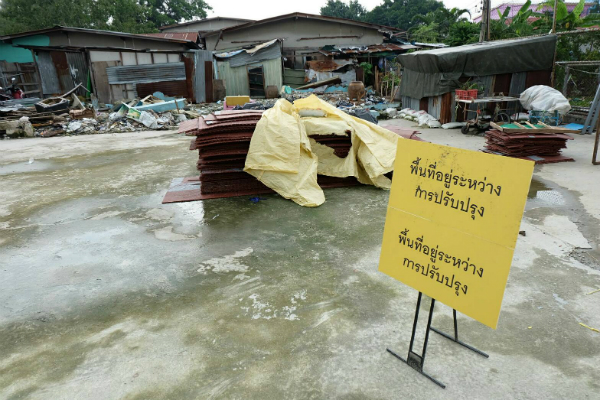 Despite going forward with its feel-good marketing campaign showing creative use of five spaces for fields, only the one field was complete. AP said it has spent 1.4 million baht on the first two pitches and only 90,000 baht on the marketing video.
On Thursday an AP rep discouraged a reporter from visiting the site of a second field, but a 10-year-old boy explained how to find it. Eventually, after heading toward At Narong Road and passing through a tiny, waterlogged alley behind a motorcycle taxi stand, it was found squeezed between makeshift shanties. A messy concrete space with piles of the material used to floor the play areas.
Pichit "Todd" Cherngjorhor and his friends came out in greeting, saying "a bunch of university students" were working on the field, but had to stop when flooding started recently because the flooring just floated in the water.
"They brought a bunch of drones to fly around and take pictures of the area," the 16-year-old said. He pointed to a vacant, trash-filled area behind a fence on one side of the space, saying it would have to be bulldozed to complete the pitch's planned L-shape.
"When it's finished, I'll definitely come play ball here with my friends," said the skinny teen in a green shirt. "My field is world-famous, isn't it? The first L-shaped football field in the world! How's that for ya?"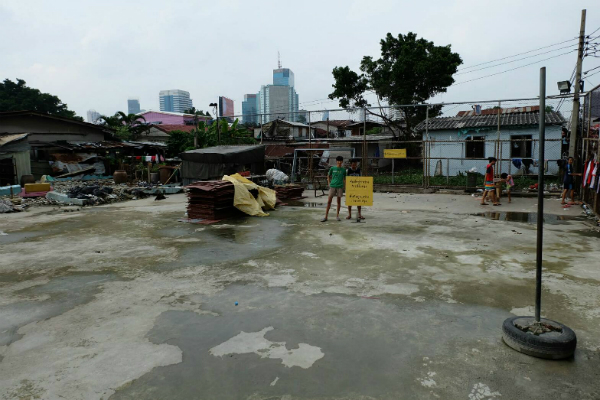 Where to find the football pitches: