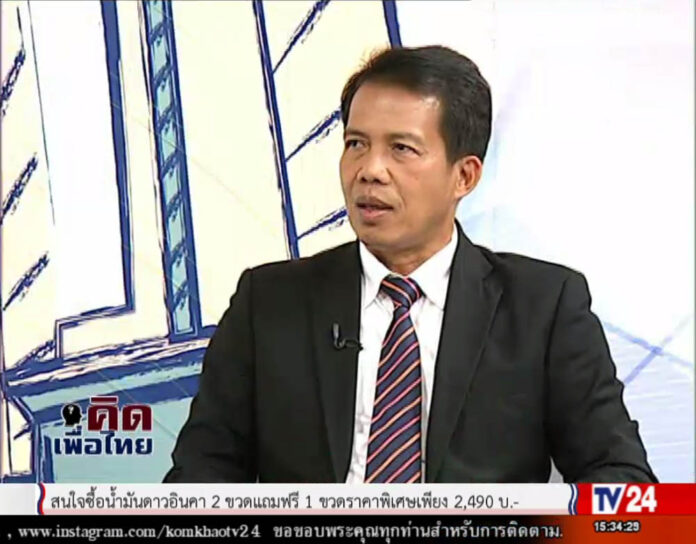 BANGKOK — A television station aligned with former premier Thaksin Shinawatra went off the air Friday by order of broadcast regulators for 30 days as punishment for its allegedly biased reporting.
The National Broadcasting and Telecommunications Commission, or NBTC, said satellite station TV 24's "Sharp News" and "Green Light Thinking" programs had violated agreements made with the regime despite prior warnings.
No details were given as to how the programs were unfair, and executives at the station were unavailable for comment as of Friday afternoon.
Television hostess and pro-democracy activist Nuttaa Mahattana took to Facebook on Thursday to defend the rights of the media to express views and news.
Nutta said the suspension is not just a violation of the press freedoms but the right of the public to be informed.
She added that there are already laws on the books to deal with problematic content, such as the criminal defamation laws.
Media groups have criticized the military government for routinely going after critical media voices through regulatory mechanisms rather than direct censorship.
The NBTC has previously ordered Spring News, Peace TV and Voice TV off the air for programs critical of the ruling junta.
"The suspension of TV 24 for one month is not just a severe violation of rights and liberties but was intended to destroy those who are politically opposed to the dictatorship," Nutta said.
The station – closely identified with the pro-Thaksin Pheu Thai Party – is still able to disseminate its content online.
Related stories:
NBTC Orders Spring Radio Off Air For Five Days
Media Groups Criticize Shutdown of Voice TV in Rare Show of Solidarity
Voice TV's 'Daily Dose' Ordered Off Air for Discussion of Courts & Military
Voice TV Deepens Self-Censorship by Cutting Political Coverage
Voice TV Pressured to Pull Pundits For Rattling Junta