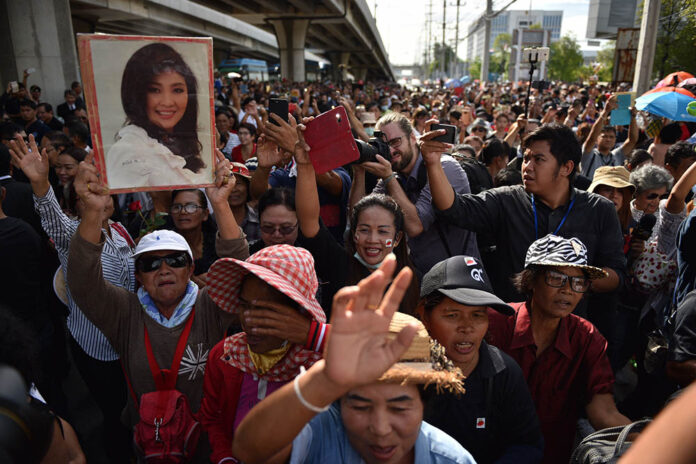 BANGKOK — Former prime minister Yingluck Shinawatra became a fugitive of the law Friday when she failed to appear to hear the verdict in her malfeasance trial.
While thousands of her supporters gathered outside the Supreme Court, Yingluck did not appear as expected and later requested the reading of the verdict be postponed until Sept. 27, citing health reasons. Just after 9:30am, the court denied her request as groundless and issued an arrest warrant for the former leader.
Sources close to Yingluck told Khaosod that she left Thursday for Singapore where her brother, himself a fugitive former prime minister, was waiting. The claim cannot be immediately verified and no statement has been made about her whereabouts.
Get Live Updates: Khaosod English #Yingluck Verdict Live Blog
Court officials also said they believe Yingluck is intending to flee the country, which requires a warrant to be issued, a reporter at the court said. In light of Yingluck's failure to appear, the court said it would postpone the reading of the verdict to Sept. 27.
While Yingluck did not appear, the court issued its verdict Friday afternoon for her former Commerce Minister Boonsong Teriyapirom, who was tried over the same matter in a separate trial. Boonsong was sentenced to 42 years in prison. The sentence was not suspended.
ศาลพิพากษา จำคุก "บุญทรง" 42 ปี "ภูมิ" 36 ปี "มนัส" 40 ปี ฯลฯ pic.twitter.com/G038UX1CRi

— Ai'Nam Matichon (@INamKaa) August 25, 2017
Yingluck's spokeswoman declined to answer questions and referred to her attorney, Norrawit Larlaeng. Reached by reporters, Norrawit said he had no information of Yingluck's whereabouts.
Yingluck, 50, has not been seen since Friday morning's scene began at the Supreme Court in northern Bangkok. A crowd of reporters have been camping just outside her residence in east Bangkok since morning. The 50-year-old politician was last seen Wednesday when she visited several temples to make merits and pray for good luck.
Yingluck is the younger sister of influential former prime minister Thaksin Shinawatra, who fled a corruption verdict in 2008 and has remained a fugitive in exile.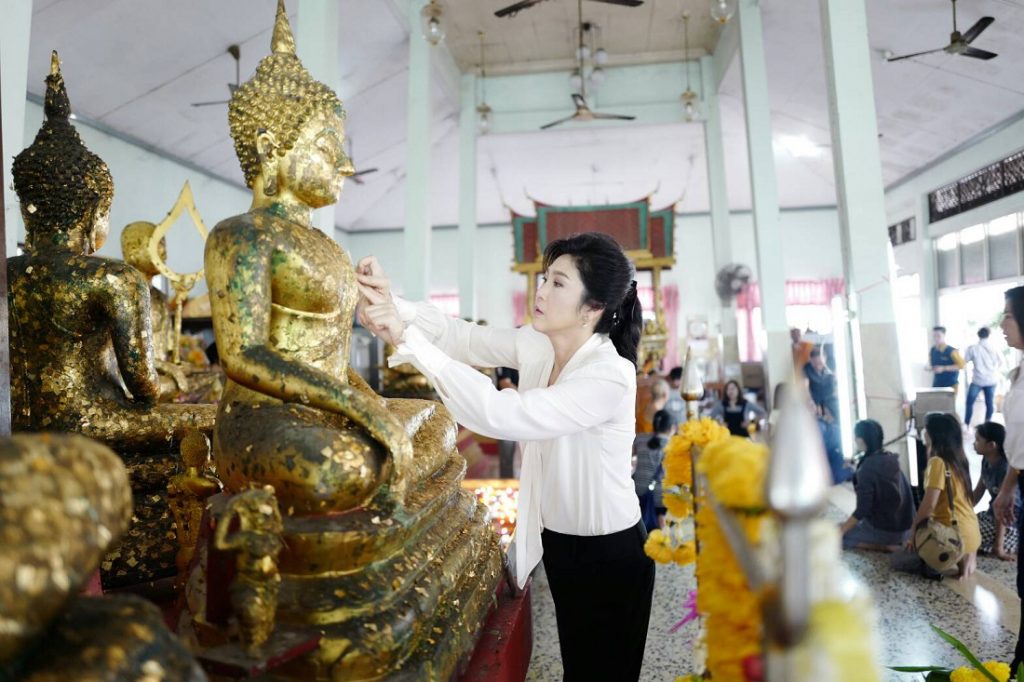 Noppadol Laothong, one of Yingluck's lawyers, said he had no idea whether she might have skipped out.
"I never questioned her about this, and I don't want to intrude on my client," he said.
As of 10am, many of Yingluck's supporters were still unaware of developments. As news spread, many said they did not believe she was taking flight.
"People can be sick, it's normal. I think she will definitely not flee," Boon Poomsida from Yasothorn province said.
Another woman has been shouting: "She will definitely come. Don't you go back my folks! Don't believe the rumors. She will not leave her people. She will show up!"
Contentious Trial
Yingluck had not missed a single court hearing since her trial began over two years ago in May 2015, a year after the military seized power and dislodged the remnants of Yingluck's administration in a coup.
Yingluck and her aides previously told the media she would not flee.
She was tried under Article 157 of the Penal Code, which addresses official malfeasance, for failing to take action to prevent corruption and losses. Yingluck was also charged under a  1999 anti-corruption law called the Organic Act on Counter Corruption.
FAQ: The Rice Program and Yingluck Trial Explained
Yingluck defended herself by saying that she forwarded warnings about graft and losses to her government's rice-pledging program to relevant agencies, ordered an investigation and said the policy was never meant to improve income for Thailand's rural poor, not generate revenue for government coffers.
Deputy junta chairman Prawit Wongsuwan said he didn't know Yingluck would not show up for the verdict. Asked whether he thinks she's already fled the country, the general said he does not know but added that if she did, it means she must have help.
"She's a former prime minister," Prawit said. "She might have had help from some officials."
Like Brother Like Sister?
Yingluck could prove the second Shinawatra to evade a verdict in a corruption trial.
Her brother, Thaksin, left the country shortly before the court handed down his judgement in 2008. Thaksin was ousted in a military coup a year earlier. He said the charges against him were politically motivated and justice would not be rendered.
Immigration officials said Friday morning that there is no record of her leaving the country.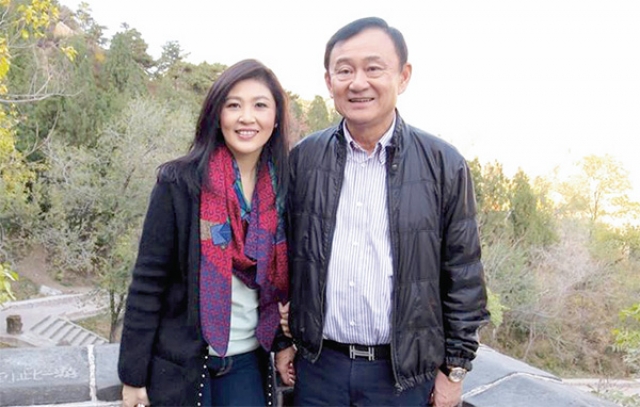 The court later found him guilty in absentia. Thaksin has remained overseas ever since, alternating between residences in at least London, Dubai and Hong Kong. Despite his fugitive status, Thaksin retains absolute control over his political faction and the loyalty of his supporters.
Before Yingluck's trial kicked off, some had speculated whether she would follow her brother's footsteps and leave the country. But Yingluck and her aides have insisted she respects the justice system and would contest her charge to the end.
This insistence was repeated as late as yesterday, when her lawyer Norrawit Larlaeng told reporters Yingluck would definitely be in court.
"Miss Yingluck confirms she will attend the verdict," Norrawit was quoted as saying.
Additional reporting from the courthouse by Asaree Thaitrakulpanich, Chayanit Itthipongmaetee, Pravit Rojanaphruk and Sasiwan Mokkhasen
Related stories:
What Would Jailing Yingluck Mean for Thai Politics?