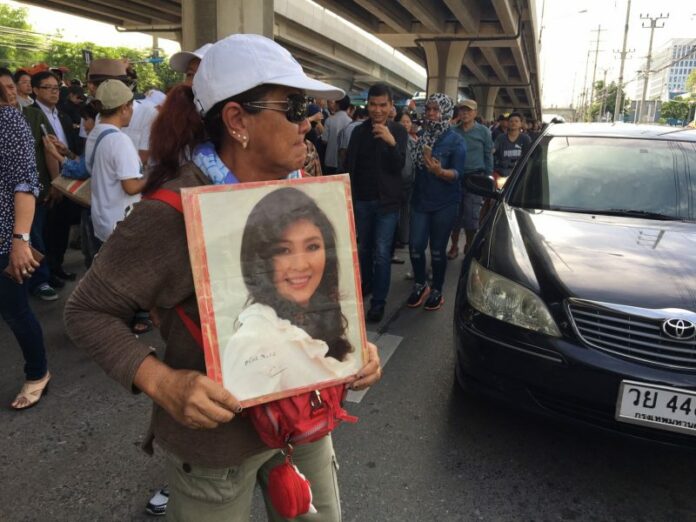 The big day is here, and Khaosod English is at the Supreme Court for the verdict in former Prime Minister Yingluck Shinawatra's malfeasance trial. Will her supporters mass to celebrate or protest the verdict? Whatever happens, we will have reporters inside and outside the court building providing updates.
Read: Court Orders Arrest of No-Show Yingluck
Look around with your pointing device or use two fingers on mobile. Click the arrows to change images.
3pm Post Script: Yingluck minister gets 42 years, 16B baht penalty
While Yingluck did not appear, the court issued its verdict for her former Commerce Minister Boonsong Teriyapirom who was tried over the same matter in a parallel trial. Boonsong was sentenced to 42 years in prison and ordered to compensate the state 16 billion baht. The sentence was not suspended.
12:16pm
That's a wrap for now. Thanks to Chayanit Itthipongmaetee, Sasiwan Mokkhasen, Pravit Rojanaphruk and Asaree Thaitrakulpanich reporting live from the courthouse. From the newsroom, this has been Todd Ruiz, Teeranai Charuvastra and Lobsang Dundup Sherpa Subirana. Thank you for tuning in and please follow us on KhaosodEnglish.com, Facebook and Twitter for more updates.
12:10pm
Police spokesman Dechnarong Suticharnbancha said police are investigating the reports that Yingluck has left the country.
11:50am
11:45am
Sources close to Yingluck say she left the country Thursday for Singapore where her brother Thaksin Shinawatra was staying. No public statement has been made about her whereabouts and the claim could not be immediately verified.
11:26am
Reporters wait outside Yingluck's residence in Bangkok, unsure whether she is there.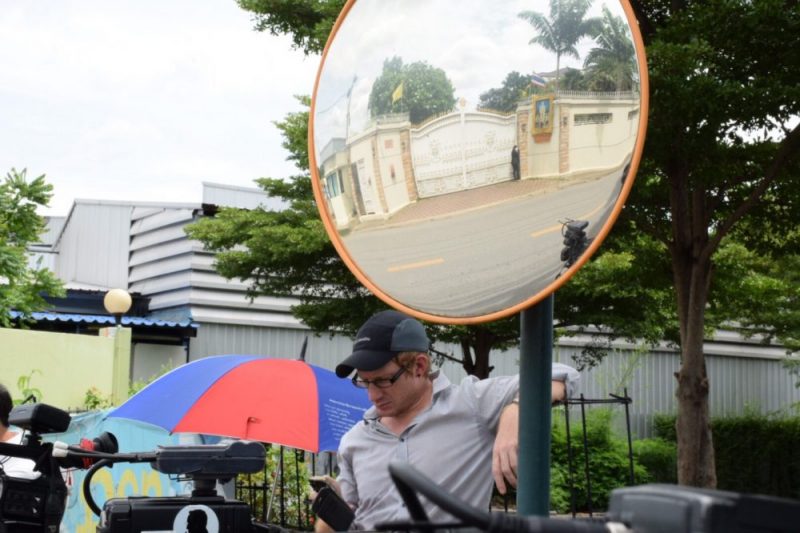 FAQ: The Rice Program and Yingluck Trial Explained
11:20am
Immigration officials said Friday morning that there are no records of Yingluck leaving the country.
11:15am
Political activist Nutta Mahattana said this was the equivalent of a key player being removed.
"Politics may become easier if she fled into exile. We may see elections sooner," Nutta said.
11am Redshirt Leader Voices Opinion
Redshirt leader Thida Thavornsaek said she was surprised the former prime minister did not show up to court, but said "there should be no arrest warrant."
"What can be done to rescind the arrest warrant? Her lawyers should workout a medical certificate. If there was no arrest warrant, the situation would have calmed down but the warrant has led to a heightened political temperature. It's a difficult situation," Thida said.
10:40 am Supporters in Denial
A woman from Aranyaprahet who refused to give her name: "It's fine that we are deceived. But I pity the reporters who were deceived. Because they were the one who told us to come, saying there would be a verdict today. It's not the PM's fault because she has to come anyway one day."
Somchai Tratummek, 68 of Chiang Mai: "Even if she's running away, I'm cheering for her. There must be a reason why she suddenly didn't come. I don't think the verdict will end well."
Lawyer Chamnan Chanruang doesn't think Yingluck has fled. "If she fled, she would have done it a long time ago. If she fled, she won't have anything left because of the new Anti-Corruption Act."
10:27 am
Official Supreme Court statement just issued:
"The prosecutors stated an objection that they do not believe the defendant is indeed ill as there is no medical certificate, and the condition that she claimed is not so severe that she cannot travel to the court."
10:25 am
Prominent artist/photographer Manit Sriwanichpoom said he was not surprised by Yingluck's no-show. He said the "strategy has been set."
"I want to see what political benefit she will get from this though," Manit said. "It's a shame that we don't get to see justice system work to the utmost."
Boon Poomsida, a supported from Yasothon, believed Yingluck's health excuse was credible. "People can be sick, it's normal. I think she will definitely not flee."
Another woman has been shouting: "She will definitely come. Don't you go back my folks. Don't believe the rumors. She will not leave her people. She will show up!"
10:18 am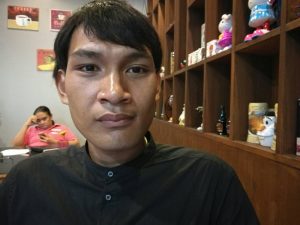 Noppakow Kongsuwan, a Redshirt who showed up at the court early in morning to cheer Yingluck said he wasn't surprised by developments. "The Shinwatra clan is not a clan of revolutionaries. They are business people. I'm not disappointed however. From her perspective, she was being persecute. Politics will heat up from now. The Shinwatra family will lose credit, however."
10am
Thousands of supporters remain outside the Supreme Court, most unaware that Yingluck is not arriving and has been declared a fugitive for not appearing. Yingluck cited health reasons that the court rejected in staying its reading of the verdict in her 28-month malfeasance trial.
9:58am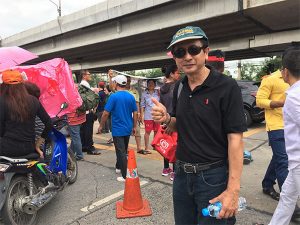 Rachai Vannukul, 59 of Bangkok, came alone today. "It's a pity to see so much injustice. Like Thomas Jefferson said, 'When injustice becomes law, resistance becomes duty.' Justice must come first, despite those who think otherwise. The government is not run by soldiers, those are at the border. These are fuckers!"
9:54am
9:45am
The court has denied Yingluck's request, ordered her arrested and the seizure of her assets bail bond.
9:42am
Our reporters have confirmed that Yingluck is not coming to the court today and has formally requested that the verdict be delayed a month to Sept. 27.
9:34am
Unclear what's going on today. Yingluck has not arrived and a source high in the Redshirt umbrella group UDD has told our reporter she will not be coming today. Reporter at Yingluck's home says she has not left.
9:25am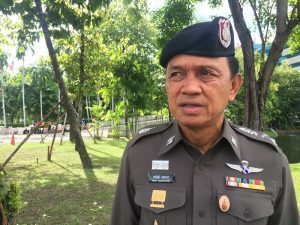 Bangkok police commander Sanit Mahatavorn said he believes today will conclude without any violence.
"I don't expect any unrest. Up until now I think everything will be fine," said the police general. "I've tried to create understanding with leaders on both the regional and national levels. I'm sorry that my force has to be strict today, and I welcome all suggestions."
Although another police commander has instructed Yingluck's supporters to leave as soon as the verdict is read, Sanit said there is no limit when the gathering will have to end.
"No, we don't have any curfew to gathering here," he said.
9:24am
Pretty heavy rain at the court now.
9:12am Verdict Postponed?
We're trying to confirm reports the reading of the verdict has been postponed until this afternoon. Yingluck has still not arrived to the court. "Please maintain order!" police are calling over a PA system.
9:10am
9:07am
Phone service is too poor for reporters to initiate live streams.
8:58am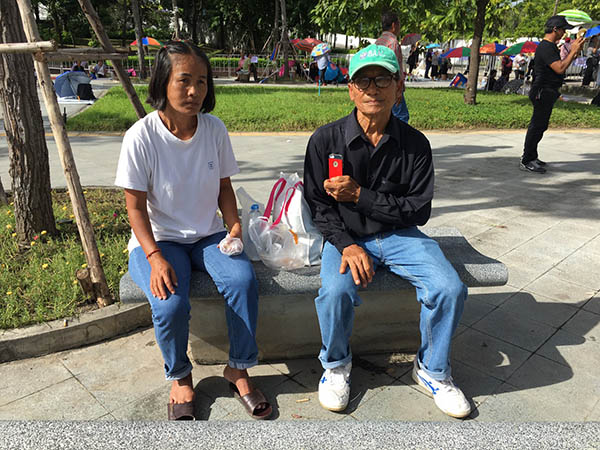 Rotsuphon Thammasri, 50 at left, came from Yasothon. "I came here because my heart said so, without any leaders telling me to. If there were leaders telling us to come, there would be so many people that the government wouldn't be able to control us. If Yingluck gets punished too much, it means she didn't get justice. Then, the state won't be able to control a part of the population."

Wittawut Suwantuk, 70, came to the court at 5am from Sukhothai province. "I came with my own brainpower to give Yingluck encouragement. The court process for the reds is so different from yellow, everything happens so fast. Even just farming, they can find something wrong with it. But those who try to fix farmers' problems are exemplary people. There might be some higher power, I can't say, let's compare it to angels and humans, sending orders for today's court results.'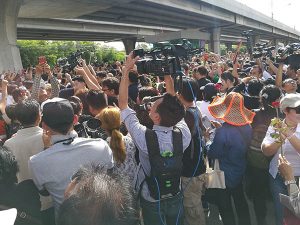 8:47am
Yingluck has just arrived. A vehicle believed to carry Yingluck swarmed by her supporters shouting, "Yingluck, Fight! Fight!"
8:39 am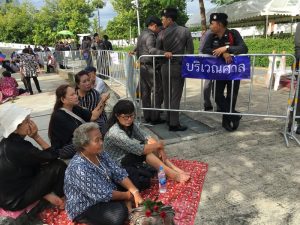 Apart from the fact that Yingluck's supporters are barred from gathering in front of the court – even though they have done so in the past – a civil rights activist said access to the courtroom for Yingluck's close circle is also restricted.
According to Human Rights Watch coordinator Sunai Phasuk, former Pheu Thai MPs had to submit their names in advance in order to enter the court compound.
"It could become a basis of political harassment," he said. "Many [former] MPs and local leaders of the UDD [Redshirt organization] have been subjected to pressure by the military and police to pledge that they will not bring their followers to support Yingluck in Bangkok."
Only a handful members of the press are allowed inside the courtroom today. Communication devices are not permitted inside.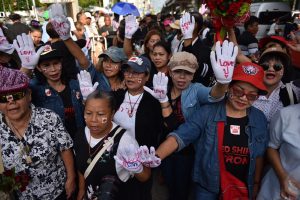 8:21 am
Despite junta warnings to Yingluck supporters to stay away and the former prime minister's own appeal yesterday for them to stay at home, hundreds thousands of supporters have gathered at the Supreme Court building in north Bangkok.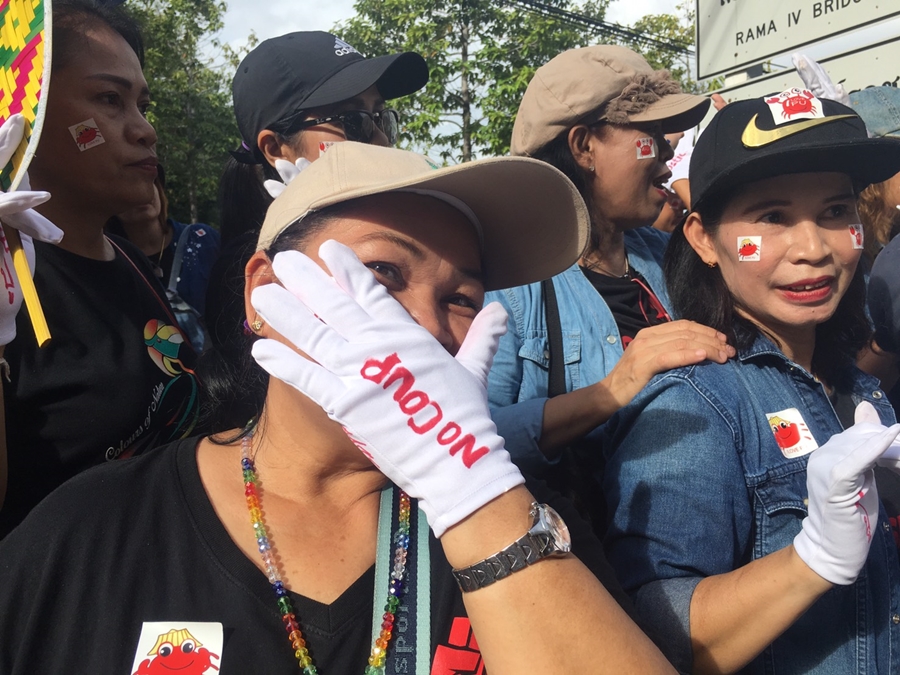 Napassorn Boonree arrived since 5.30 am.
"If she is jailed, we will follow to gather in front of the prison," she said. "They threatened us not to come today, saying there will be so many checkpoints along the road. we came we didn't see any"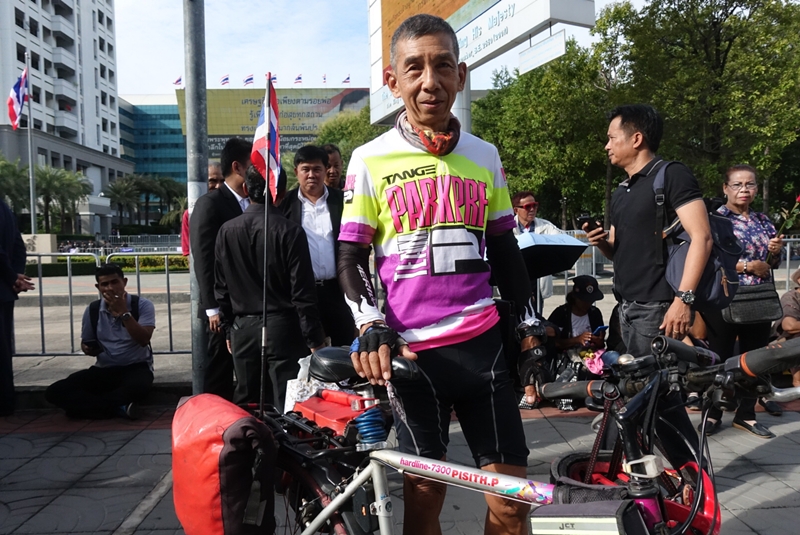 This ex soldier rode a bike from Saraburi to Bangkok to show his support for Yingluck Shinawatra.
"I'm not afraid to be here and give reporters my real name." Capt. Pisit Piputdoe said. "Whatever the result comes out, people already see what happened,"
8.15 AM 
Top figures in the Shinawatra political clan also showed up in support of their former leader today, including Watana Muangsook, Chaturon Chaisang and Sudarat Keyuraphan.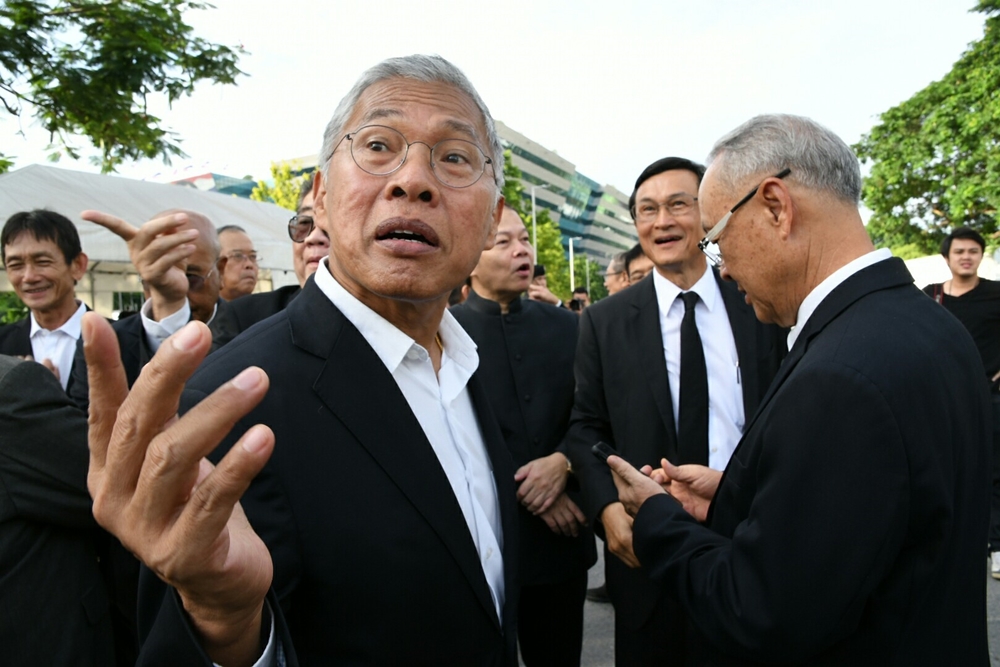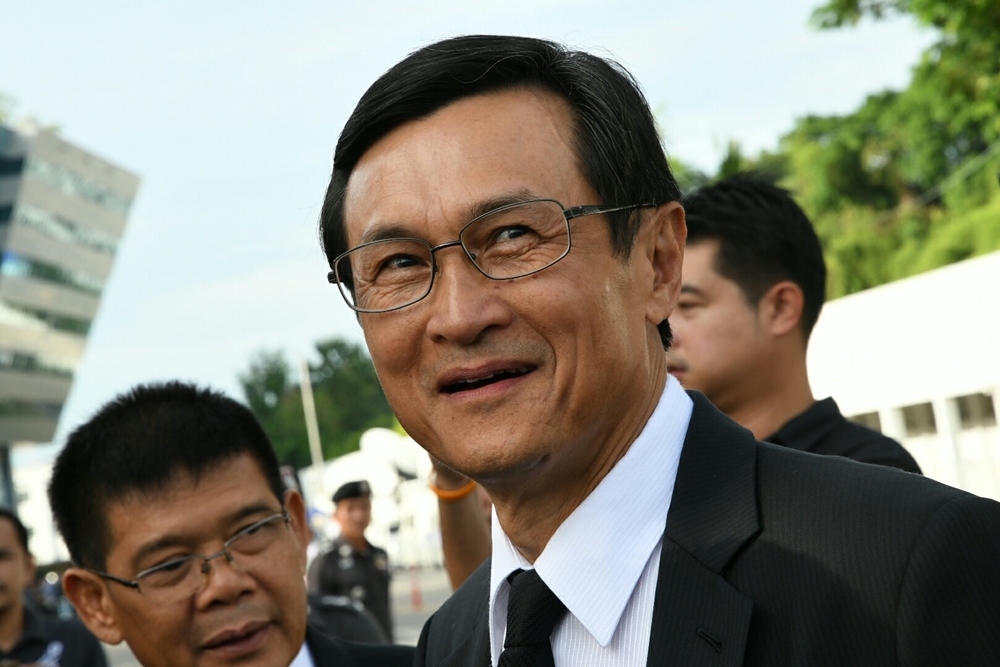 8.00 AM 
Supporters of ex-PM Yingluck Shinawatra are gathering in large number close to the supreme court office in north Bangkok. Some have camped overnight.
The area in front of the court is sealed off by the authorities, citing a court order.