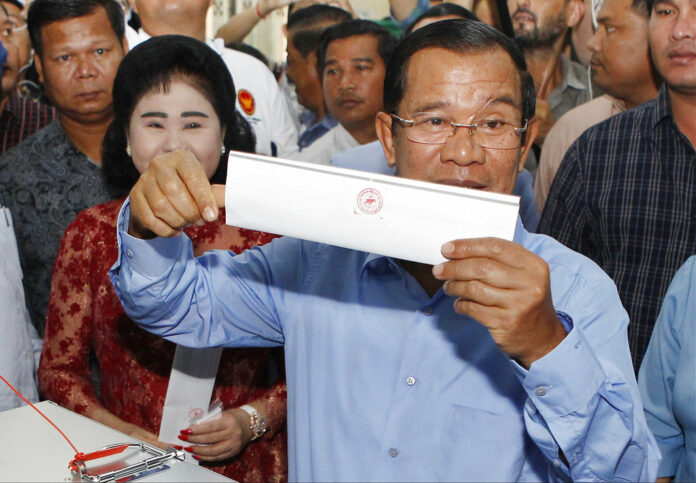 BANGKOK — Determined to extend his 33 years as Cambodia's strongman ruler, Prime Minister Hun Sen was not about to let an election derail what he believes is his destiny.
The 65-year-old leader had declared he intends to stay in office for 10 more years, and Sunday's general election victory by his Cambodian People's Party should get him halfway to that goal.
The walkover win was a foregone conclusion, with the government-influenced courts having dissolved the only credible opposition party last year.
In his first public appearance since the election, Hun Sen shook hands and posed for pictures Wednesday while inaugurating a new ferry service between Phnom Penh and a nearby town. Speaking to reporters, he hailed what he called his government's achievement of establishing "democracy and the process of peace."
Chalk up another success for Asia's most durable leader and the politics of guile and ruthlessness.
"Hun Sen is a born survivor," said Sebastian Strangio, author of a 2014 biography. "He has been in power now for more than half his life. He is somebody who apparently has very few hobbies. He spends most of his time in the weighing and accumulation of power."
He came from humble roots in the provinces. In the 1970s he joined Pol Pot's Khmer Rouge as it battled to seize power. He lost his left eye in the final battle for Phnom Penh in 1975. But when a series of purges put his own life at risk he fled to Vietnam, returning to help oust his former comrades in 1979.
He rose quickly. By his late twenties he was installed as foreign minister by occupying Vietnamese forces, and in 1985, prime minister in a single-party communist regime.
When he lost a 1993 U.N.-supervised election to bring in multiparty democracy, he threatened war unless he was given a share of power. He got his way.
The arrangement of having two prime ministers proved unworkable. The partnership was broken up in 1997 by what some termed a coup by Hun Sen, whose forces co-opted, chased into exile or murdered his opponents after a few days of bloody fighting in and around the capital.
With the levers of state power again solely in his hands, Hun Sen began to master electoral democracy with Machiavellian skill. His party employed violence on occasion, but tactics such as divide and conquer ultimately proved more rewarding.
As strong economic growth buoyed his control, Hun Sen began to assume the mantle of statesman and prepared his sons — appointed to important military positions — to be his political successors. A daughter controls the country's most important private television station.
Widespread land grabbing by Cambodian cronies and foreign investors triggered a tide of popular resentment and occasional violent resistance as the 2013 election approached. Heightened expectations among educated city dwellers included a desire for a freer society.
That election's results put the opposition Cambodian National Rescue Party within striking distance of power, winning 55 seats in the National Assembly against the CPP's 68, and 44 percent of the popular vote to the CPP's 48 percent.
It was a wake-up call for Hun Sen, particularly as opposition supporters took to the streets to back their demand for a fairer share of power.
After buying time with largely symbolic concessions, a methodical campaign was launched to break the back of the opposition.
It included the beating of two CNRP lawmakers by an organized mob outside parliament, but relied mostly on the country's tamed courts, mounting legal cases against the government's foes to sideline them.
The CNRP's two leaders were forced to stay abroad because of an old defamation conviction, and jailed pending trial for treason. The far-fetched allegation of plotting regime change with the backing of the United States was the basis for dissolving their party, banning more than 100 of its leaders from political activity for five years, and forcing out party members from national and local political offices. A crackdown on the media silenced other critical voices.
It was no more Mr. Nice Guy for Hun Sen, who had taken to projecting an avuncular image, especially on his Facebook page where he likes to post selfies of himself with other nation's leaders. The opposition showed its strength again in local elections last year, and Hun Sen lashed out at his critics.
"Your tongue is the reason for war. If you still make insults and threats to kill, you have to prepare your coffin," he said, according to the Cambodia Daily newspaper, since forced to close. "To protect the peace for millions of people, if necessary, 100 or 200 must be eliminated. Please listen carefully. … Whoever intends to undermine peace will receive what you deserve." Although the sharp criticisms he referred to were mostly from random social media postings, he pinned the blame on leaders of the CNRP.
Hun Sen in the run-up to the election hammered at the theme that his opponents were plotting a "color revolution," referring to the popular uprisings in the former Soviet Union and Balkan states where intentions of installing Western-style democracy had instead a destabilizing effect.
Using violent language to drive home his point, he talked of eradicating his peaceful political opponents, occasionally employing a Cambodian word that translates as "smash," but had been used by the Khmer Rouge as a euphemism for "kill," or "exterminate."
"He helped to overthrow the genocidal Khmer Rouge government in 1979, a fact that he believes gives his government the right to rule Cambodia in perpetuity," said biographer Strangio. "And so Hun Sen sees himself — as befitting any leader who has been in power so long — he sees himself as indispensable to his country's progress."