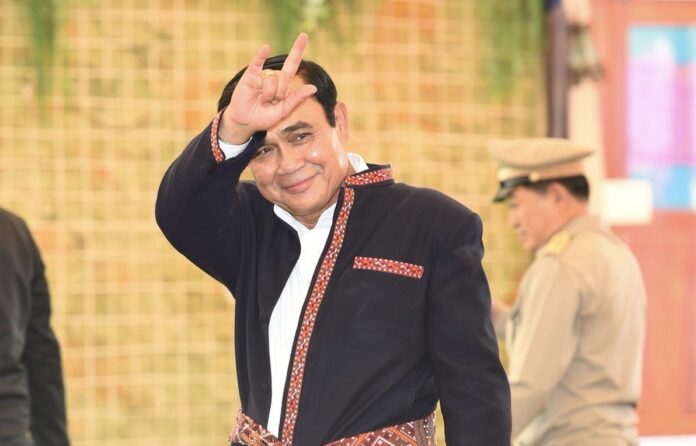 BANGKOK — After proclaiming himself a politician with his soldiering days behind him, junta chairman Prayuth Chan-ocha is now mobilizing state agencies to pursue a new mission: teaching people about democracy.
An order signed Wednesday by Gen. Prayuth directed government and local authorities at all levels to implement a vision he calls Thai Niyom, which could be translated as a "Thai Way" or "Thai-ism." The plan not only calls for encouraging "democratic participation," but also improving the economy and building a stronger civil society.
It also involves injecting another political neologism into the lexicon for the public to embrace as was attempted with pracharat ("government by the people") and khuen kwam suk ("returning happiness to the people").
This time there's some push-back, however. Key figures from both major political parties suspect the programs are actually about influencing public opinion and securing victory at the ballot box for the junta's surrogate party in the next election.
Gen. Prayuth has never ruled out running in the poll, which was initially announced to take place this year but could now be postponed to early 2019.
"It's the same goal, which is to crush the popularity of today's two big parties," Redshirt leader Thida Thavornseth said in an interview. "If they want to develop the country, that's okay. But there's no way they can change the mind of the people, because people are smart enough."
"We have to see if the government is using this program to pursue any other goal," Democrat Party leader Ongart Klampaiboon said. "I'm afraid there's a hidden political agenda. Is the government using this program for its political benefit?"
He continued, "If the prime minister had not announced himself as a politician, if he hadn't done that, there would be no suspicions about this. But now that he has, it's normal that people are suspicious or asking questions."
Prayuth first mentioned his idea in a Jan. 13 speech to schoolchildren, in which he urged people to embrace a "Thai Niyom democracy."
"We must have a Thai Niyom democracy, which is a Thai-styled democracy," Prayuth said, using the former, now dated term for partial democracy.
He later repeated the same call while addressing teachers Jan. 16, in which he elaborated his so-called Thai Niyom system as a "correct and graceful democracy."
Asked to elaborate on what Thai Niyom is, Prayuth declined to answer Friday morning before departing to India. His deputy, Wissanu Krea-ngam, did not seem to have a clear idea when he told reporters it was about the people and government "joining hands" to solve the nation's problems.
But What Does it Mean?
While puzzled politicians and observers were left unpacking Prayuth's meaning, the junta chairman charged on, expanding it to include strengthening the economy and society at the grassroots level.
By Wednesday, what began as a vague concept became executive edict nationwide with the signing of an order that ordered a super committee of 61 ministries and departments to push ahead the Thai Niyom project throughout the country.
Administrators at all levels – provincial to district – are also required to form subcommittees and implement the policy in their jurisdictions.
Their stated goals are stated as "raising awareness about the roles and duties of the public in participation of national development democracy," "coordinating the solution of economic, social and security problems in the areas," and "performing any other task assigned by the prime minister."
The overarching tone of Thai Niyom prompted some to compare it to the World War II-era Rattha Niyom (literally "statism") project undertaken by the nationalist military government of Field Marshal Pibulsongkram.
From changing the nation's name to what kind of pants to wear and how much sleep to get, the central government wielded Rattha Niyom to aggressively impose cultural standards across the nation.
Moving Goalposts
Prayuth's latest move comes as at least two new political parties emerge with the stated purpose of supporting the junta chairman becoming prime minister after a vote is held.
Meanwhile, the major Pheu Thai and Democrat parties remain shackled under a ban on political activities which has been imposed since May 2014.
Both Thida of Pheu Thai and Democrat Ongart see junta interference in the election as the likely motive for Thai Niyom.
"In the past, the prime minister acted like a referee, but today, he has announced that he's a player, too," Ongart said. "So now he's a player and a referee under the rules that he himself has set."
"What he's doing is sending his people to punish supporters of Thaksin and Pheu Thai," Thida said, referring to Pheu Thai's de facto leader in exile, Thaksin Shinawatra. "He thinks he can teach people democracy. He thinks the people don't know about democracy."
Political scientist Pitch Pongsawat also suspects state agencies are being mobilized under the Thai Niyom program to keep the public locked in the junta's grip.
"It's to prevent the public from belonging to any network other than the state," Pitch, who teaches at Chulalongkorn University, said in an interview. "They ban everyone except themselves."
Pitch added, "So, we have to see how this will affect the election. We have to see if they will mess around with the election, if they will be involved and if they will force [voters] to do anything."
But Really What Does it Mean?
Thai Niyom is the latest grand campaign launched by Prayuth's administration since it seized power in 2014. Previous efforts, accompanied by language seeking to upend traditional political expectations, included 2014's "returning happiness to the people" in 2014 last year's drive for a "people's state."
In the latter campaign, Prayuth said he envisioned local communities joining hands and taking the initiative on development instead of waiting for help from the state.
But critics slammed the project as a hollow catchphrase. Thida, the Redshirt leader, similarly criticized the Thai Niyom program and its ambition to educate the public about democracy.
"Thai Niyom's democracy is actually an elitist and conservative version of democracy," Thida said. "It's a distortion of democracy."
The Redshirt leader said she's convinced the attempt will ultimately fail. But Pitch said he believes the junta chairman cares less about its success than making a show of its implementation. Thai Niyom, the academic said, is simply a show of force.
"He's not trying to win back his popularity. He wants to do this to show he can. It's like his evening TV shows that no one watches," Pitch said. "He wants to show he still has the power to mobilize these resources. It's like organizing military parades. He wants to show he has state power in his hands."
Related stories:
NLA Expects to Pass 'Election Delay' Despite Objections
Possible Election Deferment is Plot to Benefit Junta: Critics