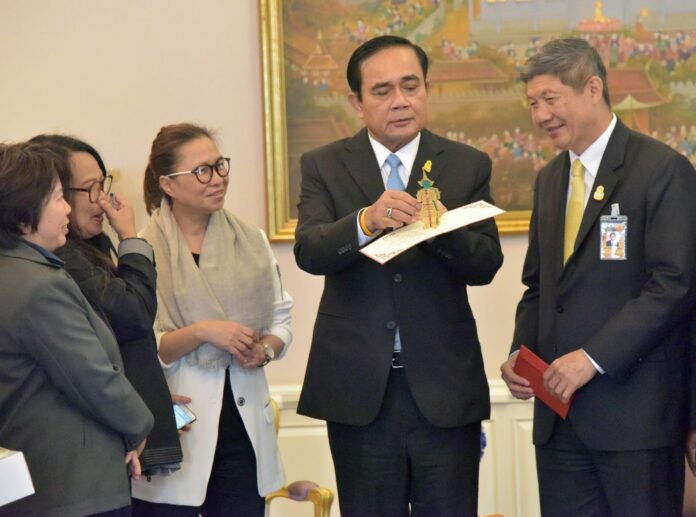 BANGKOK  — All those extravagant gift baskets and greetings cards on sale at the malls? Junta chairman Prayuth Chan-ocha doesn't want any of that.
Nor does he want well-wishers lining up at his door, or his deputies to be burdened.
"Many people are surprised that I don't accept well-wishers, so I said, please, for this year, you all should take the best care of people in your family and subordinates," Gen. Prayuth said on Sunday. "I don't want presents anymore. I'm done."
In his last interview of the year, Prayuth's comments to reporters touched on a number of burning questions, such as whether he will run in the upcoming election – slated to take place less than 12 months from now – and whether he would accept the premiership if offered. He remained demur.
"I'm not running in the election today. People are afraid that I might be an outsider prime minister. But the people inside must find their [candidate] first," Prayuth said. "The outsider prime minister may not be me. There are many people. They might find someone else. Why should they be afraid of me?"

What about the rumors of politicos setting up parties, with the blessing of the junta, to serve as Prayuth's vehicle in the 2018 poll? He'll have to think about it, he said.
"Many people have declared their support for me. Well, go ahead and set up the parties, but whether I will accept or not, I still don't know," Prayuth told reporters. "They will have to ask me first. Today they haven't set up the parties yet, and it's not election time yet, so no one has asked me."

He continued, "Whether I will accept it or not, I haven't made a decision yet."
Prayuth has repeatedly evaded questions about his ambitions after the junta is set to formally retire from power next year and make way for the general elections.
There are already reports of politicians, some with ties to the military, cajoling and whispering among each other to organize "proxy parties" for the junta. The reports coincide with a recent junta order that allows new parties to register and meet, while bigger parties remain shackled.
Speculation of his political ambitions dominated the news again this week when a group photo of Prayuth, former Pheu Thai minister Padermchai Sasomsub and the latter's family surfaced on social media.
Pheu Thai MP and junta critic Watana Muangsook slammed it as proof that Prayuth is touring the country to shore up support from potential election allies even as he suppresses political parties opposed to him.
Padermchai later told the media he and Prayuth were simply golfing, and politics were not discussed.
At Sunday's news conference, Prayuth also shared his New Year wish: As the chairman of the junta's National Council for Peace and Order, he wants peace and order for the country, of course.
"I don't want to see unrest. I don't want conflicts," Prayuth said. "In the future, when I am no longer prime minister, I will be just another citizen. Don't think I will be anything else."
As for his holiday plans: possibly golfing, but not in the outside provinces where he's spent much time touring of late.
"I may go golfing somewhere around here, but I won't go out of Bangkok anymore," he said.